The unprecedented COVID-19 pandemic raises countless questions and concerns for business leaders. Though the situation is evolving rapidly and it's hard to predict what our communities and corporations might be facing next, we're turning to the Business Badger alumni network for insights.
Our new "Ask an Alum" series poses questions to business leaders across the globe, all connected by their education at the Wisconsin School of Business. Let's learn from and support each other as we navigate the COVID-19 pandemic together.
---
Field of Focus: Supply Chain Management
The Grainger Center for Supply Chain Management asked members of its Executive Advisory Board and Alumni Advisory Board two questions about how they are dealing with the COVID-19 pandemic:
What is your company doing in the face of COVID-19?
What should supply chain managers learn from the pandemic?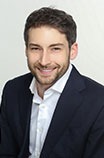 Justin Mayer (MBA '09), managing director of F45 Training in Chicago, responds:
"The COVID-19 pandemic is causing our entire business to pivot. What was normally a brick and mortar-only offering has now had to pivot online. This puts us into a new segment, with new competitors and new pricing. It has to happen immediately, too. It's causing our entire business model to get flipped on its head.
Additionally, as a small business, this impacts our financing and finances. Small business makes up 40% of the U.S. economy. The government has taken swift action, by government standards, to help out this critical part of the GDP. But, financing often goes through the government via Small Business Administration loans and there is a bottleneck being created for the distribution of funds. This is driving cash flow concerns as we think about payroll, real estate, and operating expenses.
What I'm concerned about, and trying to plan for, is the shock to the global supply chain once we get back to 'normal.' We are in need of our equipment and it has not shipped from Asia yet. So when that does ship, will it be in time for us to open our doors when allowed by the government? I am anticipating backups at ports. The franchisor, F45 Training out of Australia, never offered inventory to be kept domestically or looked for alternative domestic or Mexican suppliers. They regularly saw 8-week deliveries that delayed openings of studios, which means paying rent ($8k per month or more) and missing out on $11K in revenue per month minimum. It isn't like ports haven't had issues before COVID-19 either. Roughly two years ago LA ports went on strike, causing bottlenecks around the country. So companies that are not 'supply chain centric' still need to think strategically about how it impacts their business and their customers. They need to hedge, diversify, and plan for the worse—especially brands like ours that are in growth mode."
Share Your Insights
We invite other WSB alumni to share their insights during the COVID-19 pandemic in this 'Ask an Alum' series. Please respond to these questions to be considered for inclusion.
---