As technology has changed in the past decades, so have the roles for people working in it—even if the titles have remained the same.
Ericson Chan (BS '90) has shepherded much of that change with global technology roles since the 1990s. Business Badgers heard his insights on the evolution of technology and executives' roles within in it during a recent Badger Executive Talk, a virtual speaker series featuring executives from the UW–Madison alumni community. Vallabh "Samba" Sambamurthy, Albert O. Nicholas Dean of the Wisconsin School of Business, led the conversation and fielded questions from alumni.
Chan is group chief information and digital officer for Zurich Insurance Company, based in Switzerland. Prior to that he was CEO at Ping An Technology in China and for 18 years held various leadership roles throughout Asia at Standard Chartered, a British multinational banking and financial services company.
Where technology was once primarily about infrastructure or adapting online, Chan says, it now drives an organization's strategy.
"Now technology is the centerpiece of innovation, industry disruptions, and transformation," he says. "Technology has moved beyond online business to developing a new business model or developing new opportunities."
With Dean Samba, Chan shared his insights about the opportunities and challenges of technology, from the way it can ease customer experience to the ethical questions it raises as well as his own career journey.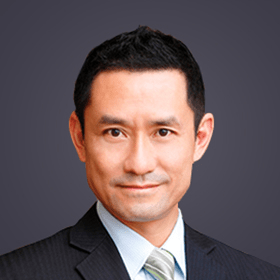 A changing role. Chan cites a controversial 2003 article in Harvard Business Review with the provocative title "IT Doesn't Matter" for somewhat shaking up views about the chief information officer role. The article raised the point that technology was so ubiquitous it no longer provided a competitive advantage and companies should invest capital elsewhere. But that was then, Chan says, and now companies understand how technology helps drive value. "Now, a CIO role in many organizations will include what the COO used to do. If you're taking care of the operational side of an organization, of course part of that will be leveraging technology."
Top down, bottom up. Chan says all industries need to take varied approaches to technology. A top down approach, he says, is to understand how technology can drive transformation and create a new business model. But it's also important to take a "bottom up" approach, Chan says, by looking at emerging technologies to discover what they can do. "All leaders should understand that," he says. "They don't need to program Python, but they need to understand what possibilities are there."
Technology as an equalizer. Chan is passionate about financial technology and the opportunities it presents to individual customers. Service can be more efficient and better, he says, such as being able to chat online instead of navigating an endless phone menu and more options for customers. "You can get a tailor-made product based on your needs and you don't have to be a VIP. Every customer is unique; that is, a segment of one," he says. "Technology has democratized service."
Future questions. Another area close to Chan's heart are the ethical challenges posed by technology. Issues of fairness, transparency, and accountability are key, he says. "We have to make sure it's not a discussion of what to do, but how to do it."
The Badger Executive Talks series will continue on April 28, featuring Tom Falk (BBA '80), former chairman of Kimberly-Clark.
The Badger Executive Talks event page features more information about the talks and links to view past conversations.
---