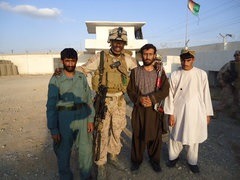 Brandon Shields (MBA '17) knows that the Wisconsin School of Business is a good fit for veterans and does what he can to spread the word.
The Marine Corps veteran served in Afghanistan in 2012-13. After his active duty ended, he dived into academic life by pursuing a Wisconsin MBA specializing in brand and product management. Beyond his studies, he's in his second year of a project assistantship with the Wisconsin Full-Time MBA Office working to bring veterans to the Wisconsin School of Business.
"They have different world views, different experiences, and leadership," says Shields, who is a captain in the Marine Reserves. "They bring level-headed perspective and they can see the big picture."
Shields is one of 11 veterans in the Wisconsin Full-Time MBA Program. He enjoys seeing the first-year MBA students thrive at Grainger Hall and beyond.
"It makes me feel like a proud papa," he says. "I remember talking to them when they were applying and now they're here, getting through their first semester."
Read more about Brandon Shields' transition from Marine to MBA and his eagerness to join the alumni network of Business Badgers.
---