"Bettering myself isn't what I do, it's who I am."
This was a mantra that WSB alumnus Thomas A. Costello (BBA '19) lived by each day before his tragic passing after an accident in June 2021. Tommy, which his friends and family fondly called him, epitomized what it means to be a Badger through his unrelenting desire to achieve his fullest potential and to help those around him do the same, personally and professionally.
To honor Tommy, the Thomas A. Costello Legacy Foundation has been established to serve as a hub for people to celebrate his memory through their support of causes important to him, including scholarships for UW–Madison students. In addition, through a generous donation from WSB alumni, the Thomas A. Costello Memorial Alumni Award is being established to celebrate a member of the Badgers in Finance alumni network who goes above and beyond to help others.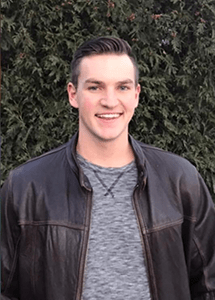 Originally from Chaska, Minnesota, Tommy was intelligent, had an unparalleled work ethic, and a zest for living life to its fullest. In high school, he survived a six-month battle with stage 3 Hodgkin's lymphoma and made it a priority to stay committed to his education because he knew it would one day enable him to achieve his dreams. As a cancer survivor, Tommy became a speaker for both the Make-A-Wish Foundation and the Leukemia/Lymphoma Society, sharing his story and inspiring his community to support these very important causes.
As a Business Badger, Tommy was highly engaged in student organizations, including the Wisconsin Investment Banking Club, and founded two organizations: Insights Wisconsin and The Federal Reserve Challenge. He graduated with a triple major in finance, economics, and risk management and insurance. He dreamed of becoming a Wall Street investment banker and realized his goal when he accepted positions as a summer analyst and a full-time analyst with Rothschild & Co.'s New York office in the Restructuring Group.
"For Thomas, it was never the easy route but rather the path that would give him the most fulsome understanding of how to grow and apply ideas for a greater impact," says his roommate and WSB alumnus Ryan Ruth (BBA '19).
Giving back and helping others maximize their potential was Tommy's purpose. As a student and in his two years as a WSB alumnus, Tommy mentored hundreds of students and peers to help them achieve personal and career success. He inspired confidence in them and helped them understand that they could achieve their goals if they gave their best effort. According to Brad Chandler, director of WSB's Nicholas Center for Corporate Finance and Investment Banking, "A number of our alums on Wall Street right now gladly recognized a debt of gratitude they owe Thomas for his help in getting them to NYC."
Tim Hotchandani (BBA '04), Rothschild & Co.'s managing director, saw that firsthand.
"He was the pounding heart and soul of our recruiting team. Fast forward to today, UW–Madison is a strategic advantage ('core') school for Rothschild & Co., and we have just finished recruiting the largest class of summer interns to a single investment bank ever," says Hotchandani, who attributes much of this success to Tommy's advocacy and support.
"He truly was the perfect example of how to live out the Wisconsin Idea and use your education and strengths to help others," says Tommy's sister and WSB alumna Ashley Costello (BBA '18).
Tommy's zest for life is captured in a TED Talk he gave in 2017 while in college. The talk, "Maximizing Your Life Coefficient," centers on making the most of each day.
"His selflessness was unmatched and his constant joy for the world is a reminder to us all to live as Tommy would have," says WSB alumna and fellow Rothschild & Co. investment banking analyst Anna Grote (BBA '20).
---
Contributions can be made in support of Tommy's legacy through these sites:
---