An informal but informative newsletter for WSB alumni and friends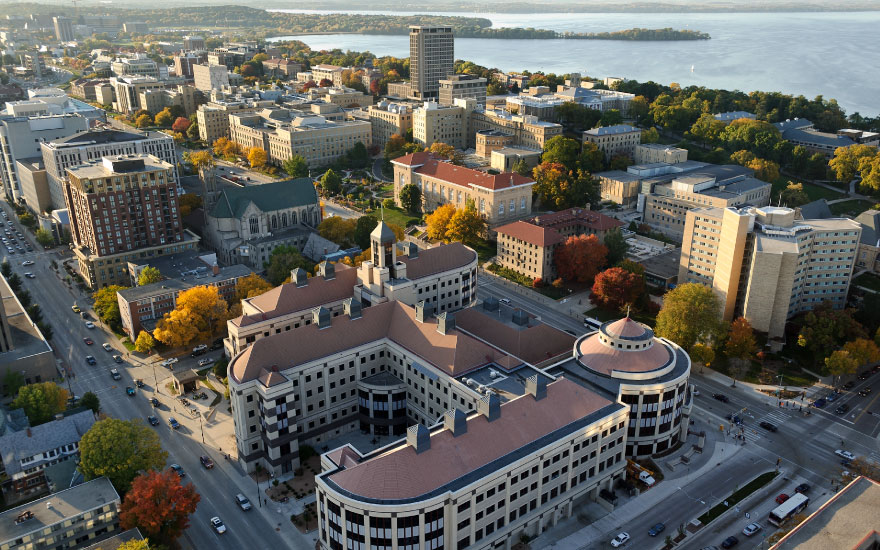 Business education goes beyond Grainger Hall this spring as students and faculty adjust to a new reality. Photo by Jeff Miller / UW-Madison
---
The Briefing
COVID-19 upends spring semester, campus life
As in so many places across the globe, it's far from business as usual at WSB. Though COVID-19 prevents the School from holding face-to-face classes, WSB instructors quickly pivoted to transition their teaching into alternative delivery methods. Students have adapted to learning from home. Commencement Weekend, scheduled for May 8-9, has been postponed. UW–Madison has a dedicated COVID-19 website it updates regularly, as does WSB. Through these sites, Business Badgers can stay informed about campus response as the situation evolves.

Professor Eraker: Uncertainty creates volatile markets
Bjorn Eraker, professor of finance, spoke with Wisconsin Public Radio on March 13 about how uncertainty has hammered the stock market and will likely continue to do so due to COVID-19. Though today's news changes rapidly, he predicts that once the pandemic is under control, the market's volatility likely will level off.
Learn from UW–Madison experts about COVID-19
How should you talk to kids about COVID-19? What will the financial impact be for families and vulnerable people? What is the impact on domestic and global markets? Experts from UW–Madison faculty and staff share their insights on a range of COVID-19 topics.
---

Tip Sheet
Even in the best of times managers juggle the challenges of their own responsibilities with leading and supporting a team, and current events only add to the pressures. Jirs Meuris, assistant professor of management and human resources, offers three things managers can implement now and in the days ahead.
Promote flexibility. Develop a list of deliverables or goals, but be aware that those expectations could change to due team members' personal responsibilities or if they become ill.
Support employees. When it comes to health, employees' and employers' interests are squarely aligned when it comes to exposing others to illness. Err on the side of supporting your employees' need to step away from work.
Foster normalcy. Find routines that help people feel less disconnected and build structure in to what their workday is now.
---

Back to School
What is supply chain and why is it so important today?
The need for an efficient and effective supply chain has long been known throughout many businesses, but more people are understanding it's important because of current events. WSB has been a leader in supply chain management since the founding of the Grainger Center Supply Chain Management in 1991. This winter, the School responded to increased interest in the field and announced a new undergraduate major in supply chain management. The degree joins an existing portfolio of offerings that includes a one-year master's and a full-time MBA specialization.
So why is supply chain so important? Jake Dean (MBA '09), director of the Grainger Center, and alumnus Scott Hughes (MBA '16) give a rundown:
Supply chain management is the flowing of goods and services within an industry, every step from manufacturing a product or service until it reaches the customer.
It's problem-solving on a large scale. It answers the question, "Can we do this?"
Supply chain exists in every company, every industry, every geography.
Strong supply chain management helps a company gain competitive advantage.
Supply chain is the discipline tasked with solving sustainability challenges.
The broad-based nature of supply chain work impacts every unit within a company, which helps supply chain managers develop broad-based leadership skills.
---
Alumni Opportunities
April 7: Alumni Webinar: Getting Work Done Virtually
View past webinars: Four hour-long webinars from 2019 and early this year provide insights into a variety of topics.
Badger Bridge: Take this time to reach out to fellow Badgers and reconnect.
Support our students: If you want help students financially impacted by the COVID-19 pandemic, you may make a gift to the Emergency Student Support Fund through the University of Wisconsin Foundation.
---
About Business Casual
Every other month, alumni and friends of the Wisconsin School of Business will receive insider updates with news about our alumni, faculty, students, and programs. If you want to share Business Casual with friends, they can sign up at go.wisc.edu/wsb-biz-cas.
Questions or comments? Email businesscasual@wsb.wisc.edu
---