Ask HR professional Bill Brennan how he moved up the career ladder so quickly and he just laughs.
It may not seem like a swift ascent to Brennan—who serves this year as executive in residence in the Wisconsin MBA strategic human resource management specialization—but the impressive scope of his executive and management experience during a 31-year career with PepsiCo suggests otherwise.
A University of Wisconsin–Madison alum, Brennan (MS, MLIR '82) held numerous human resources positions at PepsiCo, working primarily for Frito-Lay North America in positions such as headquarters generalist, area HR director for New York and New England, and HR manager in Pennsylvania. He served as the vice president of labor relations for Frito-Lay North America as well as the global vice president of labor/employee relations, his last position with the company before leaving to form his own consulting company, W.H. Brennan Consulting.
As executive in residence from January 2017 through the 2017–2018 academic year, Brennan brings to the School a deep connection with industry, serving as a mentor and teacher to students throughout the year. It's a role he finds value in, especially as he imparts his considerable knowledge about the HR profession.
"I take pride in helping students strengthen their understanding of our business," Brennan says. "You have to understand what human resources is from a technical standpoint, from all of the different disciplines of HR—compensation benefits, employee relations, labor relations, safety, training, all of that—and how HR supports an organization. The more you understand what your business is all about, the bigger the seat you get at the table."
It's a philosophy Brennan will be sharing through an array of engagements as executive in residence. Based out of Texas, Brennan will work with students remotely as well as via visits to campus. He was a featured speaker at the 2017 HR Summit, a conference sponsored by the School's strategic human resource management specialization for students, alumni, and HR industry leaders.
The strategic human resource management specialization is among the first to implement the executive in residence program at WSB. The program launched during the 2015-16 school year when the Nicholas Center for Corporate Finance and Investment Banking hosted Don Condon Jr. as its executive in residence.
"The purpose of the program is for an experienced and accomplished Wisconsin alum to mentor our students," says Maria Triana, associate professor of management and human resources and faculty director for the MBA specialization. "Bill Brennan is a wealth of information and experience. He has an invaluable impact on students and has been extremely generous with his time, helping out with resumes, career advice, and answering any HR-specific questions they might have. We are grateful to have Bill and his expertise available to our students at this critical juncture in their training.
Building credibility, navigating challenges
A large part of the residency will be coaching students, Brennan says, a role he enjoyed even as a PepsiCo executive. He gave his HR employees authority to make decisions on their own, but encouraged them to run the tough ones by him so they could troubleshoot together—a method he describes as the difference between coaching and supervising.
Brennan recognizes students' eagerness to contribute once they head into the working world post-degree, but he cautions them to take the time necessary to understand their business.
"Many great HR professionals who are just starting out want to move as fast as they can," says Brennan. "But the best thing you can do is slow them down, because they have to learn. They have to learn the business; they have to learn how people do HR in that company; they have to understand the culture of that company."
With the business acumen and technical expertise Wisconsin MBA students achieve, they can position themselves to be "great change agents," Brennan says, but it's a process that takes time.
"How do you get street credibility when you're just getting out? You have to build it."
Through the many professional roles Brennan has held, he's been tasked with everything from managing 20 HR professionals in 20 separate manufacturing locations to shutting down several manufacturing sites. He describes one of the biggest challenges of his career as knowing how to "influence from above," especially when times are tough.
"No one has ever walked into my office and said, 'let me tell you about how good things are going,'" Brennan says.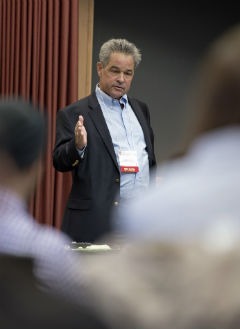 He remembers a time when a major project he was working on was struggling. Brennan had to influence front line employees and stakeholders that they needed to go in a different direction. The company was in the wrong and it was extremely difficult to right the situation.
During the executive residency, Brennan draws on some of these experiences as he mentors WSB students through professional situations, like Sohini Bose Roy (MBA '17).
"Bill guided me on a labor relations project while I was interning with General Mills last summer. I find his advice to combine intuition, courage, and wisdom invaluable as I venture into a career in HR," says Bose Roy.
Brennan reminds students that leadership challenges in the workplace don't come with a one-size-fits-all solution.
"There's no textbook for this and there's no one style to be effective. Do you learn from it or do you run away from it? It's the same with any other issue you might have."
"A lot of times, when you resolve something, people aren't going to come back and say 'thank you.' That's your job."
Giving back
Brennan's number one goal for the residency? To give back.
"I enjoy coming to the School, meeting with business faculty and students and just being in that atmosphere of excitement and activity," Brennan says. "But what really matters to me is making a difference in students' lives and preparing them to be the very best professionals and leaders that they can be in their f
uture HR careers. If I can say 'thank you' by helping someone else, that's the greatest gift I could possibly give."
---