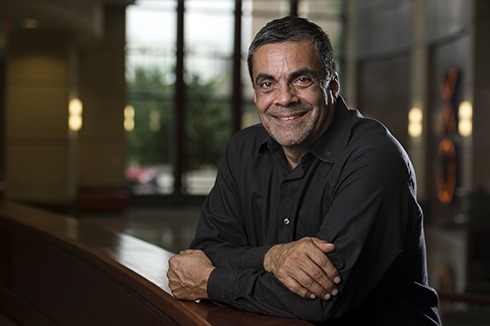 As president of a concrete company, Patrick Thiel (MBA '86) knows a thing or two about walking on solid ground. What got him to that point, though, was walking on something far lighter.
It was the early 1980s and although Thiel had earned a bachelor's degree and entered the workforce, he couldn't shake his strong desire to earn an MBA. In seeking out information on how he might be able to pursue one despite tight finances, he learned about The Consortium for Graduate Study in Management—a national alliance of schools dedicated to enhancing diversity in business education and corporate leadership by providing postgraduate opportunities for underrepresented minorities.
The Wisconsin School of Business was a founding partner in The Consortium, which welcomed its first class in 1966 and is celebrating its 50th anniversary.
"Then I knew I had to do it, that it was the only way I was going to be satisfied," he says, and applied with the Wisconsin School of Business as his first choice. "When I got that letter from The Consortium that said I was accepted and I would earn a fellowship, I was walking on air. My feet didn't touch the ground."
That sent Thiel—who earned a Wisconsin MBA in marketing and now serves as president at Rollcon, a roller-compacted concrete company based in Houston—on a path to becoming the business leader and high-level problem solver he always wanted to be.
Placing a high value on education
Thiel grew up in Hicksville, Ohio, the son of a nurse and a factory worker. His mother's family came to the U.S. from Mexico before she was born and his father was of German descent.
"Diversity in Hicksville, Ohio, was us," he says.
When his mother started school as a child, she didn't speak English. Her experience helped lay the foundation for the high value his parents placed on education, he says.
"She was embarrassed and worked hard to learn English," he says. "Then she excelled in school and became a nurse."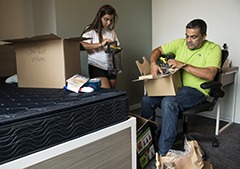 Thiel worked and saved to get his bachelor's degree at Purdue, and worried that an MBA would be beyond his grasp. The Consortium made it possible, and his choice of the Wisconsin School of Business helped clarify his career path and his leadership philosophy.
"The Wisconsin School of Business gave me the tools that made me successful," he says. "I grew when I left, but I've always used the tools I learned at Wisconsin."
Wisconsin roots grew multi-faceted career
Much of the inspiration Thiel gained while at Wisconsin came from Gilbert Churchill, a marketing research professor who later became the first faculty director of the WSB's A.C. Nielsen Center for Marketing Research. Churchill's passion for marketing rubbed off on Thiel, who was recruited to work for Consortium partner 3M after completing his MBA. He went into corporate marketing, working as a consultant to the wide variety of businesses within 3M.
"I got exposure to multiple divisions and multiple situations that were opportunities to understand their strategies and tactics to grow their business," he says. "I got that at the executive level even though I wasn't an executive."
Thiel credits innovative thinking and problem solving as two elements of his education that he has used throughout his career. They have helped him navigate his seemingly disparate professional experiences, including his marketing and sales career at 3M that eventually transitioned into management of the company's construction business unit.
That led to other career opportunities in the construction industry, including six years as vice president of market development at Cemex, a global leader in cement and ready-mix concrete manufacturing, and now with Rollcon. Leading Rollcon wasn't a move he sought, but he was intrigued by the challenge of helping to strengthen the privately owned company with 25 employees.
As president, Thiel has instilled the teamwork and collaboration he learned at the Wisconsin School of Business, suggesting that people come to him with solutions as well as problems.
"At Wisconsin, it wasn't a sense of this professor being someone up on high. It was that they were here to help us and to mentor us," he says. "I always use that approach now. You want someone to learn and look at you with respect. I want people to feel they can come to me."
Giving back by mentoring
Now that he is in a leadership role, he relishes the chance to mentor. It's a way of giving back to those who served as mentors to him, at the WSB and beyond.
"The relationships I've created, helping to build the success of the next person, that means more to me than any of my success ever could," he says. "If you can build a leader for the next generation, that shows what a leader you truly are. That's more valuable than any profit."
Thiel's thumbprint is already on the next generation, as his daughter Jessica just began her sophomore year at University of Wisconsin–Madison. Dad didn't push it, but was pleased with her choice because of his experience pursuing his MBA at the Wisconsin School of Business.
"You know how for many people their heart is where they were as an undergrad?" reflects Thiel. "My heart is in Madison."
Learn more about another Wisconsin MBA Consortium fellow: Larry Harris, the first Consortium graduate.
Read more about Wisconsin's "parade of firsts" through its Consortium leadership over the past 50 years.
---