Zena Stephens (MBA '17) believes so strongly in the mission of The Consortium for Graduate Study in Management that it became the perfect way to enhance the goals she had already set for herself.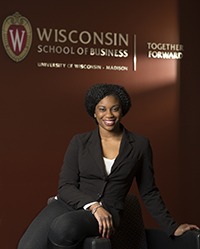 She was thrilled when someone at the Wisconsin Full-Time MBA Program office connected her to The Consortium after she began taking steps to enroll in the Wisconsin School of Business (WSB) for its specialization in strategic human resources management.
"They reached out to me and said that in looking at my résumé and some of the things I talked about in my essay and interview, that The Consortium would be a good fit for me," says Stephens, who started the Wisconsin MBA Program in Fall 2015 and completed a summer internship with Yum! Brands' KFC in Louisville, Kentucky. "They said, 'Do some research and let us know if you think it would be a good fit.' And I saw that everything The Consortium stands for aligns with my personal beliefs."
Stephens was immediately drawn to the diversity initiative that is marking its 50th anniversary this year. The Wisconsin School of Business is a founding partner school of The Consortium, a national alliance of schools dedicated to enhancing diversity in business education and corporate leadership by providing postgraduate opportunities for underrepresented minorities.
Importance of mentoring
Beyond its mission of strengthening diversity, Stephens connected to The Consortium's shared commitment with the WSB to giving back, something that has been important to her throughout her life. She grew up in Miami and earned a bachelor's degree in sociology and human resources at Oglethorpe University in Atlanta.
"I didn't come from the best neighborhood. I always thought it was important to be an example and reach out to youth," she said. "It's important for me to always be involved with them."
Stephens has been a volleyball coach and helped develop a mentorship program for an Atlanta high school. She also helped create a nonprofit to gather supplies for a local school and volunteered with Breakthrough, an organization that helps urban middle school students with academics.
"They know they want a better life, so the things that stick out for them are to hear what you are doing and how you got there," she says of the young people with whom she works.
Business school might not catch their attention right away, she says, but eventually the young students become intrigued by what they hear from Stephens.
"They ask 'What do you do?' and I say I'm an intern at KFC and explain exactly what that entails," she says. "Then when you start talking about earning money or where you're able to go, that sparks their interest, and they say, 'Really? You can do all of that?' and I say, 'Yes, I can, because education is important and I'm in business school.'"
A passion for human resources
Stephens' path in the business world began when she got a job at Costco Wholesale during her sophomore year as an undergraduate and ended up staying nearly five years in a variety of roles.
"Costco has a reputation for treating its people well, and I was able to see it firsthand in my time with that company," she says. "They have a real niche for using their talent as a competitive advantage. That's the root of my passion in HR."
She put her passion and education into action during her MBA-level summer internship at Yum! Brands. Her internship was project-based, and her task was to look at the company's interview process and develop a better interview experience that would accurately assess candidates and align with Yum! Brands' culture.
"They told me very early on, 'We know you're smart; you're getting your MBA. We want to see how you are navigating our culture,'" Stephens says. "They wanted to know how I went about working on the project, whose feedback I received, and who I worked with. That was more important to them than the actual outcome."
This project gave her the opportunity to incorporate what she has learned at the Wisconsin School of Business while pursuing her MBA—the importance of playing to her strengths.
"They had us take a strength-finder test in orientation, and I thought, 'This is so silly,'" she says of her early days as a first-year Wisconsin MBA student. "But then when we spoke about it later, it was something that really stood out to me—that I should play to my strengths and own them. I think that's part of why I did well in my internship."
Despite the academic responsibilities of being a second-year MBA student, Stephens stays involved on campus at the WSB. She is co-president of the Diversity in Business organization and wants to help further build its presence in the School, the campus as a whole, and the community. She helped organize a diversity Lunch and Learn event in Spring 2016 and has worked with The Consortium to expand its reach and find more candidates throughout the country.
"I just want to be involved on this campus, so when people hear 'Zena Stephens,' they say, 'Oh yeah, I know her,'" she says.
Learn more about another Wisconsin MBA Consortium fellow: Larry Harris, the first Consortium graduate.
Read more about Wisconsin's "parade of firsts" through its Consortium leadership over the past 50 years.
---