Positive cultural change does not come about by mandate or wishful thinking, but by a shared commitment to goals. At the UW-Madison Wisconsin School of Business, the goal of cultivating an inclusive and culturally competent place to learn and work is everyone's responsibility, and we're making progress.
"Advancing inclusion and cultural competency is a core value of the Wisconsin School of Business that entails more than recruiting students, faculty, and staff from diverse backgrounds," says François Ortalo-Magné, Albert O. Nicholas Dean of the School. "It also requires a deliberate effort to provide opportunities to develop the skills to recognize one's own biases, understand the experiences of others, and work across differences."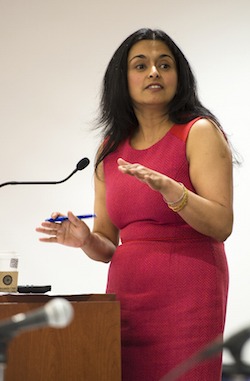 Under the leadership of Binnu Palta Hill, director of diversity, the Wisconsin School of Business has made significant progress on inclusion and cultural competence that is being recognized by leaders on the University of Wisconsin–Madison campus.
Thanks to Patrick Sims, interim vice provost for diversity and climate for UW–Madison, the School will be recognized for its diversity initiatives on a prominent national stage.
Sims is partnering with Hill and Lillian Tong, faculty associate of WISCIENCE and director of University Educators Programs and Services, on a presentation for the upcoming National Conference for Race and Ethnicity (NCORE), a national conference devoted to addressing racial disparities in higher education since 1988. Sims will present the strategic framework for the University's diversity initiatives, Hill will detail the WSB's efforts, and Tong will present the University's diversity initiatives in science at NCORE in Washington, D.C., in May.
A structured approach
"Traditionally organizations signal their commitment to diversity by expanding the size of the diversity office," says Hill. "We have taken a very different approach."
The Wisconsin School of Business intentionally keeps its office of diversity very small, with a direct line to the dean, so that diversity and inclusion can be better integrated into the overall business strategy of the School.
"Rather than having the office of diversity be solely responsible for these efforts, it's also the responsibility of the units to implement diversity and inclusion initiatives," Hill says. "We are unique because we have a clear, structured approach with measureable goals. Some of the initiatives we have implemented, such as providing information on unconscious bias to all search committees, are 'out of the norm.'"
The WSB has identified three interrelated goals that drive the School's efforts:
Diverse populations
Cultural competence
Inclusive communication
"You can't just have a diverse population and throw a bunch of people together who are different if you don't provide the skills to effectively learn from those differences and be innovative," Hill says. "If you and I are different, our differences might lead to innovative thinking together, but if we don't know how to work with people who are different from us, we're not going to be able to successfully do that. It just creates chaos if diversity is not managed well."
Starting the conversation
One important tool the WSB uses to address gaps in cultural competence is the Lunch and Learn series, in which WSB community members lead discussions with the goals of increasing understanding and appreciation for diverse backgrounds and experiences, connecting with colleagues to foster an inclusive culture, and increasing cross-cultural competence. Typical turnout is between 100 to 150 students, faculty, and staff.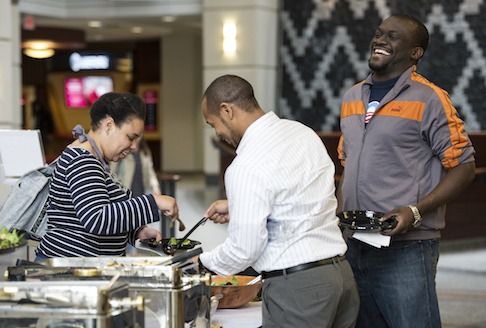 A recent Lunch and Learn session titled "A Tale of Two Badgers: An Exploration of Inclusion and Identity," addressed how we can be in the same environment, in the same situation, and have vastly different experiences based on who we are. Hill notes that communication can come across as critical, negative, or biased regardless of the speaker's intention.
The purpose of these Lunch and Learn discussions is to "really talk about how these differences play out in the School and on campus," says Hill. "And then what do we do with them? How do we give each other permission to stumble? Because we will."
The key takeaway from these community discussions is answering the question, "How do we become more effective allies?" Hill says. "Being a person of color does not exempt me from having the same biases as someone who is not a person of color. We're trying to say everyone is guilty of it, and these differences affect us all differently."
These sessions often generate further discussions, notes Terry Warfield, chair of the Accounting and Information Systems Department, who has participated in most of the Lunch and Learn events. "Lunch and Learn reinforces and maintains a conversation around diversity and inclusion, and I think that's really important because it's one of four pillars within the School's strategy. These sessions have been really well attended by people in my department. We talk about the session afterward and share some of the insights we got out of it."
Working on cultural competence
Another key initiative is the cultural competence workshops. These four-and-a-half hour sessions seek to provide a common language to be able to work across differences, build trust, and create a space that's welcoming and inclusive. More than 150 faculty and staff members, including the dean, have participated in these eye-opening sessions.
A key feature of the workshop is self-assessment. Participants rate their cultural competence at the beginning of the session and then at the end. The post-workshop self-assessments are typically much lower. "We see that as progress because at the beginning, participants think they know more than they do and then they have an awareness of where they need to work," Hill says.
"The cultural competence workshops have challenged us to make inclusion, cultural awareness, and competency a part of our lives. The level of participation and engagement of our WSB colleagues is evidence that we want to be a part of the solution," says Renée Clodfelter, assistant dean of human resources.
Committed to progress
Leadership support and participation have encouraged broad-based commitment to improving diversity and inclusion.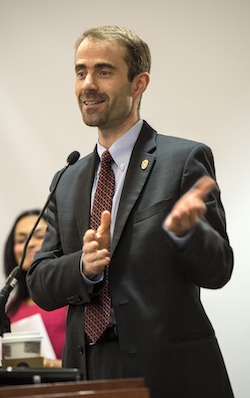 "Chancellor Blank is 100 percent behind our efforts to institutionalize inclusion and cultural competency," says Hill. "Within our School, Dean Ortalo-Magné personally attends most events related to diversity, which sends a very powerful message that these values are truly important to the fabric of who we are and how we want to operate."
Hill sees the School's NCORE recognition as a significant indicator of progress. "Our hope is that over the next year, implementation of the diversity strategy will become part of our performance evaluation of each unit."
Meloney Linder, chief communications officer at the School, sees the cultural competence learning opportunities offered within the School as an important part of creating a more inclusive and collaborative environment.
"Becoming an inclusive and diverse community starts with understanding our own subconscious biases and gaining an appreciation of each other's perspectives," Linder says. "Participation in learning opportunities such as the Lunch and Learn series and the cultural competence workshop has given our team an appreciation of the opportunities and challenges presented by diversity and how they are essential for the success of our community of students, faculty, staff, and alumni. With a foundation of understanding, we are able to foster greater collaboration within our teams and the School."
---