Balance. For Wisconsin Evening MBA students, it's not something their schedules have a lot of, with managing school as well as full-time careers, family life, and in some cases a commute to the Wisconsin School of Business from Milwaukee or other areas. But with the rollout of brand-new, fifth-generation Microsoft Surface Pro tablets this September, maintaining their educational commitment just became a little easier.
The devices were issued to students during this fall's orientation, says Doug Exum, technical operations manager for the Wisconsin Evening and Executive MBA programs, and are the continuation of a forward-thinking technology initiative started last year. In 2016, the Wisconsin Executive MBA program was the first on the University of Wisconsin–Madison campus to provide students with iPads, which replaced the bulky paper binders the program had been using.
All-in-one functionality, streamlined collaboration

Building on the success of last year's rollout, Exum and his team decided to adopt Surface tablets based on feedback they received from students regarding functionality. Surface has a unifying element, an all-in-one-place ease of use, and works well with Excel—key for a "quantitative-heavy" curriculum like the Evening MBA, Exum says.
"When we'd walk in and observe some of the classes, we'd frequently see students using two or three devices—a reader, a tool for taking notes, and something else running an Excel spreadsheet. We wanted to provide the flexibility and portability of having it all on one device," Exum says.
With Surface, students can conveniently access everything they need within a single device. Professors are able to drop course materials into Canvas, WSB's classroom learning management system, which students can then import into OneNote, Microsoft's free-form notetaking system. They can write and erase within OneNote using the Microsoft Surface pen, a feature that "makes notetaking somewhat enjoyable," says student Torger Philosophos (MBA '20), who demonstrated the process during a recent organizational behavior class taught by Professor Alex Stajkovic.
Lance Hardyman (MBA '20) says it's a relief to have technology that pulls it all together so that he doesn't have to.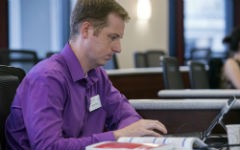 "It is really nice not having to bring both a tablet and and my work computer," he says.
The introduction of Surface also paves the way for greater collaboration and innovation by making it easier for students to work together in teams and to communicate their ideas and projects, especially when they're only together for class two evenings during a typical week. Surface aids virtual collaboration by enabling file sharing and real-time brainstorming with programs like Google Hangout.
Exum says having this greater degree of collaboration and experience using the device can carry over into the students' full-time jobs as well.
"We wanted students to have the ability to take something away from what they're learning in class and in their teams, and apply it where they work as well. It's that innovation piece."
Moving WSB programs forward
While it's still early, feedback on Surface has been positive so far, Exum says. A number of students from last year with iPads have decided to purchase Surface because they were impressed with what the tablets can do. The iPads and the Surface tablets are owned by the School; when the students graduate, they get to keep their devices.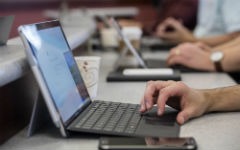 Exum says it's gratifying to be part of the technology and innovation process on all levels in a program like the Wisconsin Evening MBA, where students sacrifice their free time to make their education possible.
"It's rewarding to be able to help the programs move forward and succeed. On the student side, the last thing we want is to watch them struggle with tools that should be making learning easier; all of our students work full time as well as come to school. We don't want these kinds of things to be a barrier for them."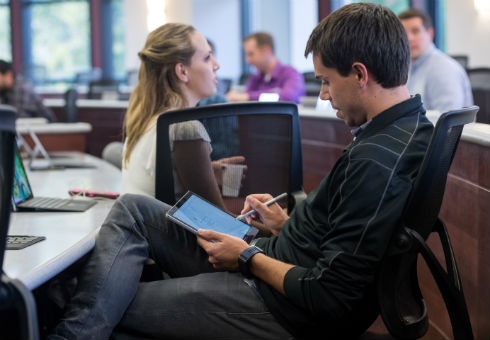 ---