An anniversary is a time to reflect, and to look forward. There's been some of both this year as the Wisconsin School of Business at the University of Wisconsin‒Madison notes its founding role in The Consortium for Graduate Study in Management, which is celebrating its 50th anniversary of enhancing diversity in business education and corporate leadership by providing postgraduate opportunities for underrepresented minorities.
In 1966, the University of Wisconsin‒Madison was one of three business schools—joining Washington University and Indiana University—in a membership that has grown to 18. In that time, 685 Consortium students have graduated with a Wisconsin MBA, representing nearly 10 percent of all Consortium graduates in the country.
WSB leadership discussed the impact of The Consortium on the Wisconsin School of Business, and the School's impact on The Consortium. Taking part in the conversation were:
François Ortalo-Magné, the Albert O. Nicholas Dean of the Wisconsin School of Business
Binnu Palta Hill, director of diversity and inclusion for the Wisconsin School of Business
WSB: What is the significance of the 50th anniversary of The Consortium here at the Wisconsin School of Business?
Sanford: A key piece of the legacy of the 50th is the fact that Wisconsin was progressive enough 50 years ago to say yes to the idea. It really is very Wisconsin-esque to be out front and to join into an idea that almost was before its time. Going back to the Latin root of consortium, the word really means partnership. Wisconsin joined two other great universities to be a part of this 50 years ago, and that's quite amazing.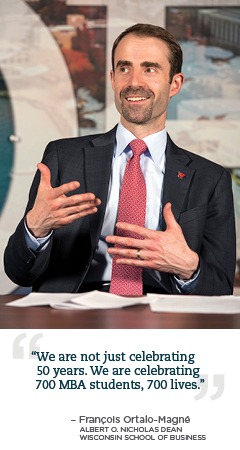 Hill: The Consortium leveraged the intersection between the corporations and academic institutions to cover societal gaps and provide increased access to education for students to diversify the workforce. The result has been powerful in redefining the makeup of business schools and corporations.Ortalo-Magné: I think it says a lot about the sustaining power of what the idea was 50 years ago. It would have been interesting to ask those who did the founding, "What will it look like 50 years from now?" To see how it has grown says a lot about how important the idea was.
Ortalo-Magné: I think it is important to think about that partnership as a forceful group. Too often, we have a tendency to think that the solution to societal problems is through the election systems and politicians, and here it is decentralized organizations taking initiative.
The other thing I like about 50 years is it's giving us a chance to look back and acknowledge the fact that for us 50 years is nearly 700 students. That's a big number, right? So we are not just celebrating 50 years, we are celebrating 700 MBA students, 700 lives. Then you multiply that by all the lives they've touched, and that is quite a remarkable achievement of which we should be proud.
WSB: How does the Wisconsin School of Business, and the university as a whole, benefit from the presence of Consortium students?
Sanford: Well, direct benefits start with employers. We've got a number of employer partnerships that are a direct result of The Consortium, and our students have done very well. We've had 100 percent internship placement of Wisconsin MBA Consortium students for years. Consortium students also achieve well over 90 percent career placement within three months of graduation, typically about 93 to 100 percent annually.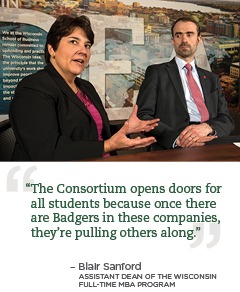 I see a direct benefit to classmates, too, because Consortium students aren't just bringing their background and experiences to the classroom, they're bringing their ideas and making the Wisconsin School of Business a better place.That has directly benefited Consortium students but also the greater Wisconsin MBA population. The Consortium opens doors for all students because once there are Badgers in these companies, they're pulling others along. They're looking out for their fellow Badgers, whether they are BBAs or other MBAs. So that's been key. It has helped us maintain recruitment relationships with organizations that demand diversity.
Ortalo-Magné: Some of the students have been leaders with you, Binnu, on diversity and inclusion efforts.
Hill: Exactly. Our school and campus have been beneficiaries of the talents and engagement of our Consortium students. Many have been leaders of student organizations like Diversity in Business and Graduate Business Association. Our Consortium students have actively built community and promoted inclusion by partnering with campus organizations like the Wisconsin Black Student Union, the Black Law Students Association, and the Multicultural Student Center. They have come together to host forums that allow us to talk about diversity and inclusion issues on campus and in the School. Consortium students have brought not only their intellectual and academic capacity, but also their diversity of experiences. That has been instrumental in expanding the collective mindset of our school.
Ortalo-Magné: We were part of The Consortium from the get-go. So, we were part of shaping The Consortium. And we are part of, at this point, the national conversation about employers, business schools, and issues of inclusion. Would we have sustained the initiative for 50 years if we had been by ourselves? Certainly, I think, being part of The Consortium has helped sustain it.
WSB: What is the Wisconsin School of Business's and the University of Wisconsin‒Madison's legacy as being one of the founding members?
Ortalo-Magné: When you think about the quality of the students we've had and the leadership they have brought to our classes, I take a lot of pride from sustaining an effort over 50 years. It's kind of sad to think there was anyone who thought it wasn't relevant until now. Having been there from the beginning, it gives us this affirmation that we are in a place where we want to be.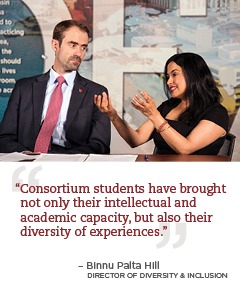 Sanford: To me, every single graduate is a success story. So, I think our legacy is what we touched on earlier, the nearly 700 students who have graduated from The Consortium with a Wisconsin MBA.Hill: It also keeps us connected to our roots, the history of our country. That's an important connection, especially for our students, faculty, and staff who come from marginalized population
s—that there is an understanding and an affirmation of the experience of those communities. So, while we're working on enhancing diversity within corporations and business schools, we have a shared understanding and respect for the historical context that contributed to the challenges many of our students and colleagues face today.
WSB: Looking to the future, how would you like to see The Consortium evolve and what would be Wisconsin's role?
Ortalo-Magné: Here's the open question: In 1966 racial inequality was the big issue of the time and it continues to be. My wish is that we understand what the next big 50- to 100-year transformation for our society is going be, and that we continue to be in a relationship with other great business schools and great employers to be at the forefront of addressing it.
Hill: Research shows that if we reach students from disadvantaged backgrounds early on, in elementary school, we can increase the chances of helping them achieve a path to success. If The Consortium worked with younger students who are in elementary, middle, or high school, it could create a phenomenal pipeline of students set up to succeed in undergraduate programs and graduate programs.
Sanford: For the past several months during board of trustees meetings in support of The Consortium, we've been debating what that next big step should be. We haven't completely figured that out but we're putting a lot of effort into building the undergraduate pipeline through building better partnerships at a younger level. There's been significant work done in this.
Ortalo-Magné: To look at the future, in 50 years shouldn't The Consortium be irrelevant?
Hill:  It's not irrelevant yet, so we will continue to work until it is. It would be wonderful if it was irrelevant today but we know we have a long way to go in achieving equity and inclusion. The Consortium is a key partner for us in continuing to make progress on this journey.
Ortalo-Magné: I hope, then, that the 100-year anniversary is a celebration of irrelevance.
Sanford: Then we would have accomplished the mission.
Learn more about the Wisconsin School of Business's pioneering role as a founding member of The Consortium.
---