Long before he was stationed across the globe with the Peace Corps and the Foreign Service, Aaron Williams (MBA '73) was a kid growing up on the south side of Chicago where he attended seven different elementary schools. "My mother was determined that I receive the best education that the Chicago Public Schools could offer," Williams says, describing how she would move him if she felt the school wasn't up to par. "Education was first and foremost on her mind."
That standard of excellence, a commitment to quality education, and a desire to change the world have been the common thread running throughout Williams's impressive international career. The first person in his family to go to college and an MBA degree holder from the University of Wisconsin–Madison, he has dedicated the bulk of his life to helping others, much of it overseas. Williams started as a Peace Corps volunteer in the Dominican Republic, which he describes as "an amazing, transformative experience that changed my life." He then spent 22 years in the U.S. Foreign Service, as a senior official at the U.S. Agency for International  Development, before his appointment by President Obama as the 18th director of the Peace Corps from 2009 to 2012. He is currently Senior Advisor, Government Relations with RTI International, a global nonprofit research institute that provides research, development, and technical services to government and private sector clients worldwide.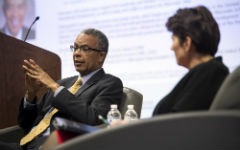 Williams shared his expertise and lessons learned with Wisconsin MBA students during the M. Keith Weikel Leadership Speaker Series in a conversation moderated by Blair Sanford, assistant dean of the Wisconsin Full-Time MBA Program. "Your story is a living legacy of the Wisconsin Idea," Sanford said to Williams and the audience as she thanked him for his speech.
Williams first visited UW–Madison as a Peace Corps recruiter, and later became a graduate business student with The Consortium for Graduate Study in Management program. The Consortium, which celebrated its 50th anniversary in 2016, is "the most successful minority recruitment and placement program in the country," he says.
"Everything started here at the University of Wisconsin," Williams reflects. "Wisconsin prepared me for the world of business."
Here are four leadership takeaways from his talk:
Have a vision—seek out strong mentors—and motivate others to follow. In his first post-MBA job, Williams found himself with multiple job offers, several from big-name companies, but he accepted a position with the lesser-known International Multifoods. "I took less money to go work for a guy who was really a surprising leader," Williams says, "and that was a very good decision." Williams learned all aspects of the business from this senior executive. He sometimes had to sink or swim as part of a demanding introduction to business, but, this superb boss/mentor "gave me the keys to the kingdom of that company." At every stage of his career he benefited from the guidance of exceptional leaders and mentors, and he made it his goal to reach out in a similar fashion to younger professionals.
Diversify your network. Building a strong internal and external network is important, Williams says. He has been fortunate to have colleagues who have followed and worked with him in three different organizations. But it's vital to surround yourself with individuals who are different from you, as there is strength in diversity. As a diplomat and international development executive, Williams served in several different countries, and he tried to avoid being limited to the obvious initial relationships that one often encounters in a new posting. He strove to seek out diverse perspectives. "Develop some rapport with people who don't see the world the way you see the world."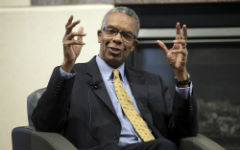 Have someone on your team who challenges you. The best leaders are comfortable with being challenged, Williams says, and that's an "amazing part of leadership. It's amusing how some people are afraid of that." Don't be afraid to butt heads sometimes. "We push our young managers to have a say," he says. And when talented employees want to move on, let them go gracefully. Above all, don't forget to have some fun along the way, Williams says. "Laughter and a sense of humor are an important part of leadership."
Be open to taking risks. Being a leader means taking risks, even when the stakes are high. As the head of the USAID program in South Africa, when Nelson Mandela was president,—"a once in a lifetime transformative leader"— it was a challenge to provide the type of support that the Ministry of Health officials found acceptable. He eventually took it directly to President Mandela, who pushed the project forward. It took several months longer, but risking failure was worth it, Williams says, because the project was of great importance to the people of that nation.
Despite what we see in the news every day, Williams believes these are exciting times to be in business and is hopeful about the future that business leaders can create. For one, we're seeing an "explosion of civil society around the world," he says, with individuals everywhere actively working to make a difference. Another change is within corporations: corporate social responsibility was not on the radar early in his career, in stark contrast to the current perspective of global corporations. Citing Bill and Melinda Gates as an example, "companies and foundations have resources they can use in innovative ways that governments cannot, and public-private partnerships are now more important than ever.
Reflecting on the notion of the Wisconsin Idea—taking what we learn and using it for the greater good—Williams says he tries to give back for all he has received. "I really feel very humbled and privileged to have had the career I've had, to work in three sectors:  government, business and nonprofit, and I've worked with some really amazing people who've been very supportive. I've had great mentors, and I could not have achieved a career like this without those mentors."
The same belief that inspired Williams early on in his career also remains strong. "I believe in the mission," he says, hearkening back to his time as a Peace Corps volunteer. "I go to work every day with the knowledge that my goal, and as we say at RTI, our mission, is to improve the human condition, making the world a better place in every way that we can!"
Read about previous M. Keith Weikel speakers Roger Ferguson Jr., John Peirson, and William Davis.
---