Well-being is a skill that can be learned and developed through simple "mind exercises," according to Richard Davidson, founder and director of the Center for Investigating Healthy Minds at the University of Wisconsin–Madison.
Davidson shared his research with Wisconsin MBA students during a recent M. Keith Weikel Leadership Speaker Series lecture at the Wisconsin School of Business, explaining that, when practiced regularly, these exercises can improve tangible metrics such as productivity, absenteeism, health, and health care costs.
Speaking to an audience of 200 faculty, students, and staff, he described a study that compared MRI brain scans of people trained in mindfulness practices with those of untrained individuals as they anticipated, experienced, and recovered from physical pain. The scans of those with the mindfulness training showed much less activity during anticipation of pain and recovered much more quickly than those without this training.
"If we can harness the powers of our brains to focus in the present moment, we can behave in a way that is more skillful, more adaptive," Davidson says.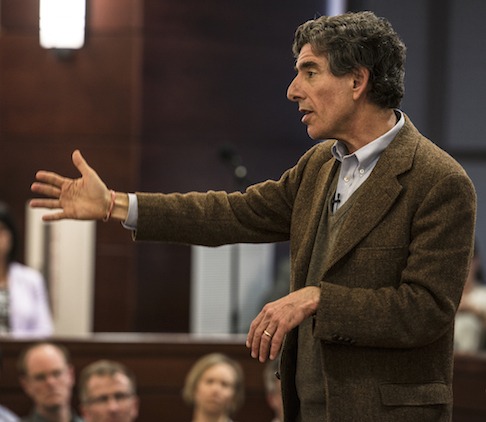 Davidson partners with the School's Center for Professional and Executive Development on a program called "Cultivating Well-Being: A Neuroscientific Approach," which offers custom well-being training to organizations.
Another benefit of wellness training to businesses and managers is less distracted employees. Davidson cited a recent study that found American adults, on average, spend 47 percent of their waking hours not paying attention to what they are doing, and they are less happy when they are not paying attention to what they are doing.
"I am absolutely, totally convinced that we can do better," Davidson says. "Imagine a world where we can improve our capacity to pay attention even by 5 percent. Reflect on what that might mean on productivity in our work life."
Davidson says that there is also evidence that indicates that people who show signs of high levels of well-being tend to be physically healthier. He predicts widespread adoption of well-being practices in workplaces as the evidence about their benefits grows.
"I think that mental exercise of this kind will be regarded in the same way that physical exercise is today in five or 10 years," Davidson says. "If we actually are able to find that individuals who engage in these simple practices in the workplace reduce their health care utilization and therefore have fewer health care costs—even if it's a small percentage—these are the kind of data that are going to lead to change overnight in the interest and embracing of these kinds of simple practices that will penetrate into the mainstream."
Learn about custom well-being programs offered by the Wisconsin School of Business in collaboration with the Center for Investigating Healthy Minds.
---