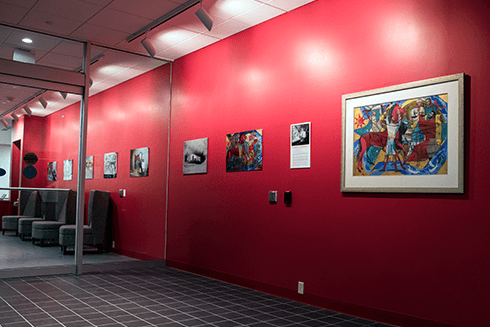 Last summer, Wisconsin School of Business artist-in-residence Angela Richardson (MFA '15) made an unexpected discovery. In the sea of storage in Grainger Hall's basement, she uncovered some buried treasure: it was the original color sketch for Ancient Commerce, a mosaic done by artist, art historian, and University of Wisconsin–Madison professor James Watrous.
The piece is significant in its own right—Watrous was an accomplished muralist and won numerous fellowships and awards for his work during the course of his career—but it's also a symbol of the School's decades-long commitment to artful engagement and a unifying element that bridges the past and the future. In 1955, WSB (formerly School of Commerce) commissioned Watrous to create two mosaic murals for its Commerce Building, now known as Ingraham Hall. The murals, Ancient Commerce and Contemporary Commerce, exemplify the melding of art and business and are still housed there today. In Grainger Hall, the rediscovered Ancient Commerce sketch and photographs of both pieces are now displayed at the entrance of WSB's new donor-funded Learning Commons, part of the more than 200 pieces in the School's permanent art collection.
Just as the Learning Commons transformed the existing space, weaving in tradition with innovation, Richardson and the WSB Space Committee were intentional about the art selected for this new environment. Prioritizing artful engagement was a key theme of the Learning Commons renovation. The committee aimed for a beautiful, vibrant space that incorporated design, creativity, and innovation and reflected how WSB deeply values the humanities and liberal arts.
"The idea of 'artful engagement' at WSB extends far beyond enjoying the beautiful collection of artwork on our walls," Richardson says. "It's a concept woven throughout the curriculum and culture of our School. Artful engagement is about creating physical spaces and designing learning opportunities that invite all of us to engage more deeply with one another and with big ideas."
Using artful engagement as a guide, the pieces selected for the Learning Commons showcase the WSB brand, support campus and community relationships, and embody the Wisconsin Idea. With those goals in mind, the space committee created a set of criteria for Learning Commons art selection. The works needed to advance one or more categories: highlight WSB's existing art collection; acknowledge the School's history and ongoing commitment to the arts; and celebrate Badger pride and Wisconsin-made work.
Highlighting WSB's existing art collection
The Learning Commons transformation provided an opportunity to bring together pieces from the School's existing art collection. Commissioned for Grainger Hall in 1993, Ed Carpenter's Library Window was retained in the new space, now a featured attribute of the Learning Common's second floor. The window is composed of 75,000 glass marbles held together across 56 window panels. Signifying the idea of information storage—something critical to business, libraries, and technology—the work's circle within a square is in keeping with Grainger Hall's neo-traditional architecture.
Four geometric prints by Marko Spalatin (MFA '71), an internationally exhibited artist who lives in Blue Mounds, Wisconsin, were selected for display next to Library Window. Prior to the Learning Commons, the prints were exhibited individually throughout Grainger Hall. "By grouping these pieces, we utilize our existing collection to further highlight WSB's long-standing commitment to creating and maintaining a beautiful environment for learning," Richardson says.
Acknowledging the School's history and commitment to the arts

The School's commitment to artful engagement reflects an appreciation of the humanities and liberal arts, says Richardson, who is also the aesthetics and business project coordinator for WSB's Bolz Center for Arts Administration. In 2015, for example, Richardson led Wisconsin BBA students in a collaborative project with UW–Madison's Go Big Read program and Wheelhouse Studios. After reading the book selection for that year, Just Mercy, students created silkscreen posters evoking their reactions to the book and its themes of social justice and incarceration. The final pieces were gifted to author Bryan Stevenson and another set of prints is now displayed as part of the permanent collection on the third floor of the Learning Commons.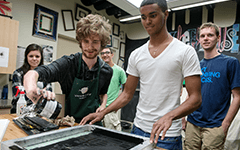 Celebrating Badger pride and Wisconsin-made work
The Learning Commons selections pay tribute to talented artists from UW–Madison and around the state. As a committee, "among our interests was the desire to support emerging creatives and recent graduates by choosing work made by Wisconsin artists and UW alumni," Richardson says.
UW–Madison graduates Chris Maddox (MFA '16) and Stacey Lee Webber (MFA '08) are featured prominently in the Learning Commons. Maddox's mixed-media work is displayed on the second floor and explores issues of commerce and trade throughout history. As the viewer moves from left to right with his work, the found images embedded therein become increasingly contemporary. Three pieces by Webber, now based in Philadelphia, can be viewed on the north wall of the Huber Computer Lab. Her metalsmith work utilizes found materials and provides a thought-provoking juxtaposition with the state-of-the-art Finance and Analytics lab. Currency is a dominant theme in this showcased work; all three artworks are designed using individually cut U.S. coins within round steel frames.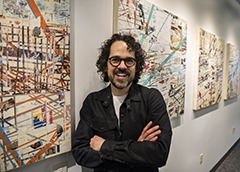 The third floor of the Learning Commons features a collection of prints made by Wisconsin artists. Screenprints by sisters and UW–Madison alumni Sachi Komai (MFA '03) and Laura Komai (MS '99)—also local business owners of the State Street store, Anthology—are on display. Two broadsides by Silver Buckle Press and work by JW Buchanan (BFA '04) and Melissa Buchanan (BFA '04) of Little Friends of Printmaking are also represented.
Cultivating a creative mindset
Richardson believes that artful engagement extends far beyond the design and execution of the Learning Commons. Empathy and critical thinking—"perspectives that the liberal arts and humanities help us cultivate," Richardson says—help WSB students become better leaders. From decision-making in coursework to student-run arts programming to staff book clubs, artful engagement is a common thread running throughout the School's values, initiatives, and priorities.
"Maintaining an environment and traditions that reflect and support this kind of growth is essential," Richardson says. "It's a great pleasure in my role as the School's artist-in-residence to work with students, faculty, and staff in making that happen."
---