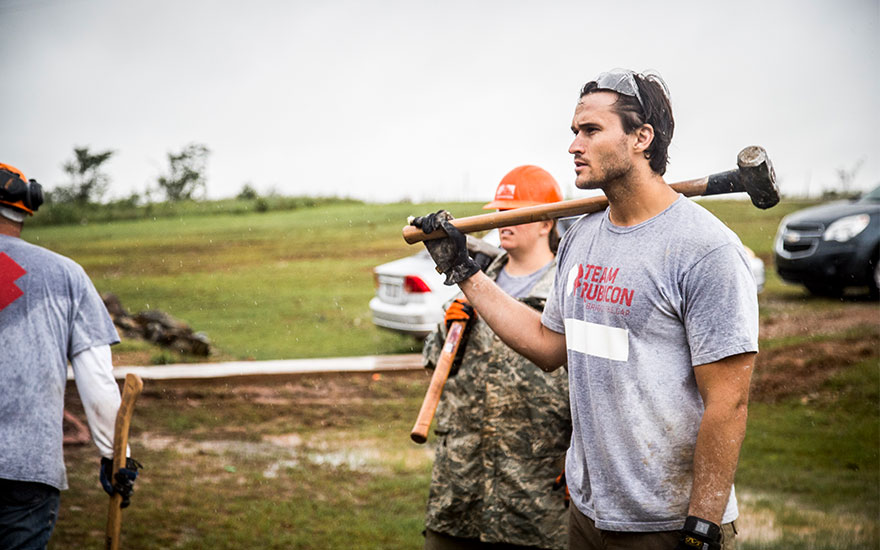 It's been almost 10 years since Jake Wood (BBA '05) and a fellow Marine took a team of eight volunteers to Haiti to help after a massive earthquake hit the island nation. That endeavor transformed Wood's life and set him on an unexpected career path.
From that initial assistance, Team Rubicon was born. With Wood as co-founder and CEO, Team Rubicon has a dual mission to assist and rebuild disaster-stricken communities and to help returning veterans, who make up the majority of the volunteer teams. Since its founding, Team Rubicon has deployed more than 107,000 volunteers to nearly 400 disaster sites and has built a staff of 250 people.
Wood, a former Badgers football player, joined the Marines after graduation and served tours of duty in Iraq and Afghanistan. CNN named Wood a CNN Hero and he received the Pat Tillman Award for Courage at the 2018 ESPYs. He is the author of Take Command: Lessons in Leadership: How to Be a First Responder in Business.
This fall, Wood visited UW–Madison and the Wisconsin School of Business. He spoke about Team Rubicon and some of its most recent work.
WSB: For those who only saw it on the news in September, what can you tell us about what it was like to be in the Bahamas after Hurricane Dorian?
Jake Wood: Part of Greater Abaco Island, where I was, looked like a nuclear bomb had hit it and that's not hyperbole. It's one of the worst examples of destruction I've ever seen. It's very complex because 60% of the island's economy was destroyed because of the loss of tourism; 80% of the island was evacuated to other islands in the Bahamas or Florida. So you'll have this delicate recovery process where millionaires aren't going to rebuild their vacation homes without local labor, and local labor isn't going to come back without millionaire vacation homes to work on or suitable housing for themselves. If nobody jumpstarts either of those two things in the next two years, these people are going to plant roots somewhere else and they're never going to come back.
We've deployed about 200 people there. Our medical teams have been in villages doing medical assessments. Our chainsaw teams have cleared 85 miles of roads.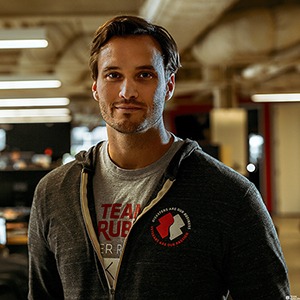 WSB: In January, it will be 10 years for Team Rubicon. How did you make the decision of going from a one-time volunteer effort to creating an organization?
JW: I feel like a lot of that credit goes to the volunteers who demanded it become that. They were so enthusiastic about the opportunity to do the work that they almost didn't leave us a choice. If you think of them like a customer, that's a good situation to be in—so much demand for your product.
We started with eight volunteers and we probably hit our first thousand in 18 months, maybe 24 months. We weren't always able to engage all of them. Our challenge wasn't recruiting new people who were enthusiastic about the cause, it was finding programs that were flexible and we could scale enough to engage them frequently and meaningfully.
WSB: How does your organization complement the Red Cross and other disaster relief organizations?
JW: If you think about what happens domestically, the Red Cross does mass shelter, mass care if a flood comes to a city. People get a place to sleep and get food. The Red Cross doesn't go and fix their house, we go and fix their house. It's a collaborative environment. When we first started, it took us a while to identify the voids in this landscape and we filled them pretty nicely.
WSB: What impact is this organization having on returning veterans?
JW: We talk about three things: Purpose, community, and identity. Giving men and women a mission helps restore a sense of those things in their lives. A lot of people want to focus on access to healthcare or education for veterans and all that stuff is important, but none of that matters if they don't have purpose.
WSB: In leadership positions, you can get away from the work that drove you to launch the organization in the first place. How do you reconcile that?
JW: I just have to be realistic about what my best use for the organization is. It's not always being out in the field. There is value in that, tangible and intangible, and I do it as often as I can. That's two or three days, two or three times a year.
The reality is that what we do is expensive, so my highest and best use is in public affairs and public relations. Media outlets want to speak to me, and that garners more money and new volunteers. But it is important for me to go into the field and get the pulse-check of the organization so I can understand the friction points and the culture on the ground.
WSB: How did business education help you in founding Team Rubicon?
JW: It helped a lot. An undergraduate business degree doesn't necessarily prepare you to start a company, but it helps you learn what you need to know. I knew enough about finance to create budgets, but I quickly learned I didn't know enough about accounting to keep our books. A year in, I realized I was not going to be Team Rubicon's bookkeeper but I knew how to read financial statements. If you can't understand P&Ls and cash flow and how assets work against liabilities, you're not going to last very long. But entrepreneurship is really having the stomach for it more than anything. We survived long enough to get to the point where we had the right team.
WSB: What comes next for Team Rubicon?
JW: We're starting to think of ourselves in one way as a technology company. We're kind of a platform company, like an Airbnb or Uber, where you have underutilized assets connected to demand via a seamless online platform. If we think of our volunteers as underutilized assets in communities that have that demand, we can create the right digital tools to make that experience seamless so people can help their communities.
WSB: What is next for you?
JW: I'm writing another book that will be published next fall. It's not a business book, it's a memoir, which is an interesting project. I'm having fun doing some advising and angel investing—and chasing a 1-year-old around. Becoming a father is the coolest thing I've ever done by far.
For more about Team Rubicon, visit its website.
Read more about Jake Wood in this 2015 story about him in On Wisconsin magazine.
---