The COVID-19 pandemic forced businesses in all sectors to react quickly in order to stay relevant and continue to thrive. Alumni in Action introduces you to WSB alumni who faced and met the professional challenges the pandemic imposed.
---
When COVID-19 turned the world upside down in March, Jesse Theiler (MBA '14) wondered what he and his company could do to help. It wasn't particularly obvious, though, to the founder and CEO of a technology consulting company.
"I thought, 'We aren't medical experts, I'm not a nurse, how can we make a difference?'" says Theiler, who founded Madison-based Emelar Consulting Group in 2016.
Then Theiler realized there was a way his company could lend a hand—by helping people get a job. Emelar's area of expertise is Salesforce, the industry leading cloud-based customer relationship management (CRM) platform. Theiler's company is a Salesforce partner, helping clients customize and drive value with the software. He knows that the skills needed to administer the platform are valuable.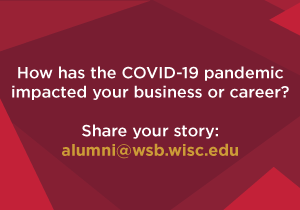 With U.S. unemployment rising in the wake of the pandemic, Emelar launched Project Hope in April. The free training program combined online content with Q&A sessions with Theiler and Emelar executives, as well as professional development assistance such as interviewing or preparing a résumé. While a job wasn't guaranteed, those who completed the month-long program would have the skills to become an entry-level Salesforce administrator and earn a certification.
"It's a high-demand job and the career opportunities for someone who enters that way are really good," Theiler says.
Just over 100 people signed up for Project Hope. It originally targeted people in Wisconsin, but grew to 18 states. The time commitment for those who went through the program was 10 to 20 hours a week. The online materials remain on Emelar's website for people to complete on their own time. The complementary content such as the Q&A sessions were recorded and remain available.
Emelar, which has 25 employees, didn't shut down or downsize during the pandemic. So Project Hope became an additional project for the company.
"This wasn't a matter of us being slow trying to think of something to do," Theiler says. "We were all really busy, so this was a priority we had to create and find the resources for."
Theiler has great empathy for those who lost a job during the pandemic—he's been there himself. His career has primarily been in technology and at one point he found himself without a job when his was eliminated, facing the daunting challenge of looking for work and needing to support his family.
When he lost his job, he decided to launch his own company not just to have a job but to help him work toward a more meaningful goal. Theiler's son, Aaron, has severe autism and requires 24/7 care. He is at home now, but Theiler and his wife, Sarah, worry about the future. He founded Emelar with a goal to build the company, sell his stake in it, then finance and build a community in Madison for adults with autism.
"There is definitely a need and people are trying to figure out what works best," he says.
Theiler felt confident leading his own company after completing the Wisconsin Evening MBA Program.
"I had 10 or 15 years of business experience when I got my MBA, but that education helped me really fill in the gaps," he says. "It was critical to any success we've had at Emelar."
His company's name comes from combining the names of his three children—Emma, Eli, and Aaron. The story behind the name is the question people ask him most about his company, Theiler says, and he is happy to give the answer.
"I know there are a lot of difficult days as an entrepreneur and there were days I'd want to quit," he says. "I wanted to have a North Star, something that was a reason for doing this."
It all fits together for what Theiler wants to do most—lend a hand.
"We're a very values-oriented company and in the end it's just about helping people, and there are a lot of people who need help right now," he says.
---