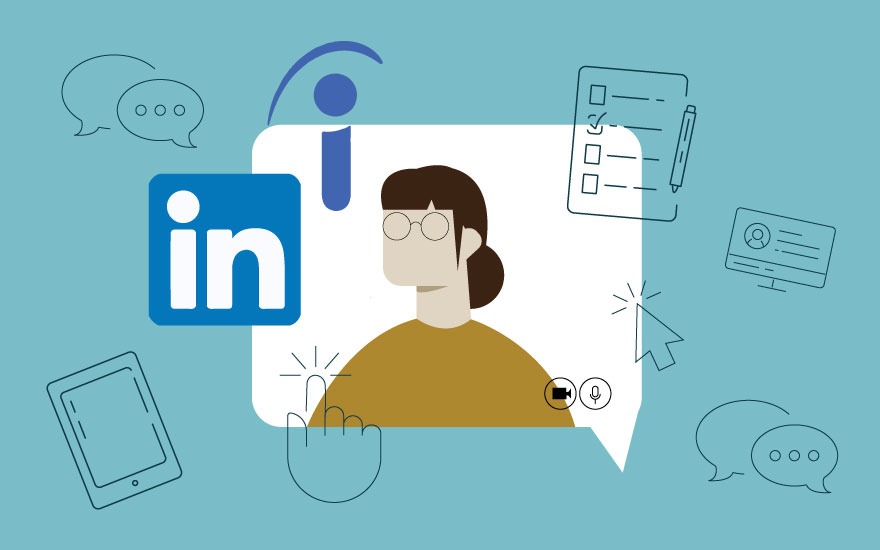 The COVID-19 pandemic has had an impact on everyone in one way or another even beyond its health implications. That includes many who are now facing career challenges because of the disruption in the once-thriving economy.
The Wisconsin School of Business has career resources available to Business Badger alumni at all levels: entry-level, mid-career, and executive. These resources include one-on-one career coaching, resume and cover letter guides, job search links, professional development webinars, and networking opportunities.
Some people have lost jobs, while others worry that a job loss looms. Some were already in the midst of a job search or already contemplating a career change when the pandemic hit, leaving their plans in limbo.
"We're in a state of ultimate ambiguity right now," says Jamie Macias, director of career services for the Wisconsin BBA Program.
Still, there is reason for optimism on the job front, says Jean Sink, director of career management and corporate partnerships for the Wisconsin Evening and Executive MBA Programs. While some industries such as tourism and service have been hit hard, others such as supply chain or biotech are thriving or found a way to pivot. There are opportunities, and WSB's career resources can help guide alumni to them.
"Companies are still hiring, and there are quite a few," Sink says. "People should still feel hopeful."
With that in mind, WSB career services staff offer a variety of tips for alumni to navigate the uncertainty they might be experiencing in their professional lives right now.
Get your job search materials together
Now is the time to update your résumé and have a cover letter ready, says Gina Jenkins, director of the MBA Career Management Center. Even if you are not searching at this moment, it's good to be ready to react in case your job situation changes.
"If someone is laid off, they might need a paycheck tomorrow, or they might have some cushion," Jenkins says. "Because the market is changing daily, even if you have some time to search, it might not be the time wait."
So far, the professional market isn't saturated with job seekers as it was during the Great Recession in 2008-09, but that could change. So those who move quickly to get back into the market could have an edge, Sink says.
"I've talked with some people who were laid off. They had their half day of being sad about the loss—and it is a loss—but then they flipped the mental switch and said, 'OK, what do I need to do?'" she says. "It's important to get out of your mental space, go get some fresh air, and look forward."
Move forward, but take time to reflect
As a job search begins, it's a good opportunity to think about what you want that search to be, particularly if you don't have to move quickly for financial reasons. That way you can seek out something that fits the formula for career fulfillment: finding the right job function in the right environment for you.
"It's helpful when we have a reason to pause, to make sure our goals are what they were before or if we have new goals," Macias says. "We can focus a search based on who we are today."
The economic and career landscapes have changed a great deal since the last downturn more than a decade ago. There might be new opportunities since then, so it might be limiting to only look for the same thing again.
"I've had students and alumni look at job descriptions and say, 'I didn't even know this existed,'" Sink says.
After job searchers think about their experience, their skill set, and where they find joy, Sink suggests they look at job descriptions in their fields of interest. They should look at them not to apply, she says, but to study.
"What are the commonalities in those descriptions? What are the requirements and competencies needed?" Sink says. "They should see how it compares to their skills and where the gaps might be."
Take advantage of your network, or build it up
It's always tough to tell friends and acquaintances you've been laid off or looking for work but at times like this, people are understanding.
"I think people feel we are all in this together," Jenkins says.
With employment in flux, the network is particularly valuable right now because personal contact might be the best way to find out what is going on at a company, Macias says.
"The network can help you understand which positions aren't frozen," Macias says. "If there's a position at a company you're interested in, connect with a Badger and let them know you're interested and you'll be top of mind when it opens again."
WSB offers several virtual networking opportunities. The official Wisconsin Business Alumni LinkedIn group has more than 9,000 members. In addition, Badger Bridge offers UW–Madison alumni the chance to connect with fellow Badgers and build a professional network.
In addition, WSB's Alumni Relations will begin hosting virtual networking chats in May, facilitated video gatherings among alumni with common interests.
Upgrade your social media presence
Take this time to update your LinkedIn page, particularly if it's something you haven't paid much attention to over the years.
"You don't have to be on LinkedIn to find a job, it's just a missed opportunity," Jenkins says.
While the medium began as more of a virtual phone book of connections, it has evolved into more of a content-generator and job search tool.
"It's useful as a networking tool more than it even was five or 10 years ago," Jenkins says. "It gives people who are seeking a job that platform to ask for help. You see people saying, 'I've been laid off, and I'm calling out my network.'"
Understand how a job search has changed
If you last looked for a job a decade ago, you might have to approach it differently. Gone are the classified ads in the newspaper and even once-popular job boards are not the monsters, so to speak, that they once were.
That doesn't mean there aren't new, effective options. LinkedIn and Indeed are popular sources, as well as company sites and more targeted websites.
"There are more industry-specific job boards," Macias says. "If you work in marketing, look at the American Marketing Association's website. Find things that are more tailored to what you are looking for."
Get comfortable in the virtual world
Next time a friend wants to have a conversation on Zoom or another virtual space, say yes. It might be good practice for when you need to do a job interview that way. And if you get the job, you might have to work virtually for a while, too.
"You won't be able to have that face-to-face conversation," Macias says. "In some cases, candidates will be on a Zoom call or interview with upwards of three to five people at a time. The more virtual friend and family chats you can have during this socially distanced time, the more comfortable you'll get with virtual interview etiquette. That's a different skill set that is much more rampantly needed these days."
Set aside time for a job search
If you've lost your job and are beginning a search for a new one, create a workspace and structure for yourself for the task. Get up, get dressed, set a daily goal for yourself. Maybe it's to share your résumé with two people or reach out to five people in your network.
"Make it seem as if you were going to work remotely," Sink says. "It's a sign to yourself that says, 'I'm working on my career right now.'"
And like any good day of work, know when to stop.
"Step away from your search, too," Sink says. "You can't search for a job 20 hours a day but set aside time each day. The search is your new job."
---
The Wisconsin School of Business will be holding an alumni webinar on Tuesday, April 28 titled "Embracing Career Confidence in an Unstable Job Market." If you're unable to join us at the scheduled time, a recording will also be available after the event.
To access general career resources mentioned in this article, including one-on-one career coaching, visit mycareer.wsb.wisc.edu/alumni.
---