Nearly 60 Wisconsin School of Business BBA students gathered in the School's entrepreneurship center on October 28 to hear Shiza Shahid, social entrepreneur and cofounder of the Malala Fund, speak about the life of a social entrepreneur.
Shahid visited the UW-Madison campus to speak on behalf of Malala Yousafzai, the youngest-ever Nobel Prize recipient who is cofounder of the Malala Fund and author of I am Malala, the 2014 selection in Chancellor Rebecca Blank's Go Big Read program.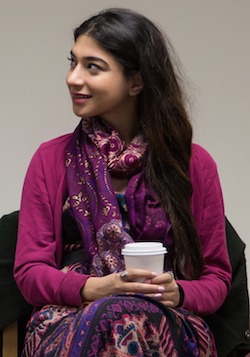 The Malala Fund advocates for female education at the international and national policy level, negotiating with government leaders, and amplifying the voices of young women around the world.
"Malala is very focused on school, and she doesn't leave school for anything," Shahid told the WSB students. "Protecting her and keeping her in school is a big priority for me."
Considering Malala's story, her dedication to her education is not only expected, but celebrated by supporters worldwide. In 2009, at the age of 11, Malala was secretly blogging for the BBC about the difficulty of getting an education in Pakistan, and was profiled in a documentary by the New York Times.
A Pakistani native attending Stanford, Shahid contacted Malala and worked with her to create a summer camp for young women in the Swat Valley near Islamabad to empower girls to be activists and entrepreneurs.
In 2012, Malala was hunted down and shot in the face by members of the Taliban. Shahid flew to visit her in the hospital, and, when it became clear that Malala was going to survive the attack, committed to serving as CEO of the Malala Fund, an organization committed to empowering girls through education.
"Entrepreneurs tend to see opportunities where others see problems, and they tend to be more successful when they are surrounded by a team with complementary skills and life experiences," says John Surdyk, director of the Initiative for Studies in Transformational Entrepreneurship (INSITE) at UW-Madison. "Shiza and Malala's response to the shooting, taking a life threatening situation and turning it into a way of drawing attention to an important cause, speaks to the power of an entrepreneurial mindset and the strength of their partnership."
Shahid challenged WSB students to broaden their idea of entrepreneurship: "There are so many real issues that you can be solving. This is about an issue and what you can do to solve it, not trying to be another Mark Zuckerberg."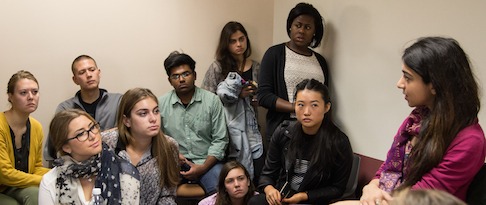 When Shahid took on the role of CEO at the Malala Fund, she applied the skills and experience that she gained working as a consultant for McKinsey & Co. "I worked in very different industries, from energy to entertainment, and it taught me that if you can ask enough of the right people the right questions about a business, you get the answers that you need to succeed."
Being an entrepreneur and working for a startup take dedication and commitment, so Shahid urged students interested in this career path to get an internship with a startup before committing to becoming entrepreneurs. "It's not as easy as working for a large company. It's a lot less about you and a lot more about the work. If you are proactive and can deal with the stress, it's very rewarding."
When a student asked what the most important piece of advice that Shahid had for would-be entrepreneurs, she replied, "Try things. Don't wait. Being an entrepreneur is a mindset—asking questions, seeking answers, solving problems. The earlier you start, the more engrained it becomes."
Students who attended the talk were not only engaged, asking questions about everything from interacting with foreign governments and accounting to measuring social impact to promoting organizations and causes on social networks.
"I'm really passionate about women's rights and women in leadership positions," says Summer Stewart (BBA '17). "I think it's really important to have a mission, and this really inspired me to do more."
Are you interested in social entrepreneurship? 
Get involved with the 2015 Hult Prize competition hosted by UW-Madison and led by Wisconsin School of Business MBA student Andrew Mullvain, this year's campus director. Learn more.
---