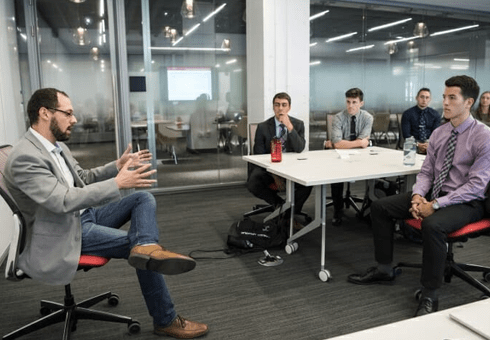 Herolind Jusufi grew up with small-business owners as parents. Instead of becoming a restaurateur like his parents, Jusufi wanted to become a pharmacist and incorporate business management in his pharmacy career.
As a third-year student in the Doctor of Pharmacy program at the University of Wisconsin–Madison School of Pharmacy, he joins the first cohort of nine PharmD students to start the Pharmacy Operations and Technology Management concentration that will provide health care business fundamentals and build critical leadership skills for student pharmacists.
"Effective health care is a very complicated problem we are facing in this country, and I hope that through this program I can learn how to be part of the solution," says Jusufi. "For me, this program is about building my skills so I can be a valued asset wherever my career takes me and bringing ideas to the table to increase efficiency in the workplace."
Ranked ninth in the nation among pharmacy schools, the UW–Madison School of Pharmacy is partnering with the Wisconsin School of Business to launch the Pharmacy OTM concentration, the first of its kind in the country.
"This curriculum innovation will provide our PharmD students the opportunity to combine their extensive health care knowledge with MBA-level coursework," says Assistant Professor Ed Portillo at the School of Pharmacy, who is leading the new concentration offering. "With so many pharmacy career paths that require business skills and the growing interest in entrepreneurship, our PharmD students can access essential business training without adding additional time to degree, still graduating in four years in the PharmD program."
PharmD students will study alongside MBA students in WSB's Erdman Center for Operations and Technology Management. They will devote 12 credits to business electives on topics such as managerial accounting, change management, health care operations, service operations, managing teams, negotiations, and logistics and supply chain, especially as it relates to health care settings. The PharmD students' clinical rotations also will be business-focused in health care management and leadership.
"PharmD graduates get into management positions quickly in their careers. What's exciting is that we will have the chance to educate future leaders in pharmacy through this program," says Enno Siemsen, associate dean of the MBA and master's programs at WSB and the executive director of the Erdman Center.
For third-year PharmD student Miranda Kozlicki, the new concentration will support her career aspirations. "I decided to pursue the Pharmacy OTM concentration because I wanted to get more specialized training for my interests in healthcare leadership and management as a pharmacist in nontraditional pharmacy practice settings, like managed care pharmacy," says Kozlicki. "In this program, I have the opportunity to work with MBA students that have a wide variety of backgrounds outside of pharmacy where we focus on how we can provide value to businesses and the customers and patients we serve."
The School of Pharmacy developed the Pharmacy OTM concentration based on student interest and need in the field of pharmacy. A study in the American Journal of Health-System Pharmacy concluded that there is the "potential for a health-system pharmacy leadership crisis in the next 10 years."
"There is a huge need in pharmacy for students who have really effective leadership training in their PharmD program," says Portillo. "A high percentage, around 70 percent, of pharmacy managers and those in pharmacy leadership roles are going to be retiring in the next 10 years, and we want to make sure that our UW–Madison School of Pharmacy graduates are ready to step into those roles to advance practice and develop services to better help patients."
The Pharmacy OTM concentration was designed from a market-based approach. "We connected with local health care systems, insurance companies and other stakeholders to understand which skills are necessary for these PharmD students to succeed, and chose the set of courses accordingly," says Siemsen.
A large part of the Pharmacy OTM concentration includes technology management because technology continues to expand its utility in the delivery of health care and the workflow of practitioners. Pharmacists often lead technology implementation projects, Siemsen notes.
"Today's pharmacist works in a fast-paced, rapidly changing health care environment that requires leaders who have management and human resource skills," says Mel de Villiers, School of Pharmacy vice dean and associate dean for academic affairs. "At the UW–Madison School of Pharmacy, we are leveraging the exceptional talent of the Wisconsin School of Business to offer our PharmD students these critical business skills, which will make them ideal candidates for residency programs, management jobs, and even MBA programs. Their future is open."
---