Innovation is right at the fingertips of this year's incoming cohort of the Wisconsin Executive MBA Program. Gone are the days of a shelf full of nearly 20 binders filled with two years' worth of course materials. In the binders' place is a sleek, thin, iPad Pro 9.7 tablet.
Forty-one first-year students are working with program-issued iPad Pros that can access everything they'll need in the Wisconsin Executive MBA Program—syllabi, course materials, note-taking software, the learning management system, apps to enhance collaborative learning, student handbooks and directories, and even some texbooks.
"I consider it a game changer at the Wisconsin School of Business," says Leslie Petty, assistant dean for the Wisconsin Evening and Executive MBA programs at the Wisconsin School of Business. "It's definitely an innovative approach to learning."
Petty says the incoming Wisconsin Executive MBA cohort—to be followed next year by the incoming Wisconsin Evening MBA and Executive MBA cohorts—is the first on the UW campus to use a tablet comprehensively program-wide. Individual courses have used them, but this is the first program-wide tablet initiative to facilitate learning.
"I've walked into classrooms of the Wisconsin Evening and Executive MBAs and every student had a device—some had two or three, where they were sitting for class," Petty says.  "I just thought to myself, 'We're ready for this. It's time.'"
Writing on the iPad
This version of the iPad allows students to use the included Apple Pencil to annotate their digital documents on the screen, just as they might with pen and paper. While a faculty member is presenting, the student has the electronic slides and can take notes directly on the iPad.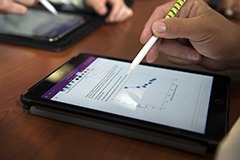 The switch to the tablet means students' coursework will live on the cloud, and they can access it from other devices at their convenience. And, if they download what's needed onto the iPad, they won't even need an internet connection to use the materials loaded on the device. Plus, with digital materials, content is searchable making course information easier to access.
"This is a portal to a lot of information," says Paul Oliphant (MBA '15), director of Academic Technology and Web at the WSB, who has a shelf in his office filled with the binders he used in the Wisconsin Executive MBA Program.  "These students are bright, and they're going to use these tablets in very unique ways."
Students took to the iPads quickly, embracing the convenience.
"To have my books and notes in one place, and to have the professor put the presentation in digital format makes it easier to stay organized," says Craig Anderson (MBA '18). "And it's better for the back."
Tech-savvy students
Theoretically it might seem like a huge leap to go from nearly 20 binders of 100-plus pages each to a single thin device, but the transition has gone smoothly for students because they are already accustomed to personal, portable technology, Petty says.
"We have students who are coming from healthcare, technology, manufacturing, and finance. So many business leaders are working with some sort of technological device," she says. "We're simply adapting to the way executives work."
Before the semester began, Oliphant says he had incoming students who were already thinking of apps they could create to complement their work. On the other end of the spectrum, there were students who were good with laptops and smartphones but not as savvy with iPads. Students were given the iPads, instructions, and training before classes began so they could familiarize themselves with them.
"There was a very good tutorial at the beginning," says Valentin Daskalov (MBA '18), who had never used an iPad before but quickly adapted. "The support team came in and explained what we would use in class. They gave us helpful hints. We didn't have to figure it out on our own."
Learning the programs on this iPad, particularly Microsoft OneNote, inspired Maureen Lewandowski (MBA '18) to use her iPad differently in her job as a contact center manager at Delta Dental of Wisconsin.
"I realized I can use it to keep track of the notes for all the different departments I manage," she says. "I've gained efficiencies at work."
Improving the student learning experience with greater convenience and collaboration was a big driver of the change. Many executives in the program travel for their jobs, and study while on a plane or in a hotel. It will also be convenient as MBA students head out on their international trip as part of their global learning experience.
Beyond that, the iPad and its consistent technology across the cohort will enhance students' ability to work together in a classroom or remotely.
"It's a great idea, it's the direction we should be going," says Don Hausch, associate dean for the Wisconsin Evening and Executive MBA programs, who set up his Executive MBA managerial economics course for the iPad.
Network readiness
Petty had considered tablets since coming to the Wisconsin School of Business three years ago. She saw the massive effort it took to collate and organize the binders for two Wisconsin Executive MBA cohorts of approximately 40 students each and three Wisconsin Evening MBA cohorts of approximately 60 students each.
"Not only is it a tremendously laborious process to provide physical materials, but course binders didn't deliver the kind of premium learning experience that we wanted as a leading executive MBA program,'" Petty says.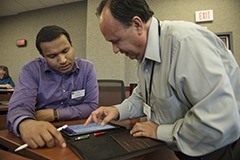 It turned out that the iPad, which came with a case, an Apple Pencil, and three-year warranty, cost about the same as the expenses of creating, copying, and organizing the hundreds of binders and their thousands of pages over the two-year program.
In order to implement iPads program-wide, the timing had to be right for a variety of reasons. The ability to annotate on the iPad's documents was one factor, and so was making sure the Grainger Hall network could support another level of devices.
"By 2013 or so, all students came with laptops and smartphones. With 41 students now adding iPads, that's 123 wireless connections one cohort alone might require," says Steve Van Der Weide (MBA '13), director of Information Technology Solutions for the WSB. "We had to have the ability to support that, and now we do."
Van Der Weide went through the Wisconsin Executive MBA Program as a bike commuter. The iPad would have provided a much easier way for him to carry his materials, he says.
"I had to find ways to take the most information back and forth," he says. "I'd take out the pages of the binder that I would need instead of carrying it around."
Convenience for faculty, too
Program faculty went through iPad orientation over the summer. They uploaded their course materials such as case studies or simulations onto the learning platform. Much of that was already being created for websites, Hausch says, so he found his additional work to be minimal. However, he says, there is further convenience and efficiency for faculty because all students will be working with the same technology in class.
"If I had to update information in past semesters, I'd have to go to the program office or the copy center and have somebody run off 43 copies," he says. "Now I just post it and we can all refer to it in class in real time."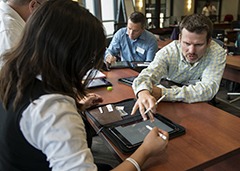 The device is conducive for collaboration because of applications that share software or foster communication beyond the classroom. Where students once had to seek out course materials that Hausch had talked about in class by going to a website, those materials are now on the iPad for them to engage with in class as an individual or in group work.
"The difference is really the student experience," he says.
Students can still write on paper or use their laptops if they want. Working entirely on the iPad isn't required; it's just a more streamlined option. Best of all, students keep the iPad when they graduate.
"It's a tremendous draw to applicants now that they're finding out about it," Petty says. "If you had your choice of having the latest version of an iPad or all those binders, what would you choose?"
Learn more about the Wisconsin Executive MBA Program at the Wisconsin School of Business.

---