Small communities across Wisconsin like Fond du Lac, Manitowoc, Rice Lake, and Belleville are struggling with real estate development, trying to find ways to repurpose existing—in some cases historic—structures.
Tom Landgraf, senior lecturer in the real estate program, sees these struggles as opportunities. He's bringing these "Main Street Projects" to Wisconsin School of Business undergraduate and graduate students as part of RES 611 Residential Property Development, the real estate program capstone, to give them firsthand knowledge of the complex issues developers face.
"It really challenges students to use everything they've learned, and then some, to be able to put together a concept that is economically viable, addresses social and environmental issues, is acceptable to the community, and provides a great place to live and work," Landgraf says.
Landgraf's capstone is one example of how the Wisconsin School of Business helps students apply their classroom knowledge to real-world business challenges while benefiting communities throughout the state and offering valuable insights on the realities of real estate development.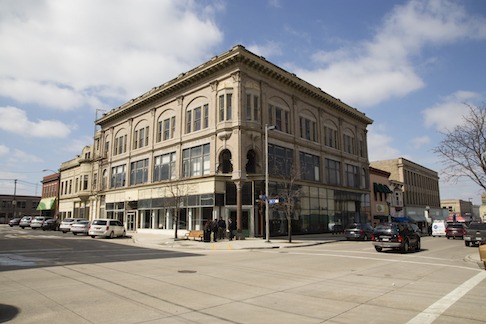 "They'll certainly apply what they've learned in class to their work with employers," Landgraf says. "What we're trying to do is jumpstart that. I think the School of Business and the Real Estate Department are really ahead of the game in preparing students to meet the challenges they're going to face the first day on the job."
Imagining a community center for Belleville, Wisc.
In Belleville, students worked with the community development authority, village staff, and the village board to come up with plans for a train depot built in 1886 that no longer has a railroad to serve.
The students talked to local officials to get a sense of what preserving that train depot would entail and what types of uses neighbors would find interesting and acceptable.
"You realize there are conflicting opinions on the project's shape or vision," says Billy Fox (BBA '15), a real estate and accounting major who took the capstone course. "You have to be skilled to get everybody on board. You have to be able to pitch the benefits of your plan. The project was a good lesson on how to articulate the benefits of this or any project."
The students determined that the best use for the historic structure would be a small commercial site, such as a pizzeria or coffee shop. The village is now moving forward to pursue historic designation, a process that village officials had not considered and have never done before.
"We learned a ton about financing mechanisms, and just how daunting redeveloping the train depot in particular could be," says April Little, administrator/clerk/treasurer for the Village of Belleville. "We also learned how critically important the historic tax credits could be and how powerful they could be in getting this project done."
The village also commissioned a larger study of how such a project could affect the downtown area as whole, and is now working with architects on some concepts for placing municipal facilities along the former rail corridor. "A few of the layouts we hadn't even thought about until the class presented them," Little says. [The class] definitely gave us some new creative concepts."
Reimagining a historic building in Manitowoc, Wisc.
Landgraf engages students in similar hands-on, real-world projects in other classes, including RES 651: Green-Sustainable Development, a course that draws mix of BBA, MBA, and law students.
His students recently collaborated on reuse ideas for the Schuette Brothers' Department Store building, a historic building in downtown Manitowoc, Wisc., that has been mostly vacant since the store closed in 1994. The class visited the building, talked to local officials and the building's owner, and analyzed economic and demographic data to come up with some scenarios that might work for the building, including housing, a restaurant, retail, office space, or some combination of these uses.
The students provided the owner with information about various financing programs. They also learned about the unique challenges that go along with historic redevelopment. The building is currently being marketed by the owner as a downtown, mixed-use, historic structure with high visibility and flexibility, which were all concepts the students included in their development proposals.
"You can't just attack a project like this from one perspective, so it was great to work with different students from various masters programs on campus to lean on their expertise," says Amber House (MBA '14). "It enhanced my educational experience since it was so hands on. It made my learning experience real. It also got us to think about how we can use our knowledge to improve those communities that may not have [redevelopment] resources at their fingertips."
---