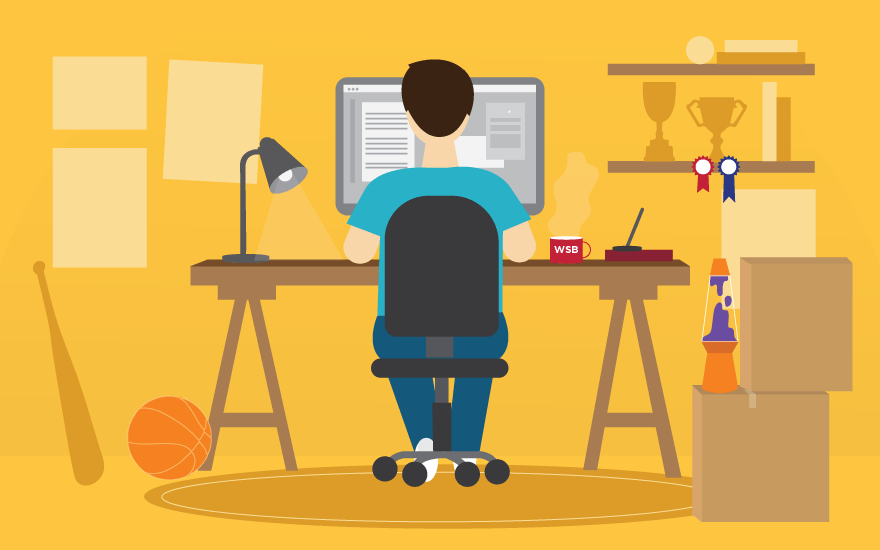 Starting a new job is like stepping in to a new world, even in the best of circumstances. Doing so during a pandemic is like stepping into a world no one has ever set foot in before.
Yet for those fortunate to obtain a new job in recent months, there's no map to help navigate this uncharted territory. Instead, it takes resilience, patience, and a knack for finding the positives in a very weird situation.
"I never thought I'd start my career from my childhood bedroom," says Sam Simon (BBA '20), who in July began his job as an associate for AlphaSights, a New York-based research firm, from his family home in Wayzata, Minnesota. "I wake up every day, roll out of bed, and hit the desk in the same room I've had since I was 4 years old. I can be having an important Zoom conversation and there are all the third-grade participation trophies on display, so that's kind of funny."
Physical distance requirements are keeping many workers at home now, and recent WSB graduates with new jobs are no exception. However, they still had to undergo the same onboarding and connecting with new co-workers that would happen if they had a desk in an office building. Training modules replaced in-person learning, and handshakes to meet new colleagues have been replaced with a wave on a computer screen.
"A lot of training is good, but I got very tired of being on Zoom all day," says Erica Ferguson (BBA '20), who in July began her job as commercial banking analyst at JPMorgan Chase & Co. in Chicago. She accepted the job last summer after an internship there but doesn't expect to be on site until 2021.
A challenge to build relationships
Simon, who also doesn't expect to head to his New York office until next year, knew some of his colleagues from his internship at AlphaSights last summer but finds it a challenge to get to know new team members.
"I don't think there's much you can do except be proactive and virtually talk to people," he says. "There are a lot of positives to working from home, but the biggest negative is that lack of person-to-person team-building interaction when you grow with people as you work with them every day."
Connor Allen (BBA '20) accepted his Milwaukee-based job at Baird in December. When the pandemic hit, Allen worried his job as a financial advisor associate would disappear. It didn't, but the office closed indefinitely and he, too, launched his career from the family home. It had been his plan to live with his family in a nearby suburb to save money; he just didn't expect to work there, too.
"I have never actually been in the office," he says.
Allen is part of a group of 10 starting a two-year rotation this summer. The group connected in person for a walk in downtown Milwaukee, and he takes part in scheduled coffee chats and happy hours with colleagues.
"Relationships are still being built, even if we haven't met in person," Allen says. "That's just how it is now."
A commute of just a few steps
Allen also works from his bedroom. His parents work from home, too. Sometimes they all have lunch together.
"You don't have to commute, which is really nice," he says. "Baird has done a good job of making it feel like a regular work day. We start at 8 o'clock and are done at 4 or 4:30."
After spending some time this summer working at her childhood home—and bedroom—in Minnesota, Ferguson moved to Chicago despite not being able to work at her office. She had plans to move there with friends, and they kept those plans. But when it came time to look for a place to live, she knew she'd be working from home and chose an apartment accordingly. She made sure she had a bedroom that would fit a desk in it and have natural light.
"It felt like a very important time to be comfortable where you are," she says. "I think I have higher standards than I otherwise would."
Interviewing during a pandemic
If starting a new job in a pandemic is odd, looking for one was a unique experience too. As Jen Braga (MBA '20) finished her Wisconsin MBA, she wanted to put the degree into practice right away. In July, she became director of marketing at Thysse, a Madison-area printing and marketing company. She learned of the position in May, the week she graduated.
Braga said the process to get the job took about a month, with some form of communication each week.
It was virtual at first, a process Braga found to be an excellent counter to an in-person interview. The first round was unusual as the company requested written responses to standard first-round interview questions.
"It was really helpful knowing what the next questions were as it allowed me to research my answers to give a fuller picture of my experience and desire to work with Thysse," she says.
An interview conducted via Zoom followed an online personality assessment. The final interview was in person, but it was no ordinary job interview. She traveled to Thysse headquarters and sat outside, surrounded by a semicircle of about 10 people sitting in lawn chairs.
At first it was intimidating, Braga says, but it turned out to be a good approach.
"I think that gave me a good sense of their culture," she says. "They wanted me to see their space and get a sense of communication styles of various teams I'd be working with."
Braga can work at her office, but it's almost like working from home because most meetings and interactions still happen virtually, and masks are required outside individual offices. That makes for strange situations when Braga thinks she is meeting someone for the first time online.
"I'll say, 'Hi, I'm Jen' and they say, 'Yeah, we've met but I was covered up,'" she says.
Finding the positives
There are positives in the strange situation. Braga says tracking projects online can create more efficiency than updating someone in a conversation. Simon appreciates the added time he gets to spend with his family before his move to New York, whenever that happens. Allen sees the challenge as an opportunity, not a hurdle.
"I'm sure some people see this as a major setback for their career development, while others see it as a chance to spring forward in an environment some people aren't comfortable with," he says.
Ferguson mixes gratitude for having a job with a desire to interact more with people, but also knows that's just the way it is right now.
"I can't wait until we're back in an office," she says. "I know it won't be for a while, and I know I'll be fine, but I can't wait until that day comes."
Illustration by Shaysa Sidebottom
---