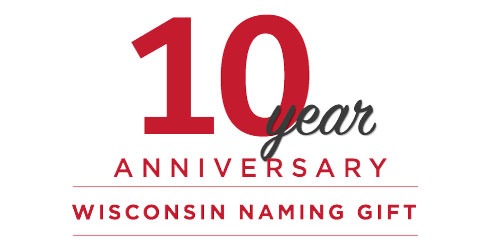 October 27, 2007. This date, exactly ten years ago today, marks a turning point in the Wisconsin School of Business's history.
For the first time—after more than 100 years delivering business education to University of Wisconsin–Madison students—the institution officially became known as the Wisconsin School of Business thanks to an unprecedented "no name" gift.
On that defining day, a group of 13 visionary alumni came together and made philanthropic history. Through their collective gift of $85 million, the name "Wisconsin School of Business" was born, promising a lifespan of at least 20 years. It was a landmark achievement, bucking conventional philanthropic practice that spotlights individual donors by attaching their last names to schools or campus buildings.
Instead, the Wisconsin Naming Gift assured that the school would bear the name of the great state and university in which it dwells—an unparalleled but very deliberate approach.
"I think the motivation for all of us involved in the gift is really a pride in the university," says Mike Shannon (BBA '80), one of the Wisconsin Naming Partners, as the group would heretofore be known.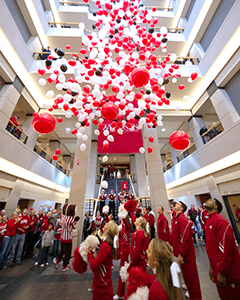 "The thing that's really great about the Wisconsin Naming Gift is that we felt that the name 'University of Wisconsin' was more important than any particular donors' names. It's very emblematic of Wisconsin to put the university first and to give a gift that keeps that name for decades to come."
Bigger than any one person, the idea was innovative both in name and in scope. Unlike most large endowments, the gift's parameters didn't lock the School into some far-off forever. It created 20 years of funding and gave the School freedom and flexibility to innovate—including the opportunity to grow the size of the gift or to lengthen its term. It was a bold move: collaborative, progressive, and ahead of its time. It exemplified the spirit of the alumni and spoke to the commitment and deep sense of loyalty the Partners felt to their school.
The gift's built-in flexibility has been rewarded, growing from 13 to 17 Naming Partners and from an original gift of $85 million to its current value of $110 million. Its impact on the School has been deep, with the money in a fund that can be directed where the School needs it most.
As the tenth anniversary comes full circle, students, faculty, staff, and alumni will honor this milestone, celebrating a partnership unlike any other—one built on a passion for business education, a love for Wisconsin, and a shared vision of what the future can be.
Watch for more coverage of the Wisconsin Naming Gift and the impact it has made over the last ten years in the Fall 2017 issue of Update magazine.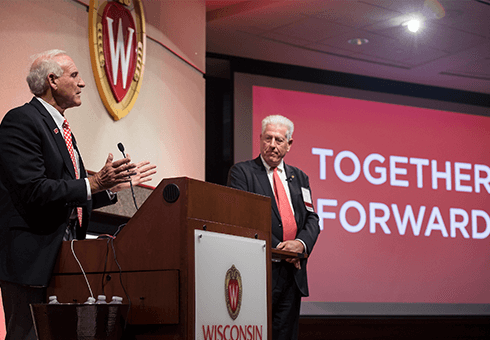 See more photos from the Wisconsin Naming Gift 10th Anniversary Celebration.
Watch the Wisconsin Naming Gift video:
---