Businesses with the highest profit margins are not necessarily the ones paying the lowest wages, and the roadmap for business success is being redefined, according to Thomas Perez, U.S. Secretary of Labor.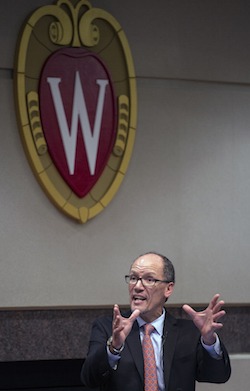 "Opportunities abound in the labor market right now," Perez told the crowd of more than 240 Wisconsin MBA students and Wisconsin School of Business faculty and staff who attended the recent
M. Keith Weikel Leadership Speaker Series event. "The sector that has grown the most is business and professional services, so the future for MBA graduates is bright. The question is how will you use the tools that you get here, and my hope is that you will help build strong businesses, strong workers, and strong communities."
Perez cited several examples of businesses that have excelled while paying their employees above average wages, including Southwest Airlines and Market Basket.
"I'm heartened by the fact that I speak with so many businesses that understand that inequality threatens their bottom line because they need customers," Perez says. "We've had 68 consecutive months of private sector job growth to the tune of 13.5 million jobs, and that's good news, but the unfinished business is to make sure that this wind at our backs results in shared prosperity."
He stressed the importance of corporate culture, including paid leave for working parents, and offered a roadmap for prosperity in business for the future business leaders at the WSB.
"We've got to make sure that tomorrow's leaders are building these models of shared prosperity," Perez says. "We need you to step up and create more win-win businesses, which start by articulating your values."
Perez suggested that Wisconsin MBA students develop a set of guiding principles, citing the example of Leon Sullivan, the first African-American to serve on the board of General Motors who developed the "Sullivan Principles," the corporate codes of conduct developed in 1977 to put pressure on South Africa to protest its system of apartheid that were later adopted by the United Nations.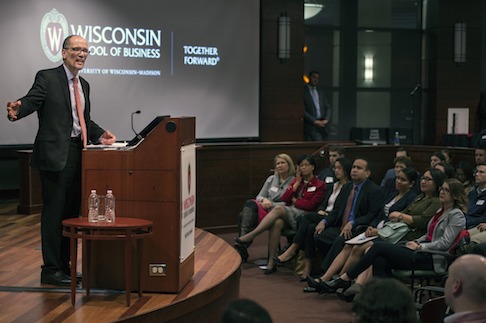 "As we move forward through this recovery, I've been been thinking a lot about how we can create a set of Sullivan Principles that ensures the shared prosperity of workers, businesses, and communities," Perez says. "These principles are not corporate charity, these are principles of proven, effective, long-term governance, and they also happen to be the core principles that helped to build this country."
Perez suggested seven principles that he has seen successful businesses adopt, and invited critique from members of the audience:
Reject false choices and think long term—Success is not a zero sum game. It's possible to take care of your shareholders, your customers, and your employees at the same time.
Full-time work should not mean living below the poverty line—People working full time should not be living out of a food pantry. We can do better.
Workers voice is essential to business competitiveness—Workers are the driving force of progress in most companies, and we need to make sure that they have "skin in the game."
If you believe that family comes first, prove it—Working families should not be forced to choose between the work they do and the ones that they love, and companies who support families offer paid leave and flexible schedules.
Inclusive innovation is essential—Innovation can't be an excuse to compromise labor standards or leave individuals behind.
Embrace diversity—Successful businesses embrace diversity because it's smart, not because it's "P.C."
We all succeed only when we've all succeeded—The most important word in our democracy is the two-letter word, "We."
The Labor Secretary's talk generated penetrating questions that both challenged and supported his agenda, citing examples from socially responsible startups that have failed, managers unable to support their staff because of board mandates, and managers struggling to shift an unproductive workplace culture.
"It was definitely an inspiring talk," says Tyler Davis (MBA '17). "It got me thinking about how to create a culture of shared prosperity in the workplace in future management positions. I think it's important that businesses initiate this type of change on their own terms."
Learn more about the M. Keith Weikel Leadership Speaker Series. 
---