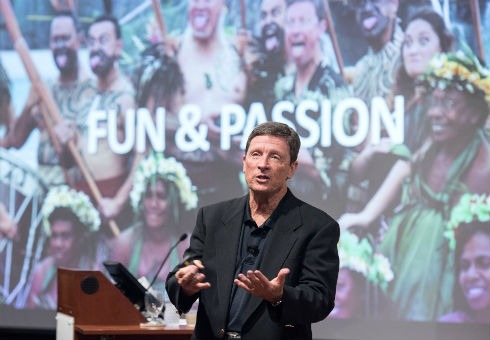 From SeaWorld photographer to managing a multi-billion dollar enterprise, Davis' passion for his work and belief in excellence have remained constant.
Universal Orlando Resort President and Chief Operating Officer Bill Davis remembers it like it was yesterday. A SeaWorld photographer at the time, Davis was photographing the famous orca whale, Shamu, when a little girl ran up and pressed her face to the glass enclosure. As Davis watched, the whale suddenly swooped up next to the glass, mere inches from the child's face. Their interaction and the look in her eyes was priceless. It was an epiphany moment.
"I really want to be a part of a company that can make that kind of an emotional impact," he told his wife, Becky. "We are going to be in this industry. It might not be with SeaWorld, but I want to be in an industry that can make that happen."
As it turned out, Davis did stay with SeaWorld, moving up the ranks from photographer to managing three of the corporation's parks before moving to Universal Orlando Resort. At Universal, he took on several different executive roles within the company before his current title as president and chief operating officer, a position he has held for the past 12 years.
Davis recently shared his wealth of experience, expertise, and some of his key management principles with MBA students at the Wisconsin School of Business, marking the first time a presenter with a hospitality and entertainment background has spoken as part of WSB's M. Keith Weikel Leadership Speaker Series.
Entertainment is serious business
Unlike the rest of us who might turn to a cup of coffee or a chat with a co-worker when we're having a bad day at the office, Davis can just step outside and hop on Harry Potter and the Forbidden Journey or another of Universal's immensely popular rides.
But as Davis will be the first to tell you, being in charge of a multi-billion dollar park with 24,000 employees is not all fun and games. It's a real business, one with a staggering amount of responsibility.
"I have to know about our business on what I call a granular level," Davis says. "I'm not an expert in everything—I couldn't build a roller coaster for you—but I'm kind of a generalist. I know the elements that are needed and I know a little bit about a lot of stuff."
Surrounding yourself with smart people is key, Davis says, along with understanding that you'll never have the perfect information, referencing the legendary Chrysler CEO, Lee Iacocca.
"Make the best decision you can given the facts that you have, combined with your experience, and pull the trigger. Commit. You've got to commit."
Three-legged stool model
Davis and Universal Chairman and CEO, Tom Williams, use three-legged stool models that illustrate their operational and philosophical approaches.
The legs of the first stool are having a great product that you continually reinvest in, great marketing, and operational excellence.
"When you come to our parks, you as an individual will interact 52 times with one of our team members. Fifty-two separate interactions. Part of my job—part of everybody's job—is to make sure that those 52 interactions are good. Not 51 of them. Not 50. Operational excellence is key."
Another three-legged stool is more of a mission statement, Davis says. Employees are proud to work for Universal. The park provides unforgettable experiences for its visitors. And it generates "superior financial returns." The venture overall must be profitable.
MBWA: Management By Wandering Around
Davis says he's a big believer in MBWA, or "management by wandering around." Every Saturday morning, he hits the gym and then heads to the Universal grounds, experiencing the park through his visitors' eyes. Don't be too surprised if you spot him or CEO Williams picking up a piece of trash or pointing visitors in the right direction to find the Incredible Hulk roller coaster.
"Leaders have to model good behavior," he says. "You've got to walk the talk. It's a trite saying, but you've got to do it. If you're the last car that comes into the parking lot in the morning, or the first car to always leave, you're not going to get the dedication. You're not going to get the passion from the team, in my humble opinion."
Investing in your employees speaks louder than any words. During Hurricane Irma, even though the rides were closed for two days, Universal paid all of its ride operators and team members. When a theme park ride has run its course, the company reassigns employees. "We never let anybody go. We find a place for them in our family."
'Look over the horizon'

Davis says a huge guiding principle in his line of work is to "look over the horizon" at what might be the next big thing, the next new trend or development.
"Theme parks are like airports: they're either under construction or obsolete," he says, adding that with Universal's "finite footprint" in terms of available space, constant re-evaluation is a requirement to make sure the park is offering the best possible experience for its visitors. One of the company's many new projects is designing a new park in Beijing; the details are still under wraps.
Above all, Davis encourages students to choose a career they really love and can have fun doing. It's clearly advice spoken from personal experience. As he talks, a photo appears on the screen behind him showing Davis surrounded by Universal employees at the company's Volcano Bay water park. Everyone is gathered together and mugging for the camera, clearly enjoying the day's work.
"Be passionate," Davis says. "Don't settle for a job or a position that you're not happy with, that you can't enjoy. Because, folks, it's going to go by in a heartbeat."

Read about this year's first M. Keith Weikel Leadership Speaker, Jia Jiang.
---