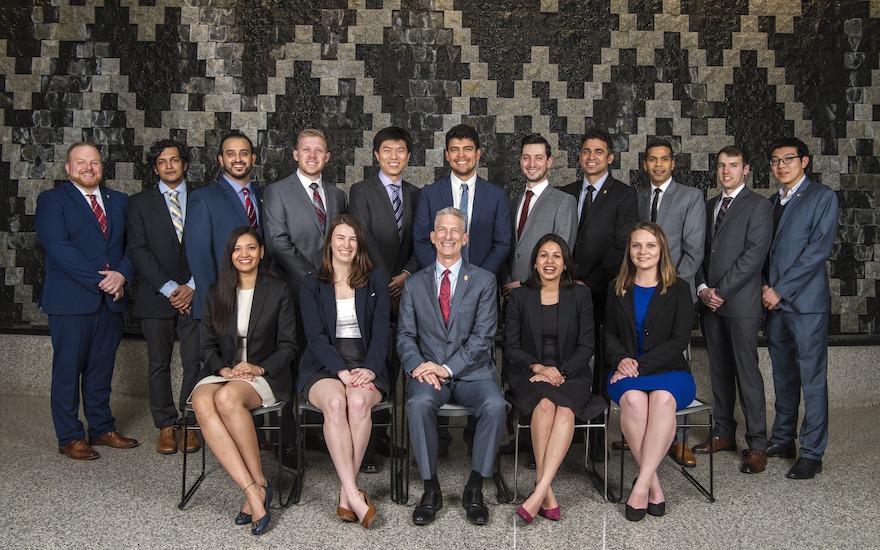 Gain the leadership abilities, cross-functional business knowledge, and problem-solving skills needed to drive change and create value for organizations with the Wisconsin Full-Time MBA Program in operations and technology management (OTM). The OTM specialization, supported by the Erdman Center for Operations and Technology Management, is for those with a background in engineering, science, or other areas of technology and operations who are interested in seeking advanced positions while priming themselves for future senior leadership roles. Gain broad and deep business and entrepreneurial skills from a flexible curriculum applicable to designing, managing, and improving processes and systems.
Key Characteristics of Successful Students
Attributes of students who succeed in operations and technology management include individuals who are strategic thinkers, are inquisitive, have to ability to anticipate problems, think about issues from an abstract point of view, have the ability to focus on the big picture, are creative problem solvers and have a passion to pursue the ideal.
Roles After Graduation
Operations and technology management graduates pursue roles in business strategy, operation management, product management, management consulting, and health care management. Past graduates have accepted roles in companies such as Amazon, Google, Deloitte Consulting, Intuit, Dell, Hewlett Packard, Boston Scientific, Intel, Whirlpool, and GE.
Coursework that Creates Expertise
Tailor your education to your interests and career objectives. The Wisconsin operations and technology management program has four focused course tracks.
Health Care Management: For students interested in working or consulting for the health care industry.
Technology Product Management: For students seeking roles as product managers in technology- based companies.
Production Systems Management: For students seeking work in production systems and operations management.
Entrepreneurial Management: For students interested in launching their own business, working for a startup venture, or piloting a new initiative in an existing organization.
Operations and technology management students typically obtain certification in one of the four graduate-level certificates to enhance the value of their degree plan. Certificates are offered in Business Analytics; Strategic Innovation; Entrepreneurship; and Business, Environment, and Social Responsibility.
Applied Learning Opportunities
A complete education in OTM isn't limited to classroom coursework. Seminars, workshops, and applied learning opportunities offer students the ability to gain experience in real work techniques. One program that is of significant interest to students is a two-day Six Sigma yellow belt workshop delivered by Erdman Center staff that provides students with knowledge in the DMAIC process, and attendees achieve a yellow belt certificate as an outcome of attending the workshop.
---