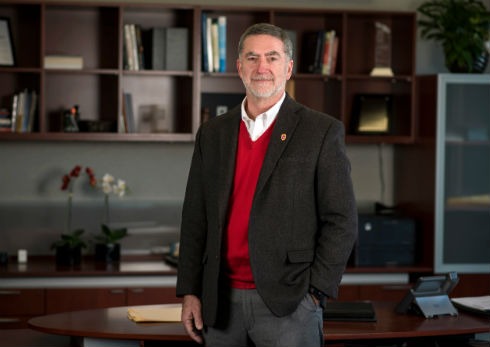 Long before he took the helm at the Wisconsin School of Business, Barry Gerhart, interim Albert O. Nicholas Dean, had his moments of cramming just like any other undergraduate. Enrolled in an experimental psychology course at Bowling Green State University, he stayed up all night to write the lab report.
To his surprise, the paper received a very positive review. "This would be good graduate school work," Gerhart recalls his professor saying. It was the first time Gerhart saw himself in that light, as a writer and as a researcher.
Fast forward several decades, and Gerhart ranks in the top one percent of most-cited authors in management research, according to a study published in the Journal of Management. His widely recognized research focuses on employee compensation and motivation, international management, and employee retention. He has authored several books, including leading textbooks on employee compensation and human resources.
In 2013, Gerhart was elected as a fellow of the Academy of Management (AOM), a feat achieved by only one percent of the academy's members. The Human Resources Division of the AOM has also honored Gerhart with numerous awards, including the Herbert Heneman Jr. Career Achievement Award, the Scholarly Achievement Award, and the International Human Resource Management Scholarly Research Award (of which he is a two-time recipient). In August 2018, it will present him with the Mahoney Mentoring Award for his work over many years with Ph.D. students. He is also a fellow of the American Psychological Association. Gerhart has been a visiting professor at Copenhagen Business School, King's College London, Ludwig Maximilian University of Munich, University of Bayreuth in Germany, Charles University in Prague, and Comenius University in Bratislava.
Joining the UW–Madison faculty
Growing up near Cleveland, Ohio, Gerhart says obtaining an advanced degree wasn't an expectation in his family. His father graduated from high school but his mother, needing to work, never finished, something that he feels made him "even more appreciative" of eventually coming to the University of Wisconsin–Madison to pursue his Ph.D. in industrial relations. He worked primarily with faculty in the business school and got his first teaching experience in what was then the Commerce Building.
With an initial interest in psychology, he enrolled in the industrial organizational psychology program at Bowling Green State University, graduating with a B.S. in psychology. In coming to UW–Madison for his doctoral degree, Gerhart welcomed the opportunity to work with top faculty, recalling this experience as a "formative time" in his education and career.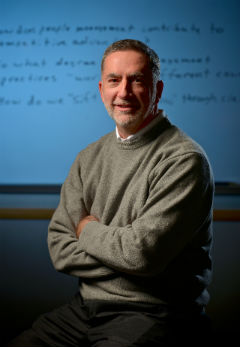 After receiving his Ph.D., Gerhart accepted a position at Cornell University, where he eventually served as chair of the Department of Human Resource Studies. He was later recruited by Vanderbilt University, and was the area coordinator for organization studies. But his Wisconsin experience still resonated. Whenever anyone would ask him where his ideal job would be, he always had a ready answer.
"I said, 'Well, I like it here, but if there were one other place I'd think about going, it'd be Wisconsin.' I was always interested in coming back."
And in 2000, he did just that, joining the faculty at UW–Madison where he is currently a professor of management and human resources and the Bruce R. Ellig Distinguished Chair in Pay and Organizational Effectiveness at WSB. Gerhart also served as WSB's senior associate dean of faculty and research, chair of the Management and Human Resources Department, and was the founding director of the full-time MBA program in strategic human resource management. Last year, he received WSB's Erwin A. Gaumnitz Distinguished Faculty Award for Service.
Aligning with the UW–Madison vision
In taking on the interim dean role, Gerhart says the next 12-18 months will be a time of growth for the School. WSB will pursue a strategic planning process that aligns with and executes UW–Madison's strategic framework and priorities as they apply to WSB. Chief among these will be a focus on increasing access to business education, he says.
"Increasing access is about creating more opportunities for hardworking, capable students who want to pursue a business education in the way that works best for them, while maintaining the level of quality and educational excellence the School is known for."
Growing the BBA program is a definite action item. "We've grown the BBA some, but given the high caliber of our undergraduate students and the ever-growing demand, more prospective students want to get our degree than we currently can accommodate. Its overwhelming popularity and consistent placement among top-ranked programs is a clear indicator that we need to keep growing," Gerhart says.
The School also plans to continue to build on the success of its summer programs: nearly 50 courses are available for BBA students this summer in a mix of core courses and electives, some of which are offered in a flexible online format.
Exploring the creation of new master's programs is another avenue Gerhart says the School will consider. With demand growing nationwide for innovative, flexible M.S. degrees, Gerhart sees clear opportunity to develop new programs and increase the reach of WSB's offerings.
"Many institutions have already added M.S. degrees in business analytics and other areas, and we need to make sure that our students have similar career opportunities in these growing markets," he says. "At the same time, we will look  to implement ideas that other schools haven't figured out yet and provide innovative new degree opportunities that build on our unique expertise and strengths and set us apart."
Other potential areas for expansion include accelerated "4+1" programs that combine a bachelor's and master's degree, as well as opening up access to non business students. These programs can provide new opportunities for the many terrific undegraduate students already here to stay an extra year and further strengthen their career prospects. Gerhart says &ldqu
o;online will be a component" as WSB seeks innovative ways to deliver new programs, courses, and initiatives. The School is also eyeing collaborative opportunities with other departments on campus, looking at potential new degree or certificate options that cross fields of study.
The School will look strategically at the totality of its programs to consider how best to build on existing strengths while creating new opportunities. Gerhart says this process will include programmatic factors—such as the type of degree or certificate offered, program scale, and student demand—as well as maintaining a clear focus on quality by paying close attention to the fundamentals: admissions, curriculum, student experience, advising, and careers.
Building for the future
When not at work, Gerhart enjoys the outdoors (even Wisconsin winters, he says) and traveling—often avoiding the touristy areas and going off the beaten path—and watching Badger sports. His Badger roots are deep: his wife and his in-laws are all from Wisconsin, and his wife and two children all graduated from UW–Madison.
Welcoming the opportunity to give back to the School that is both his alma mater and the community that has supported him throughout his career, Gerhart is excited to move the School forward, help increase visibility, and set a foundation for future leadership to build on.
"Once you're a student anywhere, you have a little perspective that hopefully you carry with you later. If you get to come back as a faculty member, then maybe you have even more of that perspective—an empathy and understanding that guides your decisions. I look forward to working with our WSB community in growing the School and creating more opportunity for students who desire a world-class business education."
The search for a permanent Wisconsin School of Business dean is slated to begin in September 2018 with the goal of having the dean in place by summer 2019.
---