As director of development for Madison's Gorman & Company, WSB alumna Nicole Solheim (BBA '08, MS '11) was used to the excitement surrounding proposed development projects. But this one felt different.
"People would come up to me and say, 'Can I put my nephew on the waiting list? Can I put this person on it?'" Solheim recalls. "They wanted to be on the waiting list before we even had financing in place.'"
The project, called Valor on Washington, will be a six-story, 59-unit housing building on Madison's East Washington Avenue designed specifically for veterans and their families. Veterans will have priority on all 59 units, with 50 designated as affordable and nine as market rate. Construction is scheduled to begin in early 2020 and is expected to be completed by 2021.
"It's a housing development specifically targeted to veterans and their families. We haven't found any others that serve veteran families at this level," Solheim says.
Integrating Wisconsin expertise
Solheim's University of Wisconsin–Madison background—an undergraduate degree in real estate from the Wisconsin School of Business and a master's degree in urban and regional planning—prepared her for working on nontraditional housing projects like Valor.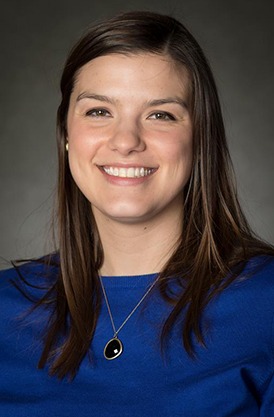 The two degrees complement each other, she says. "I advised many of my planning classmates to take courses in the real estate program because it's a great combination. You get the nuts and bolts on the business side, and then you also learn from the planning school how to approach a community and understand its needs. It was a perfect mix of what I do in development."
Sharon McCabe, WSB senior lecturer emeritus and former associate director of the James A. Graaskamp Center who retired earlier this year, and Kurt Paulsen, associate professor in the Department of Planning and Landscape Architecture, were especially influential.
"Sharon's real estate valuation class was really foundational for me. Kurt Paulson taught me the side of tax credits and financing sources, something I work with almost daily."
The Valor project itself also benefits from other WSB and UW–Madison expertise and ties.
Gorman's Wisconsin Market President, Ted Matkom, and Solheim, visited WSB's Real Estate 611 class to present the Valor project to students and expose them to opportunities in developing veteran housing. The residential property development course gives students hands-on project experience in assessing spaces for single and multifamily dwellings.
WSB's Tim Riddiough, a professor and chair in the Department of Real Estate and Urban Land Economics and director of the Applied Real Estate Investment Track (AREIT), is a Gorman & Company board member.
Similarly, Gary Gorman (BA '77, '80), founder, former CEO, and board chairman of Gorman & Company, is a member of the James A. Graaskamp Center's advisory board.
Meeting the need
In the public's mind, the word "veteran" tends to evoke the image of an older male veteran from a past war, but that's only one demographic represented, Solheim says. The reality is that many veteran families are also in need of quality affordable housing and accompanying services.
Solheim says the initial reaction in the veteran community during the needs assessment phase was positive. Along with Dane County Executive Joe Parisi, she reached out to American Legions and VFWs in the area, sharing the idea and how it would serve veterans. The demand for affordable housing was definitely there, they realized.
"The feedback and excitement that we heard at those meetings was really encouraging. It's easy to get caught in the weeds of approvals and numbers and all of that," Solheim says. "But when you're out there and you're seeing the people that your project is going to impact, that is the incredibly rewarding part."
A supportive community for veterans
Solheim says the project is partnering with two nonprofit organizations to provide services for the future Valor residents.
Dryhootch, an organization staffed by and for veterans will reside on Valor's ground floor. The nonprofit uses a coffee shop model, providing a place for returning veterans to gather and connect to other resources. Gorman has also contracted with Lutheran Social Services to assist all Valor residents.
It's too early to accept resident applications—the project must wait until at least three months from the opening date—but Gorman plans on circling back to veterans groups across Dane County to ensure that the information is available to those that need it most.
Making sure the Valor project comes together successfully is both a Gorman philosophy and a personal point of pride.
"We always say—it's in our mission statement—that our top values are our reputation and our work in the community," Solheim explains. "You realize that everything you do is very public. I live in Madison. This is a building that I may drive by every day. I want to be proud of it and I want to be proud of what it's doing."
And veterans deserve the best we can give them, Solheim says.
"Veterans have done so much for our country over many generations that one of the basic things that we can do is make sure that they have access to affordable housing and services within a community that supports them. We're excited to be a part of that in partnership with Dane County and the City of Madison."
---