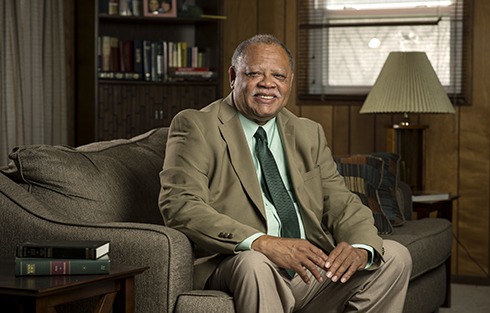 Larry Harris (MBA '68) came to Wisconsin unprepared for its winters, but left prepared for a better career than he ever imagined he would have.
Along the way he made history as the first graduate of The Consortium for Graduate Study in Management, which is marking 50 years of creating opportunities for underrepresented minorities in MBA education and corporate leadership.
"The mere fact that I had an MBA from a great school like Wisconsin gave me great confidence," says Harris, who went on to have a long career at Upjohn pharmaceutical company before retiring as the company's human resources manager in 2000. "It made me feel as if there was nothing I couldn't do."
The path Harris took to get to the Wisconsin School of Business and his career with Upjohn, now a subsidiary of Pfizer, was not one he had planned. He grew up in Rayville, Louisiana, a rural town of about 3,000 people, and earned summer money mowing lawns or working in hay or cotton fields.
"You could either become a schoolteacher or a mortician, that's how you could survive," he says of life in his hometown. "I knew there was no way in the world when I graduated from high school that I was going to stay there and that I had to get a bachelor's degree."
A twist of fate to earn a Wisconsin MBA
Harris received a scholarship to attend Southern University in Baton Rouge, Louisiana. He earned a bachelor's degree in business administration and planned to fulfill his Army obligation, return home to the South, and pursue a human resources job for a small company.
But fate had other plans for him.
While still at Southern, Harris went into a local shop to get something to drink. He saw information on a bulletin board about a new program that was looking for minority students to apply if they wanted to pursue an MBA. He took down information for The Consortium, applied, and was accepted. He was one of 21 African-American men to earn a place at one of The Consortium's three founding partners—the Wisconsin School of Business and the business schools at Indiana University Bloomington and Washington University in St. Louis. The students were the first Consortium fellows who earned their MBAs with full scholarships and made career connections with companies that partnered with The Consortium.
"Then my life totally changed from what I thought it was going to be," he says. "It just shaped my whole life and career."
Harris came to Wisconsin in the midst of a tumultuous time on campus in 1966, with anti-war protests and demonstrations a part of everyday life. It was an eye-opening experience for him, but nothing compared to the overall culture of a large school with a primarily white student body that wasn't in the Bible Belt.
"At Southern University, the men's and women's dorms were separated by a chasm with a bridge over it," he says. "At 9 p.m. it was curfew for the freshman, sophomore, and junior women—the seniors got until 10—and there was a guard at the rail of the bridge patrolling it. So I come to the University of Wisconsin, and I'm shocked that you could have people in your room."
Adjustment and acceptance at Wisconsin

The weather was equally a surprise, he says.
"I came to Wisconsin with a coat with just a little lining in it," he says. "The first winter was just terrible. I had to go to the store and buy a big parka. We didn't have to worry about that in Louisiana."
Harris says he was made to feel welcome at Wisconsin, particularly with the involvement of Isadore Fine, professor of marketing, and Roy Tuttle, professor of accounting and information systems. Fine and Tuttle were also Consortium board members.
"The culture was accepting," he says. "There was nothing that put up an obstacle to me being the best that I could be."
In the classroom, Harris says the problem-solving skills he gained helped him build his career.
"What the Wisconsin School of Business did most for me was help me enhance the thinking process," he says. "We had courses with a lot of small group opportunities. It wasn't reading and tests, but discussions, and coming up with solutions based on the input of everyone."
Away from the classroom, Harris says, he felt a responsibility as a member of the first Consortium class.
"One of the pressures we all had, all 21 of us, was this sense of trailblazing," he says. "We felt if we weren't successful it would be a knock on the program for the people who followed. So there was a pressure to succeed so the program would."
Seeing increasing diversity in the corporate world
Harris did succeed, at the University of Wisconsin‒Madison and beyond. By completing his MBA in three semesters instead of four, he graduated earlier than his Consortium classmates and earned his place in history as the program's first graduate.
Though he gave some thought to heading to a bigger city, Harris liked what he heard as he was being recruited by Upjohn.
"They presented a willingness to be an equal opportunity employer not just because the law said it, but because they wanted to," he says. "To me, that was a selling point. The times were right for top management to say, 'We've got to do something.'"
From there, Harris says he saw positive things happen at the company in terms of diversity, and he was part of some of the initiatives. He worked with the Basic Fundamental Education Program, in which the company recruited minorities in Kalamazoo who hadn't finished high school. The company's program involved participants spending half the day studying to complete their GED and the other half working. Harris said it was as if the company took what it learned as a Consortium partner and wanted to make an impact on its own community.
"Some of those people even retired from the company," says Harris, who lives in Portage, Michigan.
Fifty years later, The Consortium continues to create the chance to succeed, which is why it appealed to Harris in the first place.
"That's what I wanted and what we wanted—no special treatment, just an opportunity to show that we could make it," he says. "And we did."
Learn more about the Wisconsin School of Business's pioneering role as a founding member of The Consortium.
Read more about Wisconsin's "parade of firsts" through its Consortium membership in the past 50 years.
---