"The Wisconsin School of Business is a place to be a woman leader in business," says Jenna Herr (MBA '19).
As co-president of Graduate Women in Business, she's worked to ensure this.
Herr's helped promote initiatives around women's entrepreneurship, pay and gender parity, negotiation, parental leave, and male allyship. She's looking forward to the Wisconsin Full-Time MBA Program's next step in working for gender equity—a partnership with Forté.
Closing the gap in business schools and in business
Forté's mission is to change the balance of the workplace. The nonprofit wants more women in leadership roles, a clearer pipeline for women to advance to leadership, and for women to have access to practical tools so they can learn, grow, and achieve in business.
Forté operates as an alliance of professionals, companies, donors, universities, and business schools.
The Wisconsin School of Business at the University of Wisconsin–Madison is now part of that alliance.
As of January 2019, WSB is a Forté Sponsor School, reigniting a partnership that the School and Forté had in previous years.
Wisconsin Full-Time MBA students can now attend exclusive Forté events, gain access to the organization's job board, and most importantly, tap into Forté's extensive network of women business leaders.
"Having a more expansive network across the country—that's a big opportunity for Wisconsin to be a part of," says Herr, a second-year full-time MBA student.
"It makes a statement about our leadership as a school and opens another avenue for our career services office and for the women in our program to have access to opportunities that we might not otherwise know about."
Continuing Wisconsin's work on gender equity
Director of MBA Admissions and Recruiting Betsy Kacizak says being a Forté Sponsor School is an extension of WSB's long-held commitment to gender equity, diversity, and inclusion: "Being a Forté Sponsor School reinforces that 'yes, we have been trying to move the needle and we're going to continue to do that.'"
"The gender gap is closing, but it's certainly not 50-50 as far as men and women in business schools or in business," Kacizak says. "Forté and the Wisconsin School of Business are both dedicated to making sure that there's gender equity in MBA programs and the corporate world."
Fostering connections before and during your MBA
One critical aspect of WSB's Forté sponsorship is that Forté can impact many women's lives even before business school.
Forté engages and recruits women at the undergraduate level, and helps them make contacts with MBA programs once they reach their careers.
WSB benefited from this by having Kacizak represent the School in Los Angeles as a part of Forté's pre-MBA program. The program guides women interested in MBAs through a 10-month journey, offering insights on applications, standardized tests, and career-building.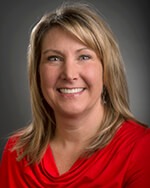 Kacizak spoke on a panel on admissions and led a talk on nontraditional students. Her presence helped connect prospective students to the Wisconsin Full-Time MBA Program and put a spotlight on the program's commitment to women in business.
Incoming Wisconsin students will also have the opportunity to attend Forté's MBA Women's Leadership Conference and Financial Services Fasttrack, connecting them to women business leaders and MBA students from across the country.
Forté Fellowships make WSB a go-to school
As a Forté Sponsor School, Wisconsin is also able to award several Forté fellowships as a part of its financial aid offerings.
Although the Wisconsin Full-Time MBA showcases the best ROI among programs with starting average salaries of $100,000 or more according to U.S. News & World Report, cost of attendance is a regular barrier for any MBA program.
Forté now gives women another option for financial support in pursuit of their Wisconsin MBA.
Looking to the future
The Wisconsin School of Business' support of women in business doesn't stop with the new partnership.
Current workshops led by Assistant Dean for Diversity and Inclusion Binnu Palta Hill, for instance, focus on how gender norms play out in the workplace and how organizations can be deliberate about evolving to greater inclusion.
The School will also continue to invite high-profile leaders such as Duluth Trading Company CEO Stephanie Pugliese and entrepreneur and activist Deanna Singh (MBA '12) to speak to MBA students and facilitate workshops with women.
Herr and Graduate Women in Business co-president Emily Swenson (MBA '19) are graduating in May and have passed their leadership roles onto Tanu Sharma (MBA '20) and Shannon Mullins (MBA '20).
GWIB is organizing an interactive women's panel in April, with the aim of promoting inclusion and advocating for the growth of women and minority leadership in the highest levels of business.
"I absolutely think that the business school, and higher education in general, has a really pivotal role in promoting better business; better culture for tomorrow," says Herr.
"The social issues that are important to us, the financial issues, the current topics, all those things that are coming up today, are problems that current students are in charge of tomorrow."
---