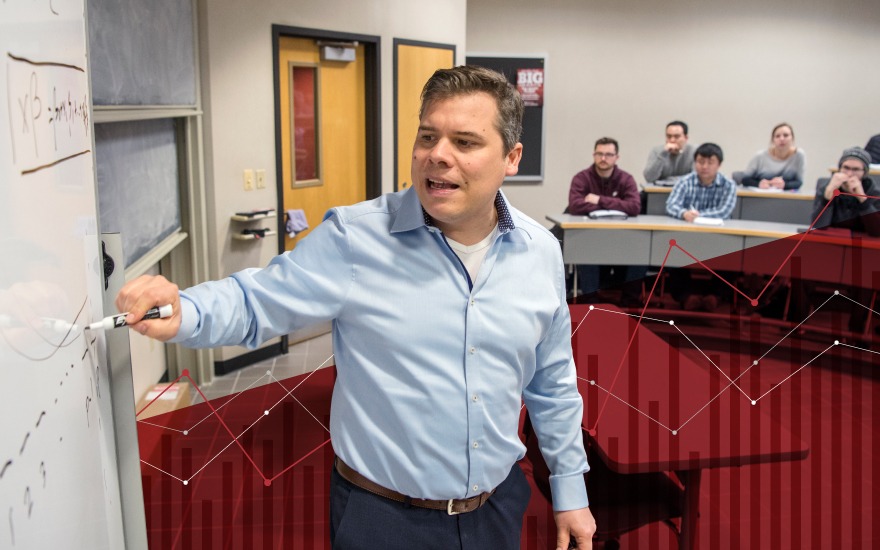 Building on a long tradition of academic excellence, the Wisconsin School of Business will add eight new course offerings to its general business curriculum this fall as part of the M.S. in Business Analytics program.
The course series is designed specifically for the new program, which integrates data visualization, machine learning, behavioral science, and project management to position students for cross-industry careers in areas such as finance, marketing, health care, and technology.
"The master's degree includes 12 classes, three of which are electives from our existing analytics offerings," says Kristin Branch, director of business analytics and director of the A.C. Nielsen Center for Marketing Research. "We developed eight new classes to meet the needs of young professionals seeking a career in business analytics as well as what industry needs them to know. The classes cover business statistics, programming tools, and application-focused classes. The new classes and master's degree bring a heightened level of analytic rigor to the Wisconsin School of Business and our students."
The eight new courses are:
Statistics and Programming for Business Analytics (General Business 705): The course covers statistics and programming for data-driven business analysis. After a primer on probability and statistics foundations, students will become familiar with Python and R programming. In addition to introducing programming basics, the course covers numerical and statistical libraries that will be helpful for solving applied business problems in the following coursework.
Machine Learning for Business Analytics (General Business 656): The course introduces machine learning techniques with an emphasis on predictive modeling in business. The course covers the intuition and ideas behind different learning approaches as well as their implementation in Python and R. The focus is on supervised learning techniques (e.g., regularized regression, classification and regression trees, random forests, artificial neural nets) but also provides an introduction to unsupervised learning (e.g., clustering, principal components).
Data Visualization for Business Analytics (General Business 720): The course introduces the principles of data visualization. It gives students hands-on practice with data visualization tools and techniques for business applications. Students will learn current visualization software tools and leverage these tools for data exploration, insight, decision-making, and presentation.
Prescriptive Modeling and Optimization for Business Analytics (General Business 730): The course introduces methods for prescriptive modeling and optimization to support managerial decision-making.  Students use spreadsheet modeling techniques to solve deterministic and stochastic problems in business. It also discusses fundamentals of decision science and exposes students to optimization software.
Experiments and Causal Methods for Business Insights (General Business 740): The course introduces students to experimental and causal methods for deriving business insights. Topics covered include review and distinction of correlation versus causation; design and analysis of randomized controlled experiments; and identification of 'natural experiments' in business data and corresponding empirical strategies.
Data Technology for Business Analytics (General Business 760): With a focus on the various technologies used in data analytics, students will learn how to extract structured and unstructured data from databases, applications, and social networks. The course will also build students' skills in Python, and offers practice using the programming language to do web scraping, data mining, and data analysis to support business decisions.
Analytics Consulting Practicum (General Business 770): The practicum brings together all of the material students have learned during the course of the degree. Students will use this knowledge to identify and solve a business challenge in several steps, including applying analytical methods, discovering insights, developing recommendations, and communicating final recommendations and findings. This is intended to be the capstone experience class for the Master of Science-Business in Operations and Technology Management: Business Analytics program.
Current Topics in Business Analytics (General Business 840): The course exposes students to emerging and current topics in the industry through case studies, industry meetings, exercises, and workshops.
---