Artist Caitlyn Se (BS '23) and her dad often visited Saigon Sandwich, a food cart between Madison's North Charter and West Johnson Streets. They would pick up bánh mì, a type of Vietnamese baguette-style sandwich, and enjoy chatting for a bit with the business owner, Min Sheng Tang, and his son.
"I felt drawn to Min Sheng Tang's energy and personality, so I asked if I could interview and draw him," says Se, a University of Wisconsin–Madison biology major who is also working on certificates in both art studio and Asian American Studies. "Growing up in Madison, I did not have many opportunities to speak Cantonese, so it was extremely special that I connected with Min Sheng Tang by speaking in Cantonese."
One day, seated outside on a nearby bench, Tang shared with Se his personal history. Born in Vietnam to a Chinese family, Tang survived the Vietnam War by escaping to the U.S., where he encountered and surmounted numerous obstacles yet eventually launched the successful sandwich business he owns today with his family.
The result of that conversation, Se's powerful graphite drawing of Tang entitled "Wings," is now on permanent exhibit inside the Multicultural Center at the Wisconsin School of Business, one of 12 works displayed from 11 UW–Madison student artists.
WSB's Multicultural Center celebrated its official opening in September 2022 and stands as one of the first and only multicultural centers to be housed within a business school. Located on Grainger Hall's second floor, the center was designed to build community; provide support to historically underrepresented students, particularly students of color; and to foster diversity, equity, and inclusion. It includes designated areas for quiet study; a conference room; commons area; and a prayer, meditation, and wellness space.
The 12 curated pieces of art provoke thought, offer perspective, and provide enjoyment through themes such as community, identity, celebration, interconnection, and individual artist experience. They add to the welcoming and inclusive atmosphere of the Multicultural Center.
"I truly thank all those involved to make this project happen and come to life, especially the artists who worked on these pieces and allowed us to showcase their work even before the center was officially open," says Arturo "Tito" Diaz (BS '15), Kemper Foundation Director of the Multicultural Center. "The artwork adds an element to the center that allows us to display our values."
Art with a sustainability mindset
The concept of including art in the Multicultural Center was the brainchild of four Wisconsin MBA students competing in the 2021 Net Impact Sustainability Competition. Coordinated by the Wisconsin chapter of the student organization Net Impact, the competition is an annual campus-wide event sponsored by UW–Madison's Office of Sustainability and its Green Fund program, an initiative that supports student sustainability projects for the betterment of campus.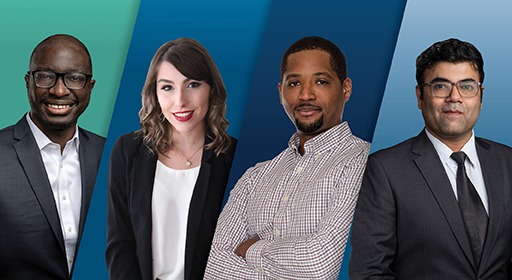 The team was formed by a group of classmates with diverse backgrounds, says Kwesi Kwapong (MBA '22). Each person's expertise made the team stronger: Kwapong graduated with an operations and information management specialization and had previously studied architecture at Cornell University, while teammate Liana Richardson (MBA '22) had experience in the art world, and Deeptanshu Jha (MBA '22) and Andrew Shaw (MBA '22) brought project management skills and knowledge to the group.
Early discussions centered on two main goals: What kind of project might yield the most good, yet could still be completed within a year?
"We wanted to do something with art from a sustainability standpoint because when you look around most campuses, you don't really see multicultural art," Kwapong says. "I'm not sure what the reason is there, but it was really a missed opportunity that we could help push."
The final proposal detailed the demand for comfortable, inclusive spaces and the importance of art, as well as a campus-wide call for artists that prioritized "original multicultural and diversity-themed artwork by UW–Madison's own students."
They didn't win.
But the group was still satisfied with their proposal and had a good experience competing. "That was about the time where Ian reached out and was like, 'Hey, we know you didn't win, but we're still really interested in pursuing this,'" Kwapong recalls.
Green Fund Project Manager Ian Aley is accustomed to guiding student teams through Green Fund projects of every stripe and saw the inherent potential.
"Economic, environmental, and social sustainability are the three paradigms of sustainability," he says. "This is one of the first projects we have done that has been really focused on the social side."
From proposal to project management
Through weekly check-ins, Aley helped the group build out a plan and to seek input from student groups and others who would be using the center. UW–Madison's Art Department and Division of the Arts assisted them with formulating the call for proposals and getting the word out, as well as defining the art selection criteria and guiding them through the art selection process once submissions started coming in.
The Green Fund supported the project with facilitation and the money to pay student artists for their work, and Aley helped the students develop payment procedures. Uniek, a Pyle Group Company and Waunakee-based décor business, donated printing and framing services for some of the art pieces.
At the outset, "[the project] seemed like it would be a pretty low-level lift, relatively easy," Kwapong remembers. "How hard could it be to consolidate student art and just get it displayed? It turns out, very hard. Very, very hard."
Not only was the team new to working with student artists and the art world in general, but they were also navigating the pandemic and balancing a full load of MBA coursework and job interviews, all while trying to plan for a physical space that had yet to be built.
One of the trickiest tasks was preparing the call for artists to submit their work for consideration. It took time, Kwapong says, because they wanted to ensure they were "asking for the right things but also in the right way."
"One thing that we were somewhat explicit about, and I think for obvious reasons, is that we didn't ask the students questions regarding race or gender. Because in some sense, that wasn't as important as the message these artists were trying to convey."
'Spirit of a welcoming space'
Once the call went out, Aley says they were overwhelmed with the positive response of 34 submissions from 28 UW–Madison-based student artists.
The technical aspects of the art aside, the pieces selected needed to complement the values and mission of the center, while still preserving the artist's vision for the work.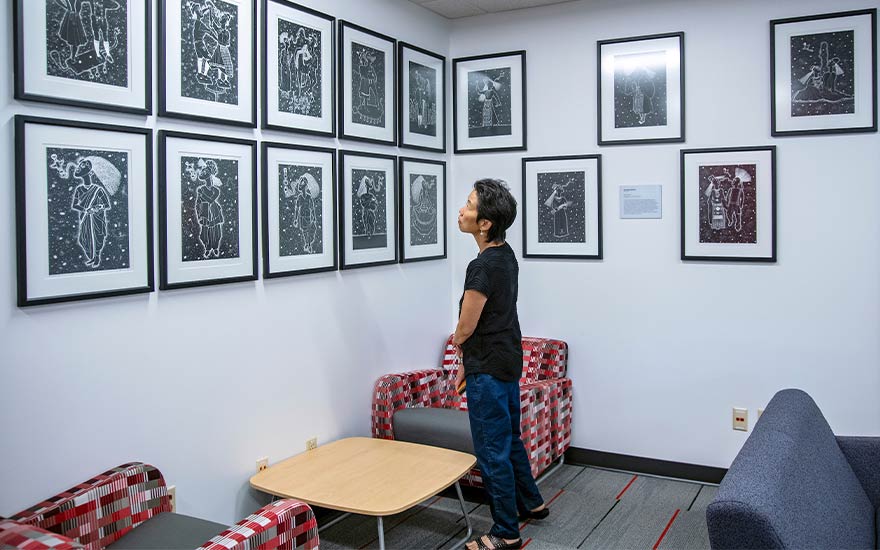 At the center's grand opening, Aley says he had the opportunity to hear firsthand what it meant to students who were planning to use the space and some who had already spent time there.
"I think this project stands out as an example of how sustainability very much aligns with this spirit of a welcoming space, of wellness and solidarity and all of these other values that the Multicultural Center embodies."
Aley says the success of the Multicultural Center project has been an inspiration for similar future endeavors, such as a recently funded art project in the works for a mural near the Memorial Union in collaboration with Ho-Chunk community members and artists.
Though all four team members have now graduated, their project will undoubtedly have a lasting impact, which Kwapong credits largely to Aley, Diaz, and the student artists.
"At the end of the day, we were really just facilitators. I think sometimes you just see an opportunity to connect one group with another group and something comes out of it."
Kwapong hopes that current and future students are able to enjoy the art and all it adds to the Multicultural Center. "I hope it feels like a space where they have some representation, some point of connection on campus."
Se says she is grateful to have Tang's story be an ongoing part of WSB's Multicultural Center.
"Through my work, I hope others feel encouraged to learn more about the people in their daily lives. When we take the leap to learn about someone else, we may find a special bond that helps connect us within the larger community."
---
Some excerpted work from the exhibit:
Two separate canvases placed side-by-side, "You'll Find a Way" and "Celebration," are the work of Minneapolis-based Badger, Sophia Abrams (BS '22). An artist, writer, filmmaker, and curator, Abrams writes her artist statement on "prioritizing creating art where Blackness is the norm and Afro-centric … My paintings, "You'll Find a Way" and "Celebration," align with the vision of the Multicultural Center because they directly encourage the centering of Black, Indigenous, and People of Color communities and serve to be a source of inspiration and optimism for people." Abrams has written about art for SooVAC Gallery in Minneapolis and the Brooklyn Museum.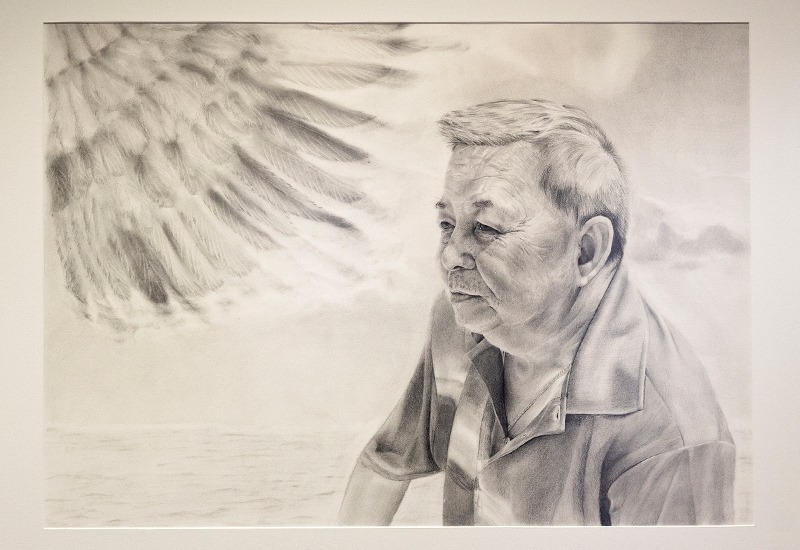 Caitlyn Se's graphite drawing, "Wings," depicts Madison resident and business owner ​唐民生 Min Sheng Tang. Born in Vietnam of Chinese ancestry, Tang left the country during the Vietnam War and made a new life in the U.S. He launched his own business, the popular food cart, Saigon Sandwich. Se (BS '23) notes in her artist statement, "Our campus community extends beyond the student population, and our daily interactions shape the overall environment. By taking the initiative and having the opportunity to learn about someone's story, we can form meaningful bonds to create a safe and inclusive Badger community and beyond."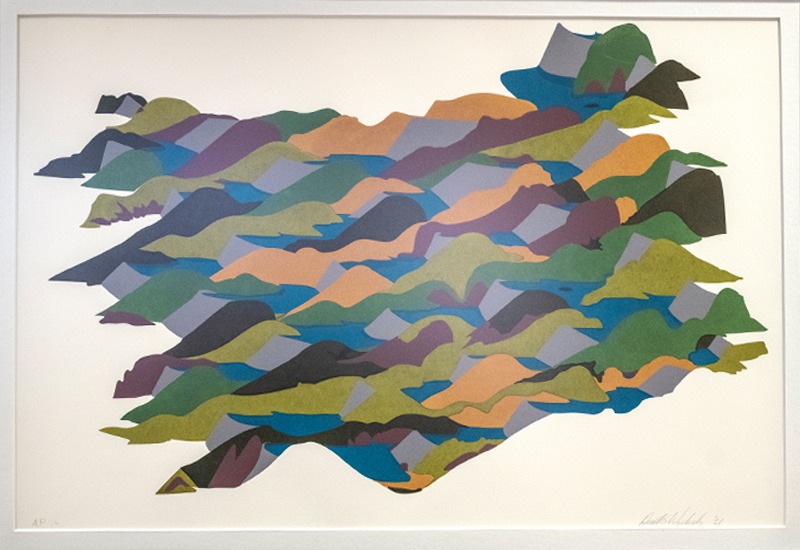 Derick Wycherly's work, "Retaining Walls," is serigraphy or silkscreen printing. Wycherly (MFA '22), an enrolled member of the Chippewa Cree Tribe of Rocky Boy, Montana, writes in his artist statement about his piece that "water is a metaphor for our potential as interconnected social beings with a gravitational pull or will … While purposefully abstracted and open to interpretation, this composition hints at difficulties faced by Indigenous artists working within an institutional context." Wycherly received his BFA in 2011 from the Rhode Island School of Design.
---