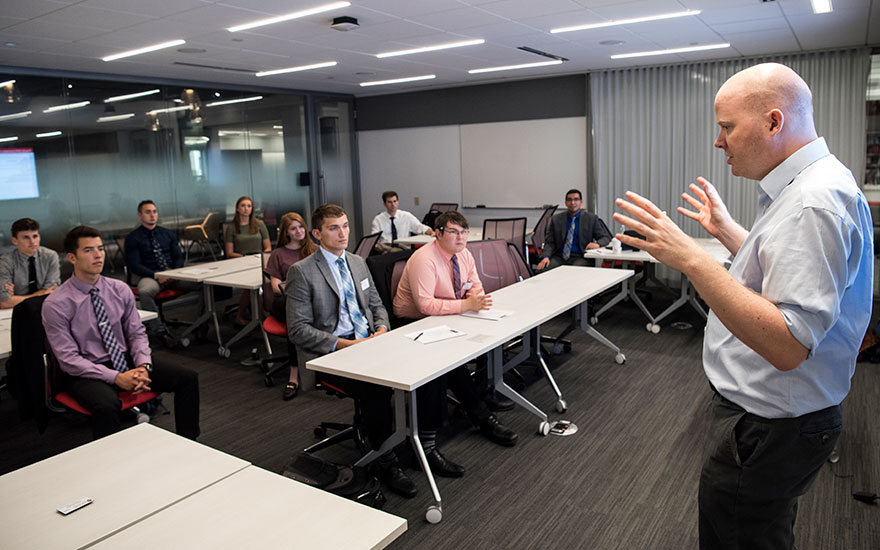 A new partnership between the Wisconsin School of Business and the University of Wisconsin–Madison School of Pharmacy will offer pharmacy students sought-after business skills and education through a four-course concentration in Operation and Technology Management (OTM).
Beginning in Fall 2018, students in the Doctor of Pharmacy (PharmD) program can enroll in the Pharmacy OTM concentration, which offers students the opportunity to take MBA elective courses concurrently with the PharmD curriculum. Nine students are enrolled in the inaugural class and will learn alongside Wisconsin MBA students.
"The impetus for this collaboration was recognizing the positive impact that MBA-level training will have on our PharmD students' careers and ultimately the care delivered to patients," says Edward Portillo, assistant professor at the School of Pharmacy. "Our PharmD graduates are uniquely positioned to serve as agents for positive change in the communities where they practice. The essential skillset from Wisconsin School of Business classes will enable students to be effective leaders and patient advocates in all areas of health care practice."
The program was carefully designed and structured around students' needs, says Enno Siemsen, associate dean of the MBA and master's programs at WSB and the executive director of the Erdman Center for Operations and Technology Management.
"PharmD graduates get into management positions quickly in their careers. Their leadership drives change," Siemsen says. "We connected with local health care systems, insurance companies, and other stakeholders to understand which skills are necessary for these students to succeed, and chose the set of courses accordingly. For example, designing a great service experience is paramount to running a modern and competitive pharmacy, and thus these students will learn about service and health care operations. Further, pharmacists often lead technology implementation projects in their pharmacies, which is why both project management and change management are classes in the curriculum. Finally, the yellow- and green-belt training provided through the Erdman Center for Operations and Technology Management will enable these students to drive process improvement within their organizations."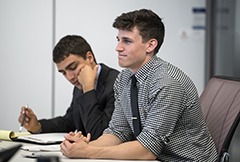 PharmD students enrolled in the OTM concentration must take a required project management course, plus three other elective courses such as managerial accounting, change management, health care operations, service operations, managing teams, negotiations, and logistics and supply chain. Participants complete the OTM courses during the second and third years of their four-year pharmacy program.
To prepare PharmD students for success in these graduate-level business courses, WSB has created a custom-designed online module series that ensures readiness for students coming from nonbusiness backgrounds. Using a unique one-to-two day "boot camp" training format, supported by resources from the WSB Innovation Fund, the module series allows students to work through key concepts outside of the classroom before they begin the OTM concentration curriculum. With instructors identifying outcomes for each block of modules, the sequence ensures consistency and quality of knowledge for nonbusiness students enrolling in advanced business courses.
The PharmD program itself currently enrolls approximately 130 to 150 students each year, with a future goal of 20 to 30 students choosing the OTM concentration annually. The collaboration also sets the stage for future cross-campus partnerships that could bring business education to professionals of many industries.
---