Wisconsin School of Business students are poised to share their recommendations on the City of Madison's sustainable strategies after a semester-long partnership between the city and university that charged students with evaluating the city's comprehensive plan, Imagine Madison. Students will present their findings before government officials and private sector leaders on Wednesday, December 15 from 4:30 p.m.–6:00 p.m. at Grainger Hall.
The students are part of an Urban and Regional Economics course taught by WSB's Yongheng Deng, professor of real estate and urban land economics and the John P. Morgridge Distinguished Chair in Business. Deng actively works with the World Economic Forum and the United Nations' Sustainable Development Solutions Network on housing affordability and effective policy.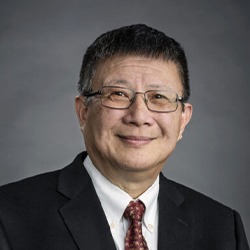 During the semester, the students focused on the city's sustainable development component of the Imagine Madison plan, studying and evaluating strategies and potential actions. The class was divided into 18 student research groups, each examining a unique aspect of sustainability including land use and transportation, neighborhoods and housing, economy and opportunity, and green and resilient strategies. They also linked the plans and actions of Madison's sustainable development strategy to the United Nations' 2030 sustainable development goals. Madison leads in sustainable development among U.S. cities, ranking in the top five of 105 U.S. cities according to the UN Sustainable Development Solutions Network. At the upcoming event, students may also identify any gaps and recommend next steps that can inform the City of Madison's plan.
"Our goal for this Urban and Regional Economics course is to guide students to take a holistic view of urban and housing economics, understand the social-economic challenges we face through the dynamic interaction between the urban space, city, and neighborhoods, and learn how to tackle these problems," Deng says. "These student group projects allow students to learn from the city and urban space they are studying and living in, and also provide students opportunities to influence people's lives beyond the boundaries of the classroom."
Throughout the semester, Deng introduced the economic methods to analyze urban city and real estate markets. Topics covered include the determinants of real estate values, the location decisions of households and firms, land use, urban growth and agglomeration, real estate pricing, cycles, housing market and policies, and sustainable development.
Several esteemed guests plan to attend the session, including City of Madison Deputy Mayor Christine Baumel (BS '01). Other attendees include representatives from the Wisconsin Housing and Economic Development Authority (WHEDA), local government officials from surrounding areas, private developers, industry experts, and neighborhood village associations.
The partnership between Deng and the City of Madison is supported by the UniverCity Alliance, which connects education, service, and research activities across UW–Madison with cities, furthering the practice of sustainability.
WSB's world-renowned real estate program consistently ranks as the top public program in the country by U.S. News & World Report. With an emphasis on real-world learning and a commitment to sustainable development, the Department of Real Estate and Urban Land Economics and the James A. Graaskamp Center for Real Estate have a long tradition of excellence in real estate education.
When and where:
December 15, 2021, from 4:30 p.m.–6:00 p.m.
Grainger Hall, East Atrium, 975 University Ave, Madison, WI 53706
Open to the public
All students, employees, and visitors to campus are required to wear masks when inside UW–Madison campus buildings, regardless of COVID-19 vaccination status.
---