Roger Ervin (MBA '09), senior lecturer in the Wisconsin Evening and Executive MBA Programs, is taking his commitment to engaging students, inspiring learning, and supporting research excellence at the Wisconsin School of Business to a whole new level.
Ervin, who also serves as president and CEO of International Relief and Development, announced that his organization will launch its newest initiative, Blumont, in Madison, Wis., moving a significant portion of its operations from Washington, D.C., to Wisconsin.
"Madison has a lot of advantages we don't have other places," says Ervin, who began leading the organization in December 2014 and previously served as Wisconsin's Secretary of Revenue from 2007 to 2011 and U.S. Commercial Envoy to Africa during the Clinton administration. "To bring the company here, as we are restructuring and rebranding and to really adopt those local values, is critical."
Having a worldwide relief and development organization next door to the University of Wisconsin-Madison will benefit both Blumont and the UW as a whole.
"There are a lot of things going on at the university that are important to the evolution of markets and capabilities of governments around the world," he says. "Hopefully we can find a way to collaborate and integrate them into our work, and acquire that knowledge."
Ervin says he could foresee a range of areas in which the organization could tap into the university's knowledge and research.
"Research is great, let's see how much we can put into the practice," he says. "We can be an outlet of how we can operationalize those in very different environments. I'm looking forward to working with places like the College of Engineering, the Wisconsin Energy Institute, and the Wisconsin School of Business, which impart knowledge in ways that are very important like supply chain management and accounting."
Blumont will provide implementation support for relief and development programs worldwide for governments and multicultural institutions, supporting IRD's current partners which include the U.S. government, the governments of Britain and Australia, the World Bank, and the United Nations. Blumont and IRD will continue to maintain offices in the Washington, D.C. area, and Amman, Jordan.
Although in the early stages IRD and Blumont will operate as affiliated businesses, it is expected that Blumont will gradually reorganize all IRD programming under a single umbrella. Current IRD projects include running the U.N. refugee agency's Zaatari camp for Syrian refugees in Jordan, helping locals in Kandahar, Afghanistan create alternate livelihoods to poppy cultivation, and supporting USAID's Peace Through Development program in West Africa.
A big inspiration for the move, Ervin says, is the Wisconsin Idea.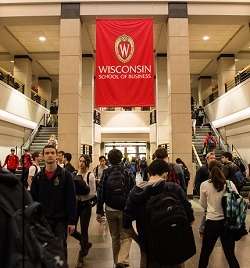 "That's really important to me because it's rare that you have societies that are like Wisconsin and Madison, where there is a view of what's best for the whole, where they ask how we can do things together," he says.
Ervin says 35 jobs will come to Madison with the move at first, a figure that is expected to grow. He said the Madison market could best provide jobs in IT, accounting, supply chain management, and social media. Ervin also plans to tap into the university's large network of Peace Corps alumni for Blumont's project work.
"We can take people out of the Peace Corps who have been trained in the language or trained with the skills that are needed in those locations and rehire them to work on our UN projects," Ervin says. "They can come out, we can train them and then they can go work with UN refugees somewhere."
Blumont will have other Wisconsin connections besides Ervin. The CFO is Brandon Duck (MBA '09), former CFO of the Wisconsin Economic Development Corporation and co-founder and former president of BadgerMax sports drinks. New board members include Dick George, president and CEO of the Great Lakes Higher Education Corporation, and David Locke, chairman and CEO of McFarland State Bank.
---