This fall, the Wisconsin School of Business unveiled something that will revolutionize the student experience—a new, two-in-one, state-of-the-art collaborative learning classroom (CLC) that is unlike any other learning space at the School.
"The idea began in 2013, when the School significantly increased enrollment in the Wisconsin BBA Program," says Meloney Linder, the School's associate dean of communication, facilities, and technology. "We needed computer labs that could accommodate more students, and we also knew we wanted to move into the collaborative learning environment, so we started talking with architects and saw an opportunity to increase both capacity and flexibility by creating a space that could be used as one large classroom or two smaller ones."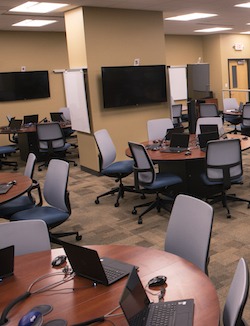 The initial idea coincided with the School's first phase of its
KDBIN™ initiative, articulating desired learning outcomes for every program, degree, and major within five dimensions: Knowing, Doing, Being, Inspiring, and Networking.
"KDBIN™ puts goals for student learning first rather than focusing on what instructors plan to teach," says Suzanne Dove, assistant dean for academic innovations. "As conversations grew between faculty and instructors about what they wanted students to learn, they also talked about how to design the best activities and learning environments to deliver on those outcomes. We realized that we were going to need new spaces to inspire learning."
Dove, who manages the Wisconsin School of Business Innovation Fund, points to the importance of this funding in providing the resources to create the CLCs, enabling faculty to implement learning activities that promote student engagement and peer-based learning, which can have a positive effect on learning outcomes, according to research.
"We'll see faculty better able to engage students in active discussion in ways that are much more difficult to do in traditional classrooms," says Chris Dakes, the School's director of educational innovations and learning design. "The space looks and feels different, and it will change the learning environment from one where the faculty member is the primary focus and sole source of knowledge to one where students are the focus and they learn from each other."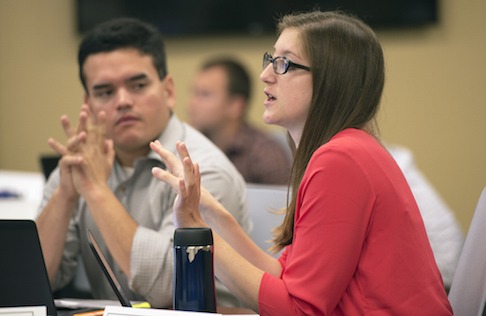 New classrooms, new learning
The new classrooms—or classroom, depending on whether the retractable wall is in place—are a complete departure from the traditional computer work stations that used to occupy the same space.
The design of the space—including layout, furniture, and technologies—is based on best practices derived from educational research and experience at the university and nationally. It increases capacity by 26 percent, accommodating more learners—up to 114 students compared to 90 in the previous, more traditional setup.
What has changed?
| BEFORE | AFTER |
| --- | --- |
| Forward-facing computer stations | Round tables that each seat six students—the optimal number for collaborative learning, based on latest research |
| Desktop computers | Laptops |
| Podiums | Centrally located control panels that allow faculty members to more easily move about the rooms and interact with students |
| Single screen at front of room for instructor to project | Individual screen for each table with capability to project to entire class the faculty computer or individual student computer |
| Single long white board across front of the room | Multiple white boards on every wall and for every table |
Together, these features constitute a learning environment that signifies that the learning taking place in these spaces will be student-centered, active, and collaborative rather than emphasizing the delivery of content from a single faculty member.
[slick-flick url="https://www.flickr.com/photos/125984350@N03/sets/72157658799418175″]
Technology-Enhanced Learning Throughout the School
The School's improvements to technology-enhanced learning are not limited to the collaborative classrooms—two new laptop computer carts, which each hold 24 laptops that offer the potential to bring technology-based learning to any classroom at the Wisconsin School of Business.
"In the past, if you wanted to use computers in the classroom, you had to go to a computer lab," says Meloney Linder, associate dean of communication, facilities and technology at the Wisconsin School of Business. "Now you can reserve the mobile cart, and it can be wheeled to any classroom in Grainger Hall."
Using these laptops give faculty members control of students' access to specific resources. They can limit Internet access when using the laptops for high-stakes testing and provide access to proprietary software.
"The mobile laptops carts are just one way that faculty are able to add flexibility to these traditional learning spaces," Linder says.
"We know that learning is more effective when the learners are trying to do things themselves even when they're not yet experts, but that's difficult to do in rows, where just turning to work in small groups is rather cumbersome," Dove says. "The new collaborative learning classrooms enable more engaged, active, and collaborative learning."
A collaborative effort
From the start, work on the classrooms has been a collaborative effort, with input from UW–Madison's Facilities, Planning, and Management team and staff from the School's Academic Technology and Web team, Building and Conference Services, Information Technology Services, Educational Innovations, and faculty. This collaborative approach, according to Dakes, is not the norm.
"At the recent National Forum on Active Learning Classrooms, educators identified challenges they faced building similar classrooms like infrastructure problems, software that didn't meet faculty needs, or faculty not really open to or knowledgeable of how to teach to maximize the full benefits of the rooms," Dakes says. "The fact that we took a holistic and collaborative approach really helped us get off the ground."
While the classrooms incorporate the latest innovations in collaborative design, they also anticipate future innovations. All of the wiring is housed within a raised floor, which eliminates the need to do massive demolition to reconfigure the room to accommodate future needs and new technologies.
A welcome improvement
Qing Liu, associate professor of marketing, is conducting several sessions of MKT 310 Marketing Research in the collaborative learning classroom, building on the theoretical learning that takes place in earlier modules. Students are gaining hands-on experience with marketing software; working collaboratively to learn marketing research techniques; and working on group projects, developing and testing their own marketing surveys.
"The configuration and round tables in the new rooms will really help students interact with each other," Liu says. "I truly believe that students learn best by actually doing something and then learning from each other's mistakes."
In most cases, faculty will use the collaborative classrooms for specific course sessions rather than for the entire semester.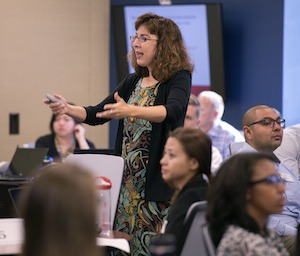 This new space will enable faculty to innovate the way that they structure their classes—creating the possibility of delivering lectures online that can be viewed individually and devoting class time to collaborative learning that requires students to be together to discuss, debate, and solve problems, Dakes says.
Supporting and measuring success
To track the effectiveness of the collaborative classrooms, the School is working with Mark Connolly, a researcher from the Wisconsin Center for Education Research who will analyze quantitative and qualitative data from students and faculty to measure the rooms' impact on student learning, enabling the School to make evidence-based decisions on how to use these classrooms more effectively.
In the future, a website dedicated to these new rooms will provide a forum for faculty to share their experiences, lessons learned, feedback, and even sample lessons.
"We've been talking for the last few years about moving from the 'sage on the stage' to the 'mentor in the midst,'" Linder says. "Now we have space built for that type of activity. It's a really great opportunity for the Wisconsin School of Business to see how well it facilitates learning and to see how well our faculty and students adapt to that environment."
---