Mark Eppli (PhD '91, MS '84, BBA '83), director of the James A. Graaskamp Center for Real Estate at the Wisconsin School of Business, is the recipient of a 2021 Greater Together Award from the Greater Milwaukee Foundation (GMF).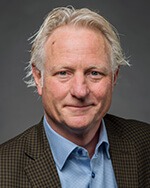 The annual Greater Together Awards recognize individuals who have led significant change to benefit Milwaukee communities. Comprised of four separate awards, Eppli is the winner of the Frank Kirkpatrick Award for his work with the Associates in Commercial Real Estate (ACRE) Program. Named after influential Milwaukee real estate developer Frank Kirkpatrick, the award honors those who have made significant physical improvement to the city's communities.
While a professor at Marquette University in 2005, Eppli founded the ACRE program with the aim of increasing diversity and inclusion within the commercial real estate industry. The competitive 24-week program is designed in conjunction with industry leaders, and recruits students and young professionals of color to build experience and expertise in commercial real estate in areas such as development, property management, and construction.
"I am deeply appreciative for [this award], but I alone am not deserving of such recognition," Eppli says. "When I asked business and community leaders to support the ACRE program, their support was immediate and unwavering. However, the over 300 ACRE program graduates are the deserving heroes. These students poured their heart, minds, and souls into learning the material, and have continued to ply their talents in the commercial real estate field with graduates having the title of alderman, WHEDA executive director, business improvement director, commissioner of city development, developer, lender, and owner."
Eppli's leadership and service within the real estate industry is robust. He has been a board member for the Federal Home Loan Bank of Chicago since 2012, and served as president of the nonprofit Real Estate Research Institute. He was named a distinguished fellow by the Commercial Real Estate Development Association, NAIOP. Eppli has also received awards from the Greater Washington Urban League and the Urban Land Institute for his efforts to expand diversity and inclusion within the real estate profession.
---