How an unprecedented partnership named the Wisconsin School of Business
On October 27, 2007, a group of innovative leaders at the University of Wisconsin–Madison stepped forward to make history by preserving history. Students and alumni erupted in celebration when they heard the announcement, while a full-page Wall Street Journal placement spread the news around the world: a group of 13 UW–Madison alumni joined together with an investment of $85 million to not name the business school for at least 20 years.
That's right: $85 million to not name the School.
Instead, this new Wisconsin Naming Partnership meant that the School would not be named for an individual, but rather in honor of a state and university that have supported a world-class business school for more than a century. So became the name "Wisconsin School of Business."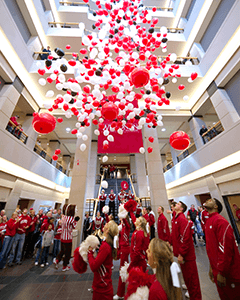 The announcement generated one of the most amazing homecoming celebrations I can remember. It grabbed attention across the country, particularly in higher education and philanthropic circles. The widely read Freakonomics blog posted an article with the teaser headline, "$85 Million Will Buy You Nothing at the University of Wisconsin." There was a real excitement around this Naming Partnership.
Today, ten years later, it continues to capture attention for its unprecedented nature. Mike Knetter, then dean of the Wisconsin School of Business and now president and CEO of the University of Wisconsin Foundation, spearheaded the initiative, having the foresight to recognize that a collective gift could make a greater impact than any single individual or entity. Reflecting on this achievement with incoming Wisconsin MBA students at orientation this fall, Knetter shared that the structure of the Wisconsin Naming Partnership—which provides the opportunity to grow the size of the gift or to lengthen its term—aligns with important concepts taught in business school: preserving future options can be valuable, brand equity is essential, and teamwork is important. As a case in point, the Partnership has expanded to include 17 members, and the Wisconsin Naming Gift now stands at $110 million in investments.
Celebrating the 10-year anniversary of the Wisconsin Naming Partnership has inspired me to reflect on its impact, recognizing that it has bolstered the Full-Time MBA Program in many ways. Because the gift was largely invested in unrestricted funds to be spent rather than endowed, its imprint on faculty recruitment and retention and scholarship programs was immediate. The partnership has funded an annual average of 12.5 full-time faculty members and has supported more than 70 scholarships for Ph.D. and MBA students, enabling the School to attract a diverse pool of high-caliber graduate students. Our students embrace the collaborative spirit of the Naming Partnership, working collaboratively across their cohort as they take both core general management courses and specialization electives. This unique approach, coupled with experiential projects and global opportunities, has resulted in strong career success for our graduates.
Throughout my 13-year career at Wisconsin, I have met colleagues from across the country who brag about innovation at their respective campuses. But a unique idea that propelled the Wisconsin School of Business forward turned out to be a simple solution—because in the end, some names are worth keeping. As we like to say here, "When you say Wisconsin, you've said it all."
---