Terry Warfield has a routine in place for every faculty candidate who interviews at the Wisconsin School of Business. As senior associate dean and PwC Chair in Accounting, he certainly gets to know the candidates and their qualifications, but he also makes sure those being recruited learn one key element about the school—that we have committed friends and donors who value faculty and support their work through philanthropic investments.
"I'm always really proud of the package we can put together for people and I explain that we can do it because we have generous donors," Warfield says. "They see the value of faculty, of research, and how it drives the success of our graduate and undergraduate programs."
"The backbone of the Wisconsin School of Business' success is its faculty, so I find it incredibly meaningful to help support their work," says Jeff Diermeier (BBA '74, MBA '75), who has funded two endowed faculty positions. "It is exciting to see the new avenues of expertise and thought leadership among the school's faculty, and I'm honored to play a small part in supporting the research that will help shape business decision-making in the future."
Philanthropy funds salary support, research support that is particularly important for new faculty, and PhD student support.
All of those factors have helped WSB expand its faculty and move forward in emerging, in-demand spheres of business, especially those that are cross-disciplinary like analytics and technology. Seven of the 11 new faculty hires for the 2021-22 academic year were strategic growth hires—new positions that address areas of growth and a need to build intellectual depth. For 2022-23, the school is on track to hire seven new faculty members, four of whom will be strategic growth hires. In typical years, the hiring pace is three or four new faculty members to primarily replace departing faculty.
WSB's commitment to expanding expertise has been part of the draw for new faculty, Warfield says, and it has had a trickle-down effect on future hires.
"We had some success because the word was out that we were hiring in these emerging areas," Warfield says. "That created buzz with many of these new hires becoming immediate collaborators and possibly magnets for other potential candidates."
WSB targeted four key areas as part of its recent faculty recruitment, bringing in scholars focused on analytics, technology, sustainability, and diversity and inclusive leadership.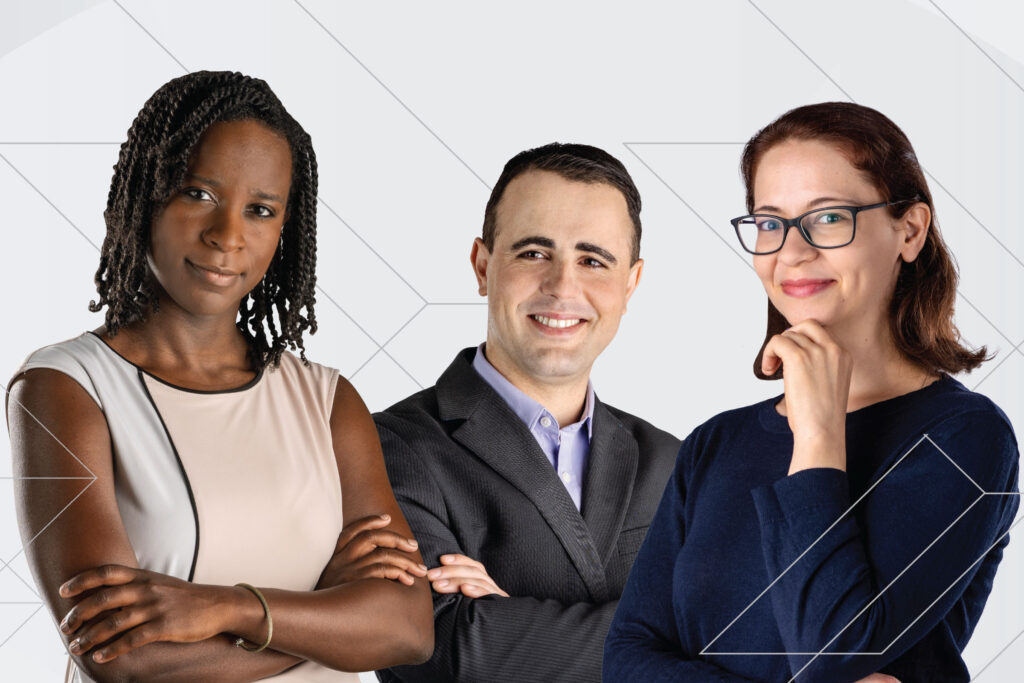 Business analytics
Four new faculty members hired for the 2021-22 academic year brought analytics expertise. Two teach business analytics classes and two others bring analytics expertise into the classes within their disciplines.
WSB's analytics curriculum teaches students the data mining tools necessary to read and analyze data and turn that knowledge into actionable insights, offering courses in emerging areas such as machine learning, programming, and data visualization.
The in-demand field of business analytics is cross-disciplinary, and recent hires reflect that as they bring expertise to a range of departments including marketing, operations and information management, accounting, and risk and insurance.
"When we hire in analytics, it's a cross-school hiring. We're looking for the best person in that space, regardless of department," says Vallabh "Samba" Sambamurthy, WSB's Albert O. Nicholas Dean. "Increasingly we're looking for that intersection because there's an overlap between disciplines to solve many of today's business problems."
Qinglai He, a new assistant professor of operations and information management, teaches business analytics and brings cutting-edge research in data technologies. Her expertise includes information visualization and visual analysis, and her research explores issues around user-generated content creativity, human-bot collaboration in platform regulation, and platform policy and polarization.
Technology
WSB's goal of adding expertise in the technology space goes beyond business analytics. Artificial intelligence, digital marketing, online communication, and social media polarization are just some of the research interests of recent faculty hires.
"We are reaching into some disciplines where we haven't hired before," Warfield says.
It's all part of the evolution of business. Throughout disciplines and majors at WSB, the end result isn't just students learning technology, it's students learning how to apply technology in the business world and embrace new technology throughout their careers.
"In marketing, accounting, and operations, for example, they're looking at how companies and businesses are using digital tools such as artificial intelligence or machine learning to facilitate decision-making and processes within the companies," Warfield says.
Several of WSB's new faculty members came to business through a technology background. Two of the school's new professors earned their PhDs in information systems. Others also have bachelor's and master's degrees in computer science.
"We're hiring people whose work is as interesting to people in statistics or computer science as it is to people in business," Warfield says. "That's a new frontier."
Sustainability
An emerging part of business is how an organization operates and builds strategy around environmental, social, and governance (ESG) elements. WSB offers a Certificate in Business, Environment, and Social Responsibility for graduate students and is redesigning the undergraduate curriculum to have a stronger emphasis on sustainability and ESG.
"We know we have faculty who are doing some work in the sustainability area―either in business strategy or organizational theory," Warfield says. "Now we want to focus even more on sustainability in our faculty search."
Like other emerging disciplines, sustainability reaches across several areas. In finance, companies need to understand how the market would respond to company investment in ESG. In accounting, current discussions consider whether there should be rules regarding ESG strategies and efforts. In supply chain, issues regarding greener practices and waste reduction surface.
"It's pervasive across all our disciplines," Warfield says.
Diversity and inclusive leadership
At WSB, diversity takes on a broader meaning beyond the important goal of building a faculty with broad cultural and demographic representation. It's about diversity of thought. It's also about modeling and developing inclusive leadership among students and teaching them how to embrace diversity as part of their professional development.
Because of that, WSB faculty play a key role in the school's investment in building inclusive leaders. Throughout WSB, faculty have integrated concepts of diversity, equity, and inclusion into the curriculum across disciplines. Business faculty have led efforts that have been built into all levels of education from pre-college to graduate programs.
"Employers want people coming in to their organizations who have cultural competency and understand why diversity is important whether it's racial, ethnic, sexual orientation," Warfield says. "That will have a positive influence on their decision-making."
Diversity has also become a business research topic and recent WSB hires work in that sphere. The research of Aziza Jones (BBA '13), an assistant professor of marketing and the Jeffrey J. Diermeier Faculty Fellow, explores concepts such as how racial identity influences interpersonal decision-making. Stav Atir, assistant professor of management and human resources, researches how gender bias can affect professional outcomes. Chia-Jung Tsay, associate professor of management and human resources, investigates the roles that perception, expertise, and nonconscious biases play in professional selection and advancement.
"Methods of researching these business problems are emerging, and they're showing up in doctoral dissertations and research programs," Warfield says. "We have recently attracted some impressive new thought leaders in these areas and we are excited about what they bring to the table."

WSB Donors and Morgridge Match Drive Faculty Growth
In 2014, two of the university's most generous benefactors, John and Tashia Morgridge, made the largest individual gift in the university's history—$100 million—to match gifts from other donors who wished to endow a professorship, chair, or distinguished chair. Due to the success of the faculty funding effort, the Morgridges gifted another $70 million match in 2020.
WSB now has 61 endowed faculty positions, an increase of 74 percent since the Morgridge match was initiated. An endowed professorship or chair distributes income annually in perpetuity to support faculty salary and research.
raised for WSB faculty support during campaign
professors joined WSB since start of campaign
endowed faculty positions
---