Jobs aren't the same as they once were, nor are the industries they are a part of. Decision-making isn't the same as it once was either. As a result, professionals who are seeking graduate programs in business want a different kind of educational experience. Amidst all the transformation, one thing remains the same: the need to respond to change and what the market demands.
That's precisely what the Wisconsin School of Business has kept in mind as it evolves its portfolio of graduate programs to meet the needs of students and employers. New programs, new methods of delivering education, and even new areas of study create increased opportunity for WSB and its students.
"These are very real changes we are adapting to and changing to support new career paths that are emerging," says Enno Siemsen, associate dean of MBA and master's programs at WSB.
Data, analytics drive degree changes
A major theme to the school's new options is the revolution of analytics and the availability of data, and how that drives decision-making in all disciplines.
"We can teach things in the classroom where 10 to 15 years ago students would have asked, 'Why do I need to crunch the numbers?'" Siemsen says. "The days of someone saying, 'I'll go with my gut feeling' are gone. That kind of business decision-making is out and it's much more analytical."
In response, WSB has built and expanded the Master of Science-Business: Analytics (MSBA) degree. Philanthropy was instrumental to the 2019 launch of the program, which is now self-funded. Twenty-four students enrolled during the program's inaugural year and that number neared 100 in 2021-22 with plans for further growth. New faculty members with analytics teaching and research capabilities have been hired to support and grow the MSBA program.
The program has become an immediate success in more ways than one. In 2022, the MSBA program was ranked 20th in the world. The MSBA graduating class of 2021 had a 100% job placement rate, with graduates securing positions at companies such as Amazon, Deloitte, Dell, Disney, and Epic.
WSB has added two specialized tracks within the MSBA: digital marketing and, new for 2022-23, digital risk and insurance technology. The latter provides an important opportunity to support the digital transformation of the insurance industry and its increasingly automated processes as well as emerging risk in various digital realms such as cybersecurity and cryptocurrency.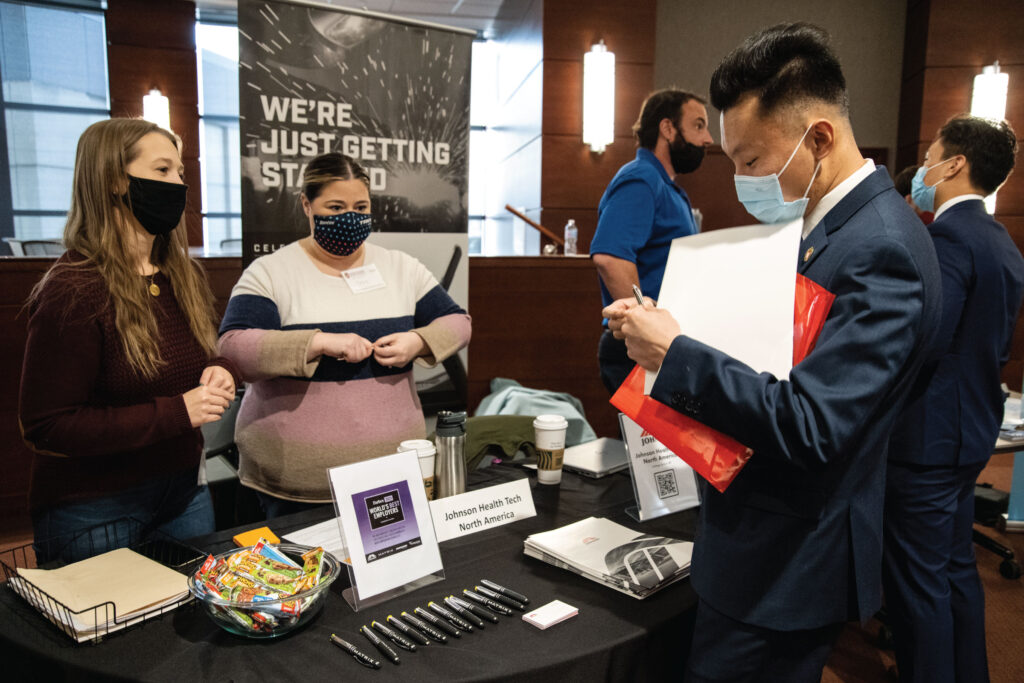 Preparing students for tech industry careers
Market demand also drives changes in the Wisconsin Full-Time MBA Program as employers seek graduates with strong analytical skills.
Within WSB's marketing MBA program, ranked third in the country by Princeton Review, students can pursue three specialties. Two existing tracks, brand and marketing management and marketing analytics and insights, have evolved with the shift toward data and analytics. They're joined by a new marketing track: technology product marketing.
Each of the three tracks will have its own hub within the new Marketing Leadership Institute. The new institute combines knowledge from many corners of the school, bringing diverse marketing expertise together to prepare students with the career-ready skills they need to succeed in today's cross-functional marketing world.
WSB has made another strong move to address demands both from and for the technology industry. A new specialization, technology strategy and product management, will launch in Fall 2022. Wisconsin MBA students in this discipline will be well-positioned to pursue career paths in technology, health care, or consulting.
With these changes, Wisconsin MBA students will now have more flexibility to explore career paths that directly match shifts across tech sector industries while expanding their general management knowledge.
New delivery model offers flexible MBA
WSB has addressed not only market demands for academic offerings but also their delivery. The new professional MBA offers a flexible, hybrid, part-time degree option for students who want to build the next steps in their career without putting it on pause for a full-time MBA. Many young professionals have family commitments or jobs that require travel, but they still want to advance their studies.
"It's a huge generational change―the generation now and the ones that will come after want education at their fingertips," Siemsen says. "They're not willing to disrupt their lives for their education."
The professional MBA, which launched in Fall 2021, provides that flexibility. It's a 50-50 blend of in-person and remote coursework; students spend one weekend a month on campus and take virtual classes on their own time. In addition, live virtual classes are offered once a week. The curriculum is designed around a system of badges that allows students to customize their program. Each badge is a set of three two-credit courses focused on specific topics such as financial insights, strategic innovation, or business analytics.
The blend of in-person and online is key, Siemsen says. Professional MBA students build relationships in person and are part of a cohort.
"There's still a demand for human connection―for networking, for friendships, for community," he says. "The challenge in designing a program is to provide flexibility, yet still create a sense of community and identification with the university."
There was immediate interest in WSB's approach. Fifty-seven students enrolled in Fall 2021, exceeding projections of 40 students for the first class. As the program grows, the goal is to have up to 200 students enrolled annually. The first cohort includes students from Chicago, Minneapolis, the Fox Cities, and other areas of Wisconsin.
Gifts to WSB help make new programs happen
Philanthropy has helped WSB build an enhanced graduate portfolio. Needs around staffing, technology, and course design can all be met. And after programs launch, they are designed not only to fund themselves but to generate revenue.
That creates a model for WSB to respond to future needs and position the school to be nimble in a time of transformation.
"These funds for new initiatives help us move at a pace that is faster and more effective," Siemsen says.
Continued opportunities for growth
As WSB continues evolving its graduate portfolio, growth will focus on market demand and flexible delivery.
Along with the MSBA, the school launched one-year master's programs in supply chain management and real estate. The success of these programs creates opportunity for developing fully-digital delivery modes for select master's degrees. WSB is also looking at ways to evolve its executive MBA in response to consumer demand and is exploring new partnerships across campus to develop joint degrees.
New technologies and digital transformations present new models for learning and growth, and ultimately WSB wants to be the hub for Business Badgers looking to upskill or reskill as their industries evolve.
"After a couple years in the workforce, a young professional might find that they need to enhance their skills. They can come back to us because we have offerings that fit that need," Siemsen says. "No matter how someone needs to enhance their skills, we will have a product that serves their needs."

New Funding Model Drives Innovation
The All Ways Forward campaign introduced a new investment approach for WSB: short-term seed funding that enables the school to quickly experiment and launch pilot initiatives in response to market demand and disruption in higher education. Conceived in partnership with alumni and donors, this nimble investment approach is similar to venture-style funding commonly used in the private sector.
The inaugural Innovation Fund was launched in 2011 and achieved a collective investment of more than $6 million contributed by 18 donors. In 2020, Dean Sambamurthy launched a new Venture Fund specifically focused on three goals: expanding reach, enhancing reputation, and growing revenue. This new Venture Fund has raised $2.1 million from 19 investors and has been particularly instrumental in helping WSB launch new degrees and enhance existing degrees within the graduate portfolio to help meet industry demand for greater flexibility and enhanced analytical expertise.
new graduate programs launched in the last five years
public full-time MBA program
— U.S. News & World Report, 2022
MS in business analytics program in the U.S.
— QS World University Rankings, 2022
---