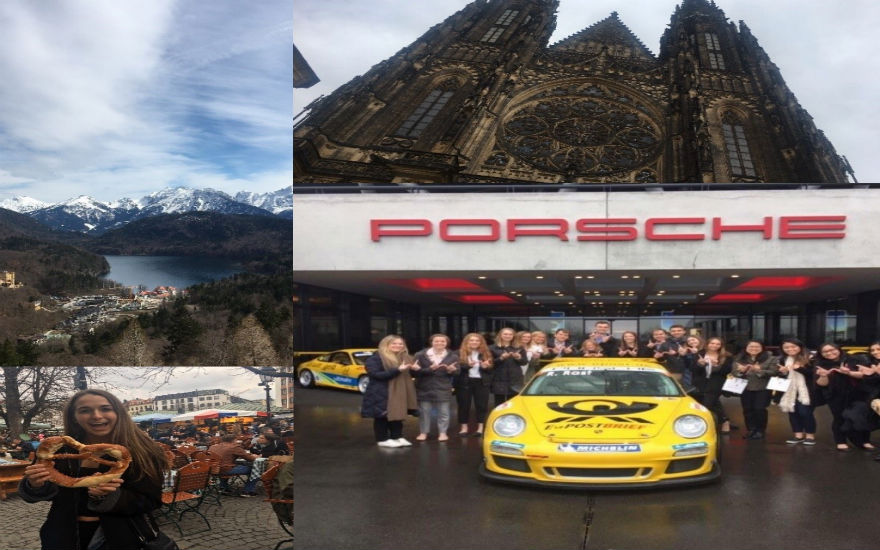 Hi Business Badgers!
My name is Kelly, and I'm a senior studying marketing and supply chain management. During sophomore year spring break, I went on the Global Experience in Supply Chain Management program to Prague, Czech Republic and multiple cities in Germany to explore the German automotive industry. This program was my first experience in Europe and with international travel, and it gave me a great mix of industry exposure, cultural education, and time to explore.
We first flew in to Prague, where we had a weekend to acclimate to Europe. We went on a city tour, and had plenty of free time to explore the winding cobblestone streets. Some highlights: Prague "Hot Chocolate" (which is literally melted chocolate), and Prague Castle.
After a weekend in Prague, we took a bus around the country to Dresden, Leipzig, Dingolfing, and Munich. In these cities, we visited a German university and multiple automotive manufacturers and suppliers including Porsche, BMW, Volkswagen, and Eberspacher. My personal favorite was our visit to Porsche, where we got to tour the factory floor and see the production process for such a prestigious brand. Throughout the trip, we also toured historical cities, visited fairytale-esque castles, and tried various German cuisines.
While I had expected to learn a lot from our site visits and tours, I was surprised by the relationships formed with my peers. These relationships have stayed strong as I work in groups with my classmates, and they help me feel a huge sense of belonging in the Supply Chain Management program. Further, being with a group of 15 peers was a great way to get comfortable with traveling abroad and enhanced my confidence as I spent a semester in Singapore in spring of 2019. This was one of my most memorable experiences in college, and helped me get a lot more out of my classes back at UW!
Interested? The Global Experience in Supply Chain Management program is accepting applications for Spring Break 2020! Please see more information about the opportunity.
---