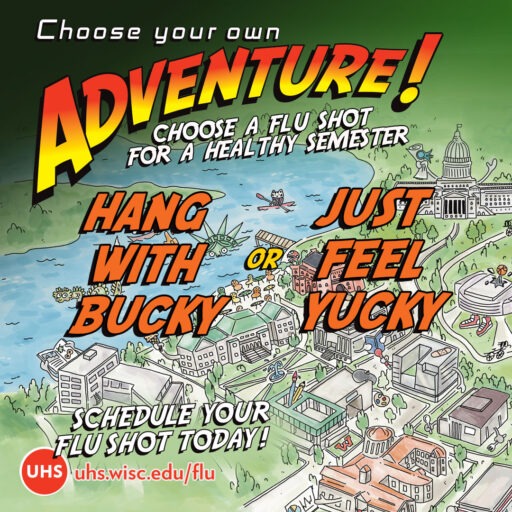 Starting September 13, University Health Services (UHS) will offer no-cost flu shots to students and employees. All members of the campus community can significantly reduce their chance of becoming ill by getting vaccinated.
Our first clinic will be at the Health Sciences Learning Center (750 Highland Avenue) on Tuesday, September 13 from 8:30 a.m. – 4:30 p.m. UHS will host more than 20 clinics across campus from September to December. VaxPro, an approved campus vendor, will administer a quadrivalent flu vaccine. 
Students and employees are encouraged to schedule a flu shot appointment and complete the pre-appointment registration information online. Drop-in appointments are permitted. Visit uhs.wisc.edu/flushots for clinic dates, times, and locations throughout the fall semester. 
A few things to keep in mind:
Flu shots are no-cost for all students. If a student has an insurance card, they are encouraged to bring it to their appointment. Employees should also bring their insurance card. No student or employee will be denied a flu shot for not showing proof of insurance.  
Students with chronic health conditions—such as asthma, diabetes, or immune disorders—are at higher risk for serious illness due to influenza and are strongly encouraged to get a flu shot.   
This flu shot is 'inactivated,' meaning you cannot become sick with influenza from the immunization. 
Flu shots help reduce the transmission of the influenza virus. When more people are vaccinated, the flu is unable to spread as quickly.  
Get vaccinated early. It takes about two weeks after vaccination for antibodies to develop in the body and provide protection against the flu.  
Everyone should get their flu shot each year. 
Visit uhs,wisc.edu/flu to schedule your shot today!
---