At the beginning of this semester I most definitely didn't plan on taking any solo trips. I was open to going (almost) anywhere since I'd never traveled to Asia. But, turns out, schedules don't always align. While most people were going to be traveling after classes ended and before finals started, I still had an exam to study for and take. So, my traveling was going to have to be scheduled on my own time. I've always wished to travel to Australia but didn't even think it would be a possibility this time around. However, I decided to make my wishes happen. I don't need to wait around for other people to travel. I figured I have enough experience navigating airports and new public transit that I could manage a trip by myself. I booked a decently priced flight to Sydney, Australia and the rest is history.
The best part about solo travel is that you get to do what you want, when you want. I could wake up without setting an alarm and then walk around until I got hungry. I was able to choose restaurants that truly interested me. Whether that be an acai bowl for breakfast and ramen for dinner or the other way around, it didn't really matter! I packed Dan Brown's The Lost Symbol for my entertainment. It's a great, easy read for people like me who enjoy a bit of history and travel suspense. Anyway, I would pull it out in restaurants or in city parks since you can only scroll through your phone for so long.
Another benefit of traveling by myself is that I got to go at my own pace walking through museums. Typically when my family goes to museums we set a meeting time and place as a compromise since my dad and I go quickly, while my mom and sister could spend all day sketching art. I went to the Australian Museum, the Art Gallery of New South Wales, and the Museum of Contemporary Art Australia. All were great choices as it rained a couple days.
Although there a plenty of positives, there are some downsides to traveling to a foreign country alone. At times I wish I had someone to share the experience with. With the 15 hour time difference I couldn't always just call up a friend or parent. Though I did FaceTime my mom and grandma from the Sydney Opera House which was surreal. Being on my own forced me to talk to strangers on the same nighttime walking tour. An Australian mom and her daughter offered to let me sit with them on the harbour jet boat cruise which was honestly the best boat ride of my life. Another downside came when nighttime rolled around. Although I never felt unsafe walking down the Sydney streets, I still felt uncomfortable dining alone at night. It made me a bit sad seeing everyone out with their friends. I ended up going to two movies at a theater nearby my hostel, Top End Wedding and Long Shot (can't say I recommend either of them).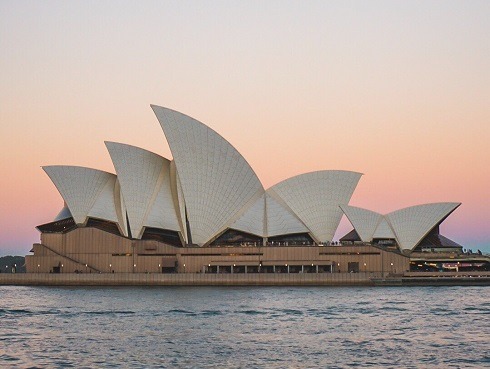 Overall, the positives outweigh the negatives of solo travel. On this trip I discovered how to be at peace with my own thoughts and that just about every single food establishment serves banana bread in Australia—even McDonald's. I'm very excited to see what destinations I will go to next, since I know that I am capable of traveling alone.
Until next time,
Lucia
---