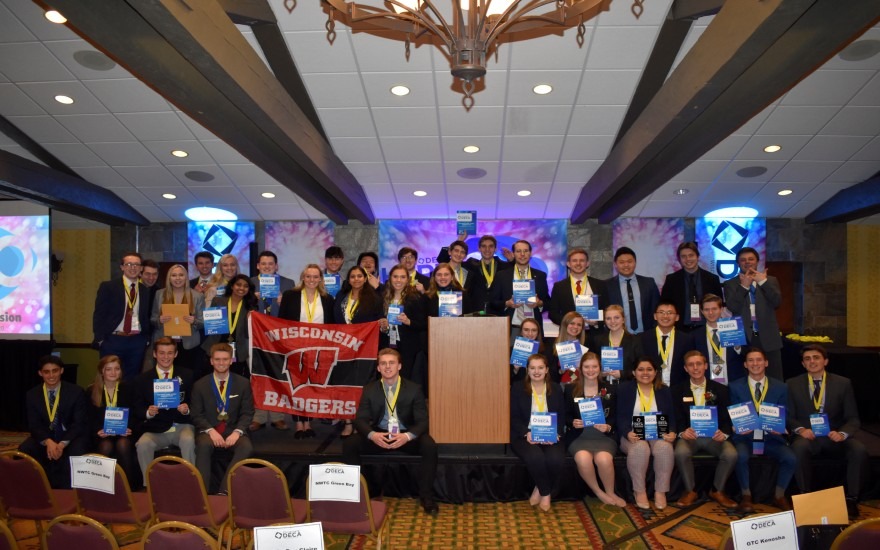 It truly was a historic weekend for the Collegiate DECA chapter at UW-Madison. UW-Madison Collegiate DECA attended the Midwest Case Study Competition hosted by Wisconsin Collegiate DECA in Delavan, Wisconsin. With over 300 attendees from Wisconsin and Iowa schools, this conference served as the qualifying state competition for the International Career Development Conference to be held late April in Atlanta, Georgia. The chapter not only headed home with having all 38 members qualify for this event, but also left with 13 state championships out of 23 events as well as having 23 total top three finishers. This is the largest and most successful team in chapter history, shattering last year's record.
Students competed in two case studies, with individual competitors competing in an industry cluster exam in either marketing, business management, finance, entrepreneurship, or hospitality. Students also had the opportunity to present a range of projects including Advertising Campaigns and Entrepreneurship projects.
The chapter received recognition for its continuous membership growth as well as having the highest membership increase in the state. Other significant chapter awards included the 3rd place Community Service Award and the 2nd place Diamond Award, an award given to chapters based on their involvement in the Fall Regional Conference, community service efforts, and membership.
This conference also marked the end of now former State Vice Presidents Alexis O'Connell and Zach McGovern's terms, who were elected at last year's state conference. O'Connell and McGovern connected with hundreds of members from across the state and worked on various projects including helping plan the Fall Regional Conference and this year's Midwest Case Study Competition.
Current chapter Vice President of Marketing, Melissa Okus, and chapter Vice President of Competition, Jeremy Erickson, were elected this year as State Vice Presidents and will help lead Wisconsin Collegiate DECA throughout the next year.
Next up, the chapter heads to Atlanta, Georgia for this year's Collegiate DECA International Career Development Conference. 26 students will head down to compete for an International Championship among the best of the best and will attend various professional development workshops hosted by some of the leading industry professionals.
Congratulations to the following students for their success! On Wisconsin!
Jacob Genal, 1st in Sales Management Meeting and Professional Sales
Kinsey Hourigan & Timmy Davenport, 1st in Business Ethics Team
Timmy Davenport, 1st in Business Research
Hunter Hochmuth, 1st in Accounting
Jeremy Erickson, 1st in Restaurant & Food Service Management
Zach McGovern, 1st in Corporate Finance
Dan Hunter, 1st in Marketing Management
Melissa Okus, 1st in Travel & Tourism
Janani Sundar, 1st in Fashion Merchandising and Marketing
Maycie Page, 1st in Human Resource Management
Brighid Billing & Jenny Lindloff, 1st in International Marketing Team
Anthony Genac & Tanner Mechura, 1st in Financial Statement Analysis
Alexis O'Connell, 2nd in Marketing Management
Jenny Patino, 2nd in Fashion Merchandising & Marketing
Sam Vicchiollo, 2nd in Retail Management
Hunter Hochmuth, 2nd in Entrepreneurship: Starting a Business
Cole Navin, 2nd in Human Resource Management
Maggie Koprek & Grace Klubertanz, 2nd in Marketing Communications Team
Roren Finney, 3rd in Corporate Finance
Mikalyn Morreim, 3rd in Fashion Merchandising and Marketing
Shelby Domagala, 3rd in Hotel & Lodging
Jon Dunlap, 3rd in Sales Management Meeting
Joe Radtke, finalist in Accounting
Pete Wu, finalist in Corporate Finance
Grace McGovern, finalist in Entrepreneurship Operations
Michael Pappas, finalist in Entrepreneurship Operations
Carson Blair, finalist in Travel & Tourism
Theju Vembakkam, finalist in Travel & Tourism
Andrew Barrelmann, finalist in Hotel & Lodging
Jayden Schafer, finalist in Hotel & Lodging
Lucas Moran, finalist in Restaurant & Food Service Management
Adam Holtzman, finalist in Retail Management
Jack Brahm, finalist in Retail Management
Myranda Breezee & Josh Gao, finalists in Event Planning Team
Tanner Mechura, finalist in Emerging Technology Marketing Strategies
Melissa Okus, Maycie Page, & Jenny Patino, finalists in Advertising Campaign
Shelby Domagala & Sam Vicchiollo, finalists in Entrepreneurship: Starting a Business
Andrew Barrelmann, Jeremy Erickson, & Alexis O'Connell, finalists in Entrepreneurship: Starting a Business
---