1950-1959
Jerald Hage (BBA '55)
Hage had his 1991 article, "Organizational Innovation and Organizational Change," reach over 20,000 reads. In May 2022, his book, Knowledge Evolution and Societal Transformations: Action Theory to Solve Adaptive Problems, was released in paperback. It explains how one can solve the problems of social inequality with more access to skills, permanent jobs, and a greater political voice for marginalized populations.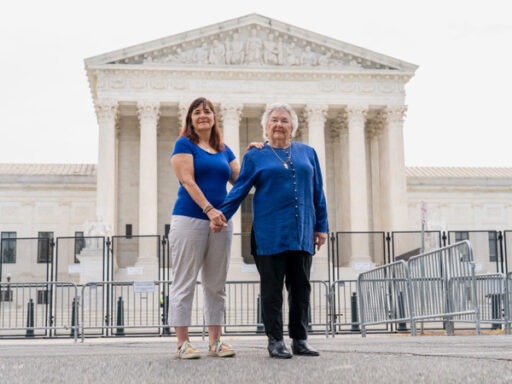 Benita Alk Lubic (BBA '58)
Lubic reflects fondly on her years at UW–Madison and will soon be celebrating 65 years since graduation. She was very active in campus activities and even held the role of Associated Woman Students president. Last year, Lubic and her husband, Robert, celebrated their 62nd anniversary, mostly living in Washington, D.C. It is her 63rd year owning Transeair Travel, which has allowed her to travel to over 150 countries. She is blessed with three children and five grandchildren.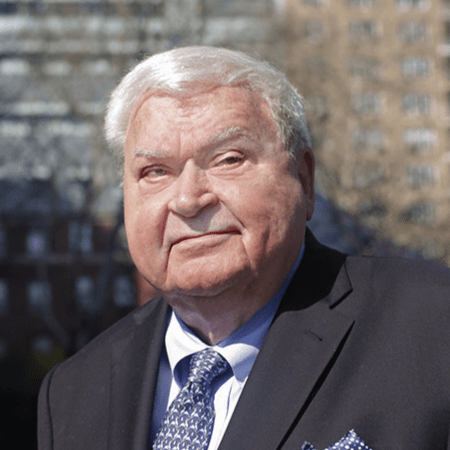 Bruce Ellig (BBA '59, MBA '60)
Ellig has funded a chair, a professorship, and two scholarship programs at WSB, in addition to receiving the Distinguished Business Alumnus Award. In his 35 years at Pfizer, he was responsible for worldwide human resources needs. Ellig served as board chair of the Society for Human Resource Management and was a fellow of the National Academy of Human Resources. He was also named in Who's Who in America and Who's Who in the World. Ellig has written 134 HR articles and 11 books, including four editions of The Complete Guide to Executive Compensation. Ellig and his wife have visited 150 countries.
Donald Hildewig (BBA '59)
Hildewig received the Lifetime Achievement Award for outstanding contributions to the Wisconsin Alumni Association: Suncoast Chapter and UW–Madison. He received the award at the Sarasota/Suncoast Alumni Founder's Day dinner on May 5, 2022, in Sarasota, Florida.
1960-1969
In Memoriam
William "Truk" Trukenbrod (BBA '61)
William "Truk" Trukenbrod passed away on May 21, 2022, in Lake Forest, Illinois. He was diagnosed with Parkinson's disease at age 62 and proceeded to live a full life until his passing.
Truk was a proud member of the U.S. Army Reserves, served as president of the village of Bannockburn, Illinois, and was a board member of the Chicago Crime Commission. He worked at the Northern Trust Bank for 38 years.
Truk was very involved in the UW–Madison and WSB communities. He was one of the first students to participate in the Reverse Viking Program in which Wisconsin students were selected to study in Scandinavia (a "reverse" of the original program in which Scandinavian students received scholarships to attend UW–Madison). He later served on the Wisconsin Business Alumni Board from 1988 to 1992 and on the Dean's Advisory Board from 1998 to 2002. He was instrumental in the building of the Fluno Center for Executive Education.
In addition, Truk was a generous friend of WSB. He supported the school's Innovation Fund and endowed the William Sellery Trukenbrod Chair in Finance. Those who knew Truk remember him for being incredibly kind and charitable. He loved UW–Madison and was a loyal and passionate Badgers sports fan.
Martin Feldman (BBA '64)
Feldman has enjoyed spending time with his family in Florida, where he is retired. Everyone is doing well, including his wife, Janet, who has been on a cancer journey. He has three grandchildren now, one of whom is applying to colleges. Both of his sons went to UW–Madison, so he is hoping for three generations of Badgers!
Steve Cain (BBA '68)
Cain recently celebrated his seventh anniversary of managing the Midwest office of Fairfield Capital Group, LLC, a firm which consults with middle market businesses who are interested in raising capital for equipment leasing purposes.
1970-1979
Ira Vernon (BBA '70)
Vernon moved back home to South Florida after 10 years in Gainesville, Florida. In Gainesville, he owned a clothing store called Tuesday Morning and met his wife, Penny, whom he married in November 1981. In 1991, he became a wholesale distributor of long steel products, and launched his own company, Concrete Reinforcing Products (CRP), in 2000. CRP is now the largest distributor of rebar in the United States.
William Rauwerdink (BBA '72)
Rauwerdink and his private equity firm saw much success throughout 2021 and early 2022, with business dealings in medical technology, apps, and predictive analytic tools. Rauwerdink also helped campaign for several political candidates across the state of Michigan, which taught him new skills in digital marketing.
Steve Weber (BBA '75)
Weber and his wife, Deb, were accompanied by Bucky Badger to the 150th British Open at St. Andrews Old Course in Scotland this past July. Bucky particularly enjoyed the challenging bunkers!
William Kravit (BBA '76)
Kravit is the president of FHK Insurance, an individual health insurance agency serving the Medicare and Affordable Care Act markets for over 50 years. The company is now recognized as a top producer for Aetna, Network Health, and United Health.
1980-1989
Thomas Huismann (BA '82, MBA '13)
Huismann achieved his dream of joining the Boeing team. He will contribute to Boeing's commitment to training and is very excited to take on the role of professional pilot.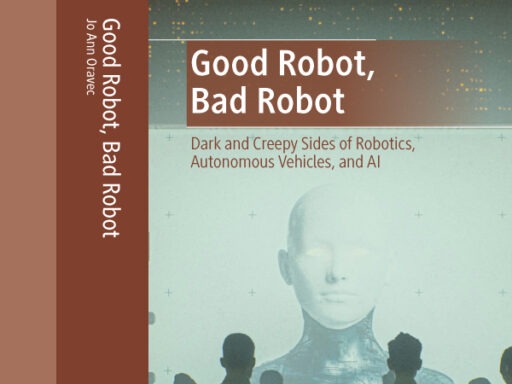 Jo Ann Oravec (MS '82, MA '84, MBA '86, PhD '92)
Oravec is excited to announce her forthcoming academic book on the "dark sides" of robotics, autonomous vehicles, and artificial intelligence. She was inspired to explore this topic after reading hundreds of research studies in which the negative aspects of automation were dismissed or deemphasized.
Rick Schroeder (BBA '83)
Schroeder celebrated his 20th year as president of Many Mansions, a nonprofit affordable housing and service provider in Southern California and one of the leading developers of supportive housing.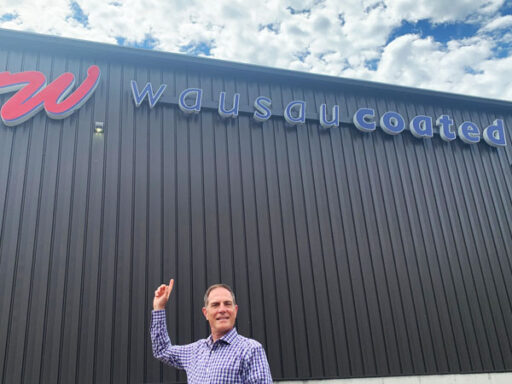 David Rosen (BBA '84)
Rosen is delighted to help the Badger State move forward as the newly appointed executive vice president for Wausau Coated Products, Inc.
David Behling (BS '85, MBA '87, MS '90)
Behling is moving to the Denver, Colorado area with his wife, Juliann. There, he will lead Merritt Aluminum Products through an improvement transformation as its continuous improvement specialist.
Karl Kramer (BBA '85)
Kramer came out of retirement to manage electric school bus sales for Lion Electric in 11 states. Lion is a Canadian company that's building a 900,000-square-foot plant in Joliet, Illinois. As a former senior sales executive, Kramer finds this role incredibly fun!
Kellie Reid (BBA '85)
Reid enjoys working part time at an investment consultant firm. Currently in Sydney, Australia, Reid likes to play tennis and golf and looks forward to traveling in retirement. She is even considering an alumni golf day with her old roommate.
Carol Muratore (BBA '86, JD '89)
Muratore joined MLG Capital in Brookfield, Wisconsin, as an associate general counsel. MLG Capital is a real estate investment firm that warmly welcomed Muratore for her wealth of knowledge and experience as a real estate lawyer (first at Michael Best and then at Godfrey & Kahn) and her rock-solid business and law education from UW–Madison!  
Jung Hyun Cho (MBA '86)
Cho lives in Seoul, South Korea, and is excited to meet his friends there.
Linda Carlson (BBA '87)
Carlson and her husband, Mark, sold their four Sport Clips Haircuts franchises in July 2022. They are looking forward to retirement and traveling!
Ryan Simons (BBA '87)
Simons was elected as vice chairman of the Walworth County Board of Supervisors.
Christopher Kluck (BBA '88)
Kluck retired in 2021 after a lengthy career in education. After spending five years in banking after graduation, he transitioned to the world of public education, serving four years as a middle school math teacher, five years as a high school administrator, and the final 16 years of his career as an elementary school principal. It was not exactly the leadership path that he foresaw in 1988 when he left UW–Madison, but was every bit as rewarding as anything he could have imagined in banking!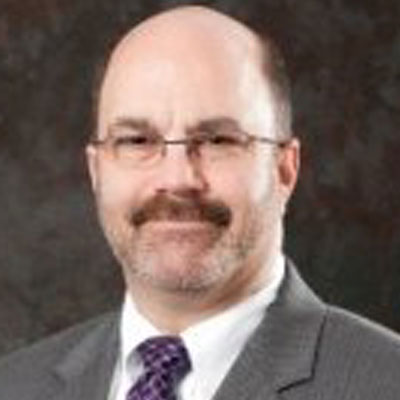 Douglas Stein (MBA '89, PhD '92)
Stein was recently named provost and executive vice president at Cleary University, serving as the institution's chief academic officer. This appointment follows seven years at Colorado Technical University as its vice provost.
1990-1999
Brian Conom (BBA '90)
Conom was named Surgical Division Monarch Award winner for the second year in a row for his strong sales performance. He was also named to the Royalty Club—the top 15% of sales representatives in the division—for the 12th time. In his over 28 years with Mölnlycke Healthcare, Conom has held the roles of field sales trainer, national training manager, region manager, and senior director of corporate accounts. He is currently based in Dallas, Texas.
Trent Jackson (BS '94, MBA '08)
Jackson joined Chadwick School in July 2022 as director of institutional advancement. He is responsible for all fundraising initiatives, alumni relations, and communications for the school. Jackson spent nearly 15 years at the University of Wisconsin Foundation where he was senior director of development. He attended UW–Madison on a basketball scholarship and was inducted into the UW Athletic Hall of Fame in 2019.
In Memoriam
Don Gallagher (MBA '94)
Gallagher passed away on Tuesday, April 19, 2022, in Olathe, Kansas.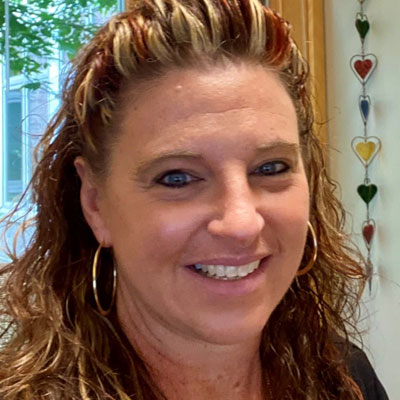 Kari (Smith) Potter (BBA '95)
Potter has been appointed vice president of human resources at Agrace, a nonprofit, community-supported health care organization providing personal care, supportive (palliative) care, hospice services, and grief support to people across southern Wisconsin.
Sally Erdmann (BBA '98)
Erdmann recently moved from the UW Foundation finance department to the development division. She meets with donors and prospects who love UW–Madison and are interested in making a difference and leaving a legacy through a planned gift.
2000-2009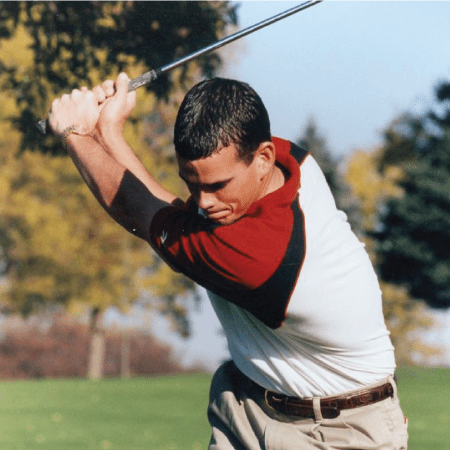 In Memoriam
Jim Lemon (BBA '01)
Lemon was recently inducted into the UW Athletic Hall of Fame. He helped lead the golf team to four tournament wins, was a multi-year team captain, and served on the UW Student-Athlete Advisory Council. This honor comes just over a year after Lemon passed away of pancreatic cancer at the age of 43. Even throughout his cancer battle, he remained optimistic and focused on being there for his wife, Kate, and son, Maxwell. Lemon is remembered not only as a skilled athlete, but as an honorable man who prioritized others above himself.
Phil Daniels (MBA '03)
Daniels is the co-author of a new book on marketing and consumer behavior, Spirtugraphics: The Influence of Faith on Consumption and Why It Matters to Your Brand. The book is the result of primary research among 38 million households of faith in America.
Andrea Mitchell (MA '04)
Mitchell accepted a new opportunity as director of marketing and membership for the American Orthopaedic Society for Sports Medicine, the professional home for surgeons and other clinical professionals focused on keeping athletes of all levels in the game. It also provides education and networking to more than 4,000 members. She previously spent three years as director of content marketing for the American College of Healthcare Executives.
Jason Stayanovich (BBA '04)
Stayanovich took over an ownership stake and the role of president for CLGT Solutions. CLGT is a veteran-owned small business that provides a variety of services to the federal government, including the defense and intelligence communities. Previously, he was a senior executive at the U.S. Department of Housing and Urban Development, and spent four years serving federal clients at Accenture.
Richard Collumb (MBA '06)
Collumb has been appointed to the newly created role of marketing manager at the Irish Business and Employers Confederation, where he focuses on marketing strategy implementation. Collumb says he's proud to keep flying the Badger flag in Ireland!
Mike Webber (BBA '06)
Webber has been promoted to partner in the nonprofit and government practice at Wipfli LLP. Webber has over 15 years of experience in auditing nonprofit organizations, which give him a deep understanding of the challenges they face. Clients appreciate his attention to detail and dedication to helping them achieve their mission.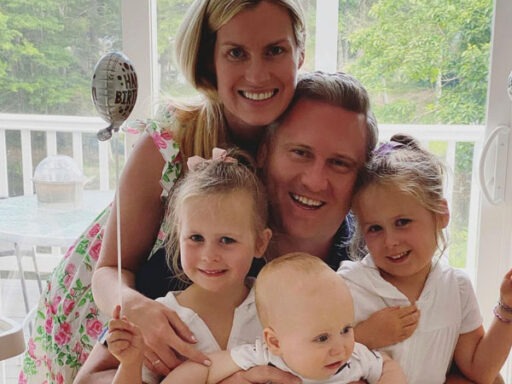 Joseph Coyne (BBA '07)
Coyne lives in Darien, Connecticut, with his family of five. He and his wife, Liza, welcomed baby boy Brooks this year, who joins big sisters Catherine and Lillian (5-year-old twins). Professionally, Coyne is the managing partner of Studio VC, an early stage venture capital firm based in New York City. The Studio VC team concentrates on enterprise software and internet investments.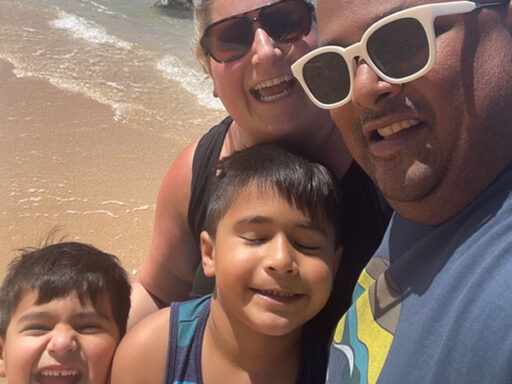 Saqib Mustafa (MBA '07)
Mustafa has been settled in the Bay Area for the past six and a half years. He runs partner marketing at the data cloud company Snowflake Inc. His wife, Nicole, has the tougher job of raising their two boys as Packer and Badger fans: Shahbaz (6) and Khaleel (4). Their family recently settled in the Burlingame area of the San Francisco Peninsula. Mustafa wants to offer a big shout-out to his UW–Madison mentor, Paul Shain, for his advice.
Pamela Andersen (BBA '08)
Andersen was promoted to managing director at FTI Consulting in April 2022. Andersen works in the Lender Services and Corporate Finance practice, providing financial diligence services to lenders, private equity firms, and companies in all industries. She married Scott Johnson in October 2022.
Megan Nufer (BBA '09)
Nufer is the founder of consumer technology startup Mayven, which recently entered into a strategic partnership with artificial intelligence and sustainable technology company Smarter Sorting. As part of the plans to accelerate Mayven's growth, Nufer will join the Smarter Sorting leadership team. Smarter Sorting's product and development teams will work closely with Nufer as she expands Mayven's capabilities and brings it to a new audience of consumers.
2010-2019
Katie Lorenz (BBA '12)
Lorenz was awarded the 2022 Forward Award from the Wisconsin Alumni Association. Lorenz is the founder of Campo Alpaca, a fair-trade apparel company that provides Peruvian communities with employment opportunities, fair compensation, and a safe working environment.   
Dewayne Buratti (MBA '12)
Buratti joined Bespoke Stay in May 2022. Bespoke Stay is a full-service hospitality company focused on making guests feel like locals while they stay in homes away from home. As the revenue manager, Buratti is responsible for the revenue of over 140 units, as well as revenue projection of potential properties, developing key performance indicators for each market, researching pricing trends that affect revenue, and other projects with the team.
Brock Hensen (BS '12, MBA '21)
Hensen is the chief operating officer of EnsoData, a healthcare artificial intelligence company founded by UW–Madison alumni. The company announced the closing of a $20 million Series A extension, with funding from Inspire Medical Systems, Inc. and existing investors. This news comes on the heels of EnsoData winning Inc. magazine's Best Workplaces award for the second year in a row. The company's funding and new partnerships will help accelerate the adoption of artificial intelligence technology across healthcare.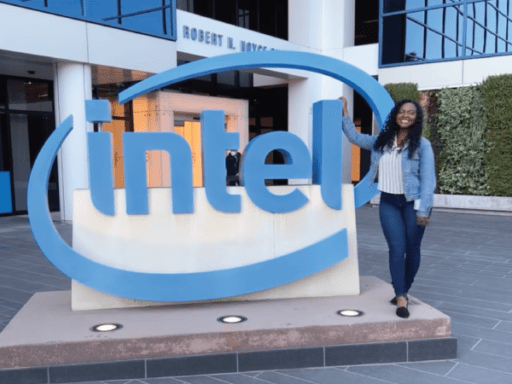 Joseline Nyinawabera (BBA '13, MBA '22)
"A few weeks ago, I started my new career journey at Intel Corporation! I went to Wisconsin School of Business to pursue my MBA and a career in tech marketing. 2 years later, here I am. Hard work, a strong support system (you know who you are), and endless pursuit of my dreams got me here."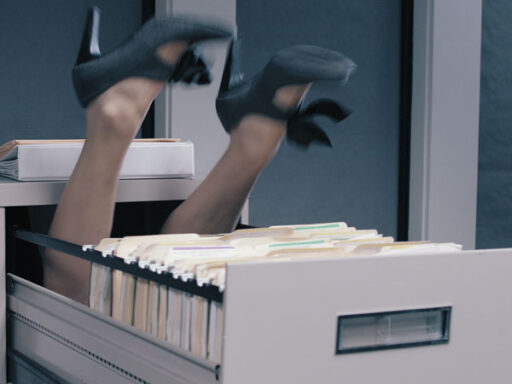 Laura Reich (BBA '13)
Reich produced her second feature film, All Sorts, which is available to stream on Amazon, Google Play, and Apple TV+. It follows the story of a down-on-his-luck office worker as he dives into the world of championship folder filing.
Jennifer Hoege (MBA '14)
Hoege is excited to announce the official location for Hoege Consulting & Coaching and Waunakee Coworks in Waunakee, Wisconsin, which offers coworking space for other like-minded professionals looking to get out of the home office.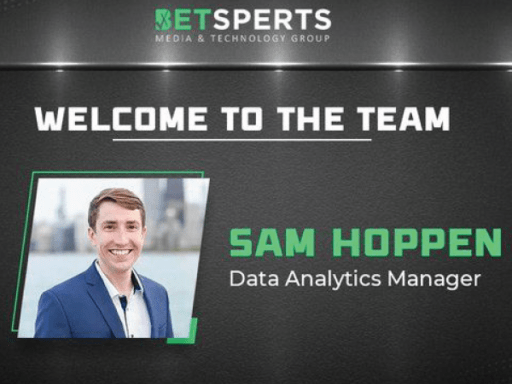 Sam Hoppen (BBA '15)
"Excited to share that today I started a new full-time role as the Data Analytics Manager for Betsperts Media & Technology Group, working closely with our 4for4 Fantasy Football brand! This is truly a dream job and it's surreal that I've been given this opportunity. I cannot wait to help these brands grow, so let the next chapter begin!"
Cassie Warton (BBA '19)
Warton joined BP's rotational program after her graduation from UW–Madison, holding roles in finance, strategy, and marketing. She resides in Chicago and is responsible for helping market and execute BP's loyalty strategy.
2020-2022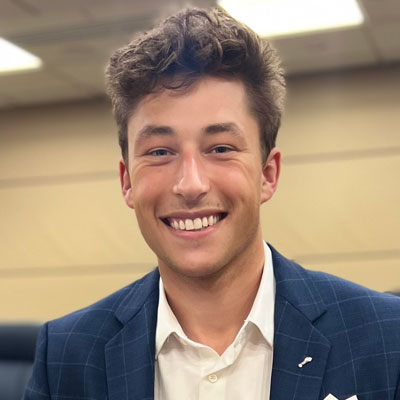 Henry Mirsberger (BBA '20, MAcc '21)
Mirsberger moved to Connecticut after receiving his master's degree to join the Financial Accounting Standards Board. As a postgraduate technical assistant, Mirsberger improved accounting standards that dictate financial reporting for all public, private, and not-for-profit entities in the U.S. In September 2022, he joined the Analysis Group in Chicago as an associate in economic consulting.
Sarah Plotkin (BBA '21)
Plotkin completed one year at Macy's, primarily in a site merchandising role focusing specifically on watches, but she has also provided website support. She has enjoyed her experience so far and is excited to continue growing her career!