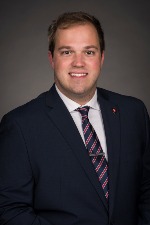 Procter and Gamble has been a part of my life since the day I was born. Growing up, my dad worked in a variety of finance roles for the company. We moved from our Toronto suburb, where most of our immediate family lived, to Cincinnati, Ohio in 1997 when he was transferred to a position at Headquarters. Cincinnati and P&G have been home from that point on. I have great memories of the holiday package that would come every year, with a vast assortment of new products that were launched that year, and P&G Day at Kings Island Amusement Park where the company rented the whole park for a day for its employees and their families.
All those years, P&G was a large part of my life, but I never really knew or necessarily understood what happened in the Twin Towers downtown or any other office around the world for that matter. All I knew was we always used Tide, bought Crest toothpaste and my mom had first dibs on the chocolate covered almonds in the holiday box.
While at UW-Madison, I had interacted with Brand Management professionals at P&G at a number of different occasions. Whether it was during our Applied Learning sessions, company info sessions or meetings with my CBPM Alumni Mentors, I knew that P&G was the proving ground for Brand Management and Marketing professionals and that I wanted to be there over everywhere else.
First Day on the Ground
Fast forward to May 20th, 2019 and I am standing at the front entrance of the P&G's Mason Business Center for my first day as a Brand Management Intern for the Nyquil/Dayquil brand team. I stood for a second and gazed upon the P&G logo and thought, "Wow, I'm really here". My heart is racing at about 160 BPM as I walk in the door to meet my manager for the first time. A mix of undeniable excitement and a dash of uncertainty made the swarm of butterflies in my stomach flutter with every passing second. This was my first time seeing behind the dark blue veil, and what an experience it was.
The other intern starting on the Vicks team and I were welcomed to a breakfast party and a sea of welcoming individuals that I would work closely with over the summer. After the festivities dispersed, my manager and I grabbed a breakout room and I had my onboarding meeting. We discussed the history of the Vicks brands, the nuances of a very complex personal healthcare category, the team's vision for the future, my projects for the summer and the schedule of events the intern team had planned for us this summer.
Summer Project Introduction
My projects were bucketed into 3 main categories; analytical, strategic and creative. My analytical project included first, doing analysis of the 12 major launches in the category, identifying key business drivers, recommending future innovation initiatives and then using the information I had gathered, creating sales slides for our sales team to use to increase distribution with our retail partners.
My strategic project was to do a deep dive into the category media spend, identify any key trends and recommend how to better optimize our media plan. I was also responsible for identifying how P&G's and our competitors' brands were selling with a key segments, identifying our top three opportunities for the Nyquil/Dayquil business and developing a targeted marketing campaign for each segment for the next year.
Finally, my creative project was to work with our agency team to write a creative brief and create targeted digital assets for one of the segments that I had identified in my strategic project.
Recommendations Through Data Analysis
The one thing I learned very early on is there is never a shortage of data to dive into. As I am sifting through hundreds of rows of Nielsen data in my first few weeks, two things come to mind; I am so thankful for the marketing analytics course that I wrapped up a few weeks prior and the connection to my time as a Sales Manager at Macy's.
I was previously responsible for different departments at the Macy's flagship location in Chicago and while I was there, I learned how to diagnose business trends through data. To get a health check on my departments, I would Identify the areas that are performing above or below their sales plan and dive deeper to see why, and then apply those learnings across the department. I took this approach to my analysis of the innovations that launched. In isolation this product could be seen as good or bad, but within the context of the whole brand or category portfolio, what was the real impact? Further analysis on promotional strategies, distribution levels, media spend, effectiveness of communication and incrementality levels helped paint a more complete picture of what the key drivers of each innovation were and which trends where the ones that were worth investigating further.
Armed with a mountain of information and insights, I worked with my sales team to develop the content we would be sending to retailers to help our brands gain distribution. I was challenged to be concise, thoughtful and keep the retailer's point of view in mind when making these presentations. "How is this going to help my (the retailer) business?" and "How is this going to help my (the retailer) consumer?" were the questions my sales team challenged me to answer in every slide. This taught me to think outside of the brand team bubble we can so easily live in and think, how can my team and our retailers both benefit from our partnership?
Strategic Consumer Driven Insights
When doing the analysis on how the top brands in the category were selling to top subgroups, I uncovered an interesting insight that the brand team was aware of but was not aware of the scale that it represented. We had two brands under the Vicks banner that index incredibly highly with a major demographic segment and have very loyal following, all without any direct or intentional marketing. So, my thought was, how can we leverage these very strong cultural ties to grow the business intentionally?
As I am looking through the brand on-boarding documents sent over from our Agency, the light bulb goes off. Our newly launched product had the sensorial experience of the of one of our legacy products that many people in this segment grew up with. Doing more research online, I saw that many consumers are making jokes about their mothers using this legacy product to cure nearly any illness. My goal from then on was to bridge the cognitive gap between the powerful experience growing up with peoples' mothers using our legacy brands and the sensorial experience of our new product.
Leading the Creative Process
In order to quickly turn around a digital asset that would get this message across in a very short period of time, we decided to use a new agency other than our agency of record. The process was a fantastic learning opportunity. I took the lead on the project from writing the initial creative brief, going through the storyboard process with the agency, selecting voice and performance talent, writing copy and giving feedback on cuts.
Overall, it was an incredible summer. My peek behind the dark blue veil showed talented, brilliant, critical thinkers and a group of people that put passion above anything else. I am very excited to say that I will be rejoining this incredible company full time at the conclusion of my MBA program and I could not be more excited to continue to learn and grow as a marketer and business professional. This creative process really pushed me to think outside of the box and lead a project in an area that I had no previous experience in. This process was made much easier by the training that I had received before my internship started at UW-Madison, as we had practiced providing feedback to agencies, the important elements of writing an effective creative brief and the elements of effective digital video through our Applied Learning sessions with BBDO and SC Johnson.
---