The moment when you realize that we are living through history is incredibly surreal. Without a doubt, the COVID-19 crisis will be discussed in history classes around the world for many years to come. This recognition has encouraged me to be mindful of how the crisis has altered daily life and as an MBA student in the Brand and Product Management Specialization, I am specifically interested in observing the current marketing and communication campaigns brands are adopting.
In an effort to avoid any in-sensitivities during the pandemic, many brands appear to be taking extra precaution with their marketing campaigns. The beer brand Coors delayed the launch of its Official Beer of 'Working' from Home campaign and in the U.K, fast food giant KFC paused the Finger Lickin' Good promotion because the company felt it misaligned with the COVID-19 handwashing and overall hygiene messaging. However, a recent report that scored ads using a panel of 500 viewers found that only 10 percent of respondents felt that it is 'not OK for brands to mention COVID-19', while 42 percent said 'any mention is OK' and 44 percent said it 'depends on the message and/or brand' (1). The Irish beer brand Guinness seemingly found the correct balance with its recent St. Patrick's Day television commercial that included the messaging 'Don't worry, we'll march again'. Although the advertisement never outwardly mentions COVID-19, it inspires viewers to remain positive during these difficult times and to 'thank the ones protecting us':
There are several other companies and brands that have entered the COVID-19 conversation. The growing consumer need for brands to reflect their own personal values has led to increased 'purpose-driven' marketing and this is apparent during the current coronavirus crisis as well:
1. The restaurant and bar industries have been hit hard by the coronavirus pandemic and the National Restaurant Association pegs industry loss at $225 billion as of March 19th (1). Beer brand Miller Lite created a 'virtual tip jar' to encourage consumers to donate money to bartenders that have been sidelined as bars close. Miller Lite owner Molson Coors has donated $1 million to the initiative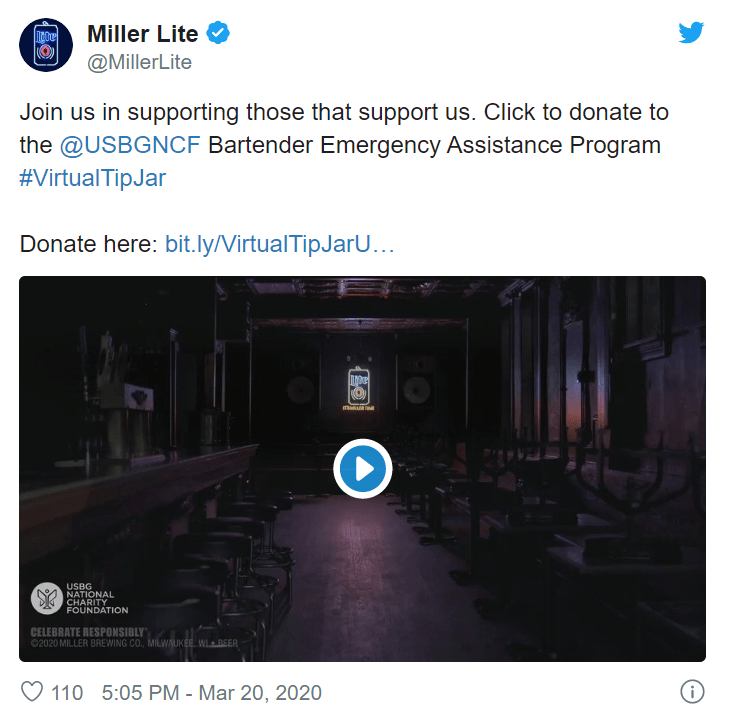 2. Other alcohol companies, including beer giant Anheuser-Busch, have begun utilizing their resources to produce much needed hand-sanitizer: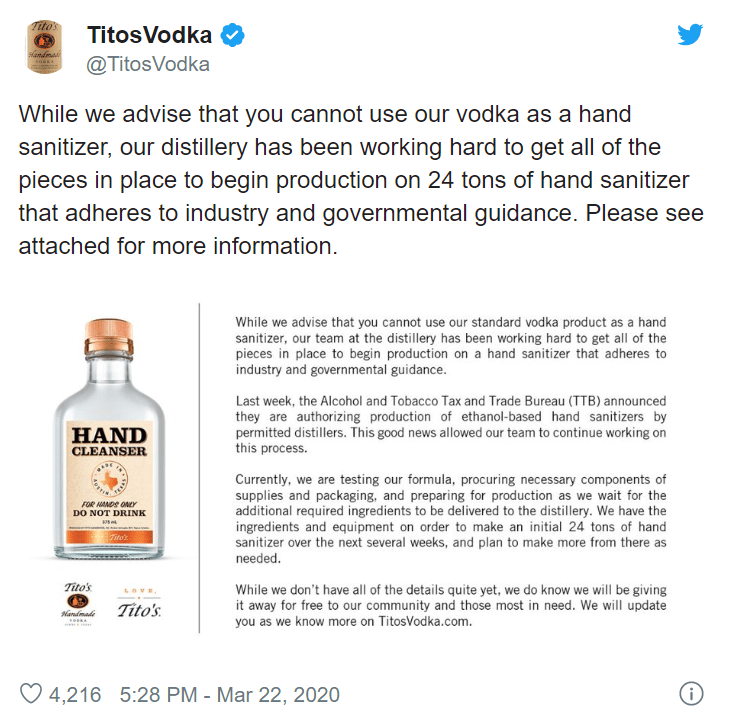 3. The social media platform Snapchat wants consumers to know that it is Here For You. In order to assist with the stress and anxiety people are experiencing as a result of the pandemic, Snapchat is expediting its Here For You This tool provides resources for consumers when they search for topics related to mental health, such as anxiety, depression, stress, suicidal thoughts and grief
4. The French firm Kering, parent company of numerous luxury fashion brands including Saint Laurent and Balenciaga, will begin producing facemasks to help ease shortages during the coronavirus pandemic
5. Beer brand Bud Light expanded its Bud Light Dive Bar Tour activation and sponsored a virtual concert tour called Bud Light Dive Bar Tour: Home Edition in order to continue supporting music fans and provide in-home entertainment during the crisis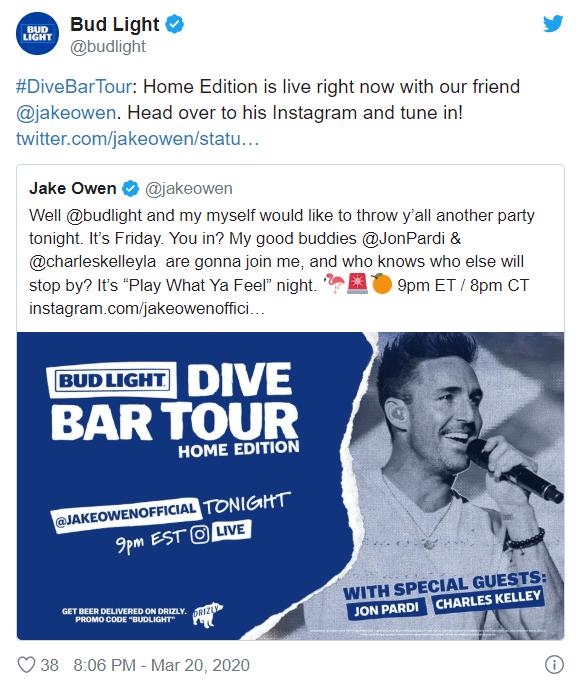 Although we are living through an unprecedented global pandemic, I take comfort in realizing we are all in it together, including the brands we know and love. I look forward to seeing further innovation from these companies as they continue to adapt to these extraordinary times.
1. https://adage.com/article/cmo-strategy/regularly-updated-list-tracking-marketers-response-coronavirus/2244251
2. https://www.marketingdive.com/news/how-brands-are-taking-extra-precaution-to-avoid-coronavirus-insensitivities/574132/
---