On Thursday, November 3rd, the Graaskamp Center welcomed its board members, graduate students, and distinguished guests to the JW Marriott Essex House Hotel for the Global Real Estate Markets Conference dinner. The dinner featured a keynote speech by Marc Holliday, the Chairman and Chief Executive Office of SL Green Realty Corp.
Holliday was born and raised in New York City, and his passion for the city extends to the philosophy of SL Green, which only invests in New York City (NYC). SL Green, which is an expert in the NYC office market, in all facets of the market, has had over 123 million square feet of direct investment in the city in the last 25 years. Marc emphasized his commitment to NYC due to its unique depth of liquidity with the help of both large foreign and domestic investors. This level of liquidity has allowed SL Green to stay exclusively in the NYC market for office development, investment, leasing, and management.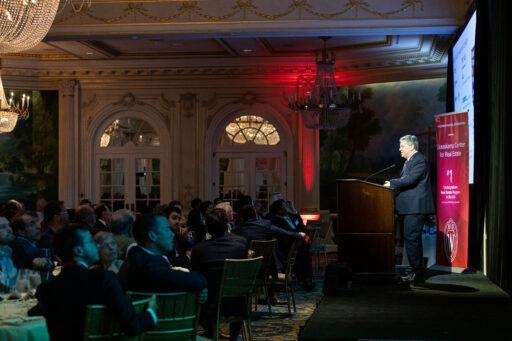 SL Green's most recent trophy office development is One Vanderbilt, a 93-story supertall skyscraper in Midtown Manhattan. It took over ten years to develop One Vanderbilt, mostly due to challenges in acquiring pieces of the development site and opposition from elected officials. To secure the final parcel of the development site, Holliday had to negotiate with the remaining one of two competing Irish bars. To make the deal work, he had to determine what was most important for them to leave, and it ended up being just $1 more than the competition got from SL Green. After lengthy negotiations, they secured all the parcels, and the development finally proceeded.
After discussing the grit and resiliency needed in the development process, Marc gave his outlook on the office and overall real estate industry for the next couple of years as we navigate an environment with high inflation, geopolitical risks, and rising interest rates.
Not a surprise, the debt market is seized up, which has made it much more difficult for people to obtain leverage on all types of properties, especially in the office sector. Consequently, loan-to-value (LTV) ratios are shrinking as rates rise and loan amounts are constrained by other debt coverage metrics. However, it is important to note that banks are much healthier than during the global financial crisis, with lots of liquidity and strong balance sheets.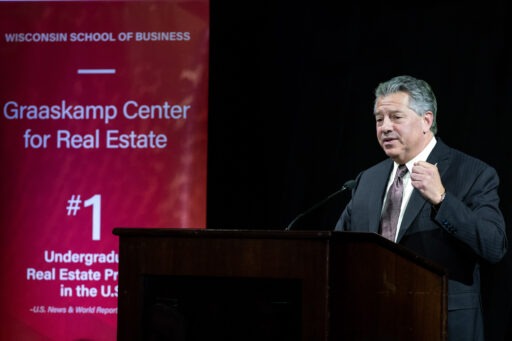 Today, there are large bid-ask spreads, the differences between sellers' price expectations and what buyers are willing to pay in the market. Due to large bid-ask spreads, trading volumes have dampened since the start of the summer. It will take time, or potentially distress, for sellers to come down and match buyers' price bids. Conversions of lower-quality office assets are starting to increase, but these are often very difficult and not financially feasible at today's prices. Holliday noted that as trading volumes have contracted, owners will need to get creative with their assets in the short term. Further, he emphasized that the future of the office needs to be a highly amenitized workplace and that we need to shift the way that we think about offices. Today, tenants require many amenities that were only luxuries in the past. For example, Holliday believes that you need to focus on four things to create a thriving office building: health and wellness, conference centers, outdoor spaces, and food & beverage.
Marc also highlighted that his future views of office space reflect Class-A offices at the top of the market, but there will still be a need for more affordable spaces in the city. Although many businesses are using a remote or hybrid work schedule, he expects office demand to reach a new but smaller equilibrium in the future. Holliday kicked off a great Global Real Estate Markets Conference and spurred many insightful discussions.
---