On April 12-13, 2023, 22 graduate students who are members of the Real Estate Private Equity (PE) specialized track traveled to Chicago, Illinois to expand their learning outside the classroom by touring several developments, visiting private equity firms, and meeting with program alums before attending the 2023 Spring Board Dinner and Conference hosted by the Graaskamp Center.
Wednesday, April 12
The day started early with industrial site tour visits with Brennan Investment Group. Kevin Brennan, Managing Principal at Brennan Investment Group, Jack Brennan, Senior Vice President at CBRE, and Joe Macchione, Vice President of Leasing at Brennan Investment Group, kicked off the tour in Rolling Meadows, IL looking at a 200,000 SF speculative in-fill logistics development under construction. Next, the group traveled to Mount Prospect, IL, and walked a vacant space in an older warehouse park. The tour ended at Elk Grove Technology Park, an 85-acre development with 1,000,000 SF of state-of-the-art industrial and data center facilities, which Brennan Investment Group spent many years working to purchase the land, gain city support and approval, and ultimately break ground on the project.
After touring several of their assets, Michael Brennan, Irgens Executive Director of the James A. Graaskamp Center for Real Estate and Co-Founder, Chairman, and Managing Principal of Brennan Investment Group. welcomed the students to his office to learn more about the structure and operations of a real estate private equity firm. Scott McKibben, Chief Investment Officer & Managing Principal at Brennan Investment Group, then shared his strategy behind selecting accretive investments for the firm. After that, Kevin Brennan discussed his career journey and managing key stakeholders.
Next, Chris Carol, Senior Vice President at Bellwether Enterprise, walked students around LaSalle Street, an area of Chicago that has seen dramatic change over the last decade. LaSalle Street is a major financial district in downtown Chicago that has been an important center of commerce and trade for over a century. However, in recent decades, the street has declined in prominence and influence in the financial world, largely due to the rise of electronic trading, the consolidation of the financial industry, and the 2008 financial crisis. Despite these challenges, LaSalle Street remains an important financial district in Chicago and home to several large financial firms, including the Chicago Board Options Exchange and the Chicago Mercantile Exchange.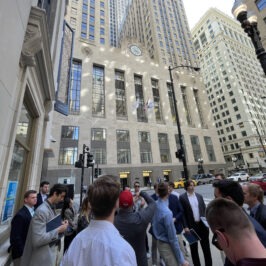 Although the street boasts beautiful architecture and historical landmarks, many firms have relocated to other areas of the city, which has caused staggering vacancy rates in the submarket and many properties to go into default. The Urban Land Institute (ULI) has done extensive research to propose solutions to revitalize the challenged area.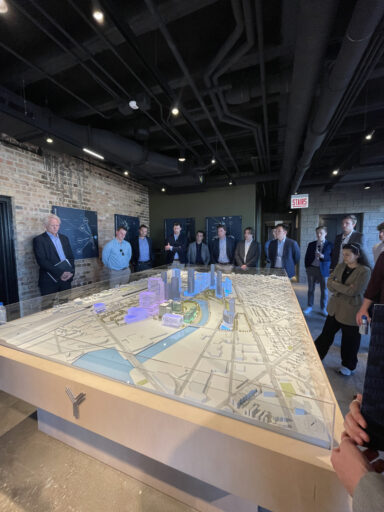 To wrap up Wednesday's activities, the class traveled North to Lincoln Yards, where Jessica Brown at Sterling Bay took students on a tour of 1229 W Concord Place, the first life sciences building and first building overall of the master-planned community, Lincoln Yards, which they envision as Chicago's new neighborhood. Lincoln Yards is a multi-billion mixed-use development project located between the Lincoln Park and Bucktown neighborhoods. It will consist of several towers and high-rises that will include apartments, condos, offices, retail, and entertainment. After that, the conversation continued at the Lincoln Yards Firehouse, which overlooks the ongoing infrastructure improvements for the 50+ acre development site. Jessica explained the detailed plans for the community as she pointed out each phase and intended use of the project on an elaborate scale model. 
Thursday, April 13
A visit to Seth Singerman's office, Singerman Real Estate, started Thursday's activities where students learned about the firm's opportunistic approach to real estate private equity. Seth emphasized the importance of analyzing each component of revenue to determine if there are additional ways to increase a property's net operating income (NOI) to increase value. He also stressed the importance of strong property management and selecting a qualified team to reposition struggling assets. He discussed two case studies that emphasized these points: one where his firm repositioned a failing country club to one with a long waitlist and another where they adjusted management and retail tenants at a waterfront resort to dramatically increase the average retail/dining spend per guest per stay.
Traveling West, students next visited 167 Green, a recently-delivered Class A office building in the Fulton Market District by Shapack Partners. Jeff Shapack, Founder & CEO at Shapack Partners, a visionary for the now flourishing neighborhood, explained how he saw an opportunity in the area, how he secured aldermanic approval to change dated zoning codes, and eventually developed several of the properties that define the neighborhood today. Shapack emphasized his passion for creating what he calls a Central Social District, a modern version of a Central Business District, which allows individuals to live, work, play, eat, sleep, shop, etc., all in the same area. 167 Green is an excellent example of the new age of office, which focuses heavily on amenities. Tenant amenities are clustered in a full-floor penthouse suite, which includes a full-sized basketball court that doubles as a 400-person town hall, a gym with locker rooms, a tenant lounge, a game room, and a sprawling rooftop terrace and garden. To wrap up the presentation, Riley McChesney, Director of Capital Markets at Shapack Partners, discussed the approvals and design process of Shapack's newest apartment development in Fulton Market.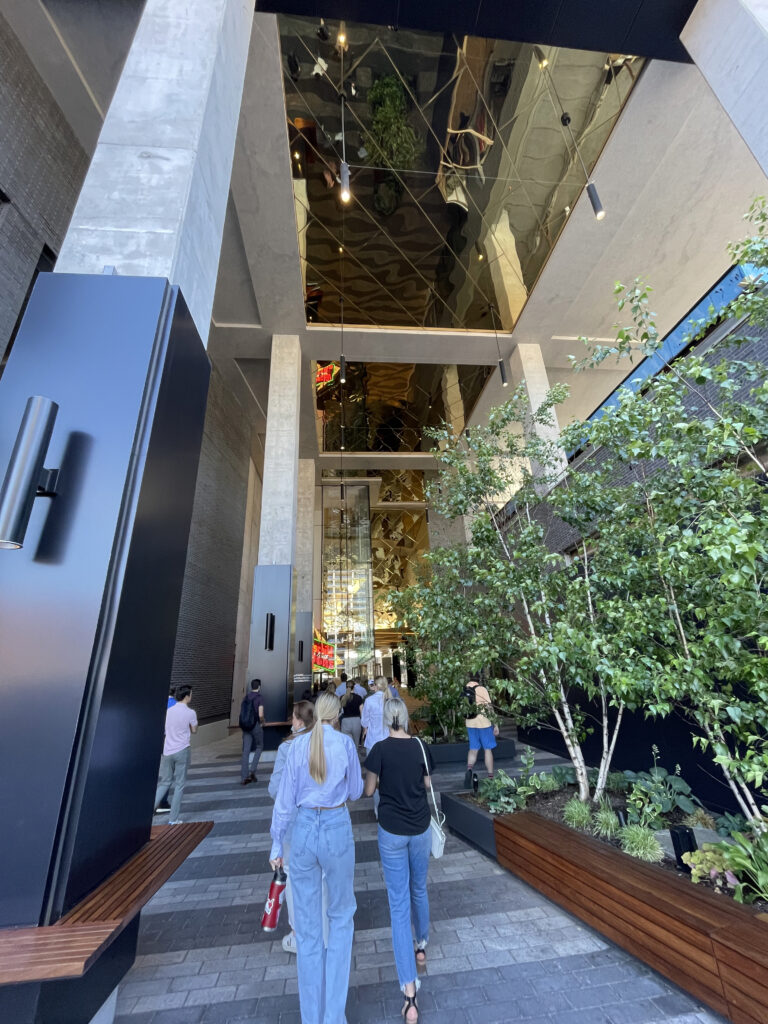 Last, a team of Badger alumni from Harrison Street, including Mark Burkemper, Rob Korslin, Sean Casey, and Rob Cook, welcomed the program to discuss their approach to investing in alternative sectors through real estate private equity vehicles. Students learned more about the firm's strategy to target demographic-driven, needs-based assets. The firm has invested nearly $65 billion across senior housing, student housing, healthcare delivery, life sciences, and storage real estate, as well as social and utility infrastructure. Most investors have long overlooked many of these sectors, which has allowed Harrison Street to build a platform to pool these assets and sell them as a large portfolio to institutional investors. To wrap up the presentation, students reviewed two case studies – one successful and one not. The first was a ground-up student housing development in Madison, WI, now known as Lark at Kohl. The firm entered the market at a favorable time, which allowed for a successful exit upon stabilization. The other case study described an unsuccessful acquisition of a life sciences campus, which fell through during the swift and recent rise in interest rates.  
The opportunity to see projects at all stages of the development process, observe the differences in vacancy and pricing across submarkets, and discuss real estate private equity with industry professionals outside the classroom has provided immense knowledge to our students. Thank you so much to all the firms and individuals who generously hosted the real estate private equity program!
---