On October 20, 2022, The Graaskamp Center for Real Estate, in collaboration with the Wisconsin Real Estate Club, presented Ryan Williams with Graaskamp Center Innovator Award. Each year, the Innovator Award is awarded to an individual that embodies the spirit of the Wisconsin Real Estate Center in its innovation in teaching and research, as well as in the accomplishments of its alumni and practitioners.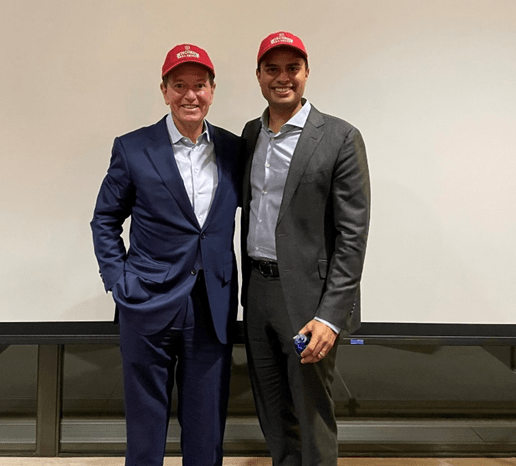 Ryan Williams is the Founder, Executive Chairman & Co-Chairman of Cadre. He left Blackstone at age 26 to found Cadre. Williams said, "Cadre's mission is to create a more efficient economy, where we can connect the world's buyers and sellers in opaque assets that have been inaccessible to many." To make real estate investments even more attainable, Cadre just announced a fund, which will allow non-accredited investors to engage with and invest on the Cadre platform.
Mike Brennan, Irgens Executive Director of the James A. Graaskamp Center for Real Estate & Co-Founder, Chairman, and Managing Principal of Brennan Investment Group, presented Williams with the award. Brennan then moderated a fireside chat with Williams, where they discussed Williams' background, Cadre, and his approach to being an entrepreneur. Williams' entrepreneurial endeavors started when he was in middle school when he started a business selling embroidered wristbands to his classmates. After successful sales to his classmates, the business expanded, and Williams traveled to sell to a larger audience and to attend business incubator events across the country.  
Williams then attended Harvard where he started his career in real estate technology. After traveling to Atlanta during the Global Financial Crisis and seeing entire blocks of foreclosed homes, Williams was inspired to create a system to track foreclosed homes. The system compiled data about properties in foreclosure and their respective neighborhoods, which allowed him and his classmates to pool funds together to purchase distressed homes well below their fair value, restore their occupancy, and then sell at much higher market value.
After graduation, Williams continued to operate the business he started in college while working very long hours in positions at Goldman Sachs' TMT Investment Banking Division and Blackstone's Private Equity Group. Williams emphasized the need to be resilient as an entrepreneur. He noted, "you have to do what you love day-in and day out. If you aren't passionate, then you won't be able to keep pushing through the hard times."
Aside from keeping himself internally motivated, Williams shared stories regarding how he had to push through external naysayers. When starting to purchase distressed assets in Atlanta, Williams was denied by 10 banks before the then-chairman of Citizens Trust personally called to say that he believed in Williams. His persistence continued at Blackstone, when he sought to integrate his then side-business into the day-to-day operations of the firm, by pitching senior management to open Blackstone's real estate funds to retail investors. When his idea was rejected, he decided to start out on his own with Cadre. 
His challenges with bringing his idea to fruition did not end with starting his own firm, as Williams initially struggled to gain traction on a large scale. However, he was eventually able to gain robust institutional backing from the likes of Goldman Sachs, SL Green Corp., Andreessen Horowitz, and the Ford Foundation, among others. Today, Williams' vision is finally being realized through Cadre, as it delivers attractive returns to individuals and financial advisors. The firm has over $5B in owned transaction value, distributed over $338M to investors, and has achieved a historical net IRR of 27.5%.
Williams embodies his philosophy of "not seeing the world how it is, but how it should be". We, at the Graaskamp Center for Real Estate, look forward to witnessing the continued innovation from Williams and Cadre, as they democratize the real estate investment management industry. Thank you to Ryan Williams, Mike Brennan, and the Real Estate Club for making this inspiring event possible.
---